Home > Amazon Music Tips > Top 10 Amazon Prime Albums 2023
Top 10 Amazon Prime Albums 2023
Are you trying to find the best music of 2023? Look nowhere else. Here at Amazon Prime, we've put together a list of the top 10 albums that will definitely get your heart pumping and your toes pounding. Whether your musical preferences lean more toward country or mainstream, this list offers something for everyone, from Taylor Swift's Lover and reputation to Luke Combs' most recent single Gettin' Old. And if you're like some of us and stuck in the past, there's also Journey's legendary Greatest Hits album! We'll provide you some advice on how to download the songs from Amazon Prime in addition to our list of the Top 10 Amazon Prime Albums 2023, so you can carry the music with you wherever you go.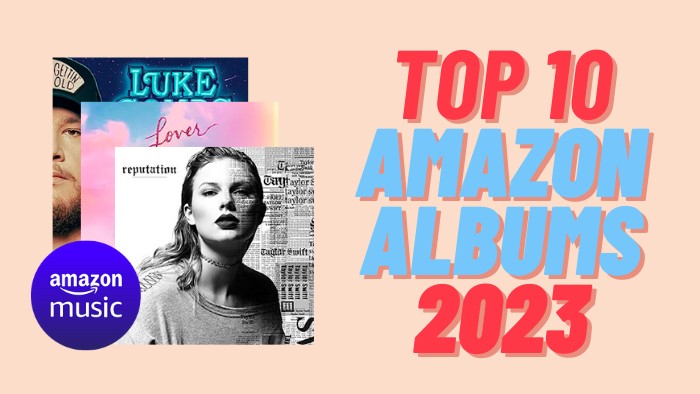 # Gettin' Old. Luke Combs.
Luke Combs, an American country music artist, released his fourth studio album, Gettin' Old, on March 24, 2023, via Columbia Records Nashville and River House Records. It comes after his third album Growin' Up (2022), which was recorded simultaneously and is meant to be a companion piece. The lead single from the album, "Love You Anyway," came before it. The day after the album is released, Combs will start a global tour.
# Lover. Taylor Swift.
Lover was written by Swift as a "love letter to love," drawing inspiration from her reevaluated personal life and her discovered creative freedom. With melodies defined by atmospheric synthesizers, mid-tempo rhythms, and acoustic instruments, Lover's lighter electropop sound draws mostly from pop rock and synth-pop in contrast to Reputation's darker, heavier, hip hop-influenced tones. The tracks mix a variety of genres, from bubblegum pop and funk to country and folk. They examine feelings like passion, commitment, infatuation, and heartache. A handful of them talk about feminism and LGBT rights in American politics.
# reputation. Taylor Swift.
Swift divided the album's lyrical focus into two halves, one about the negative aspects of celebrity and the ensuing wrath, and the other about love in the middle of the upheaval. She was inspired by the fantasy television series Game of Thrones. Reputation, an electropop and R&B record with a heavy electronic production with programmed drum machines, throbbing synths, manipulated vocals, and influences of urban genres like hip hop, EDM, and trap, was created primarily with Jack Antonoff, Max Martin, and Shellback.
# Religiously. The Album. Bailey Zimmerman.
The album's release date was set for March 18, 2023. The announcement for the album's release included the title track as well as a statement from Zimmerman in which he said, "The past two years of my life have been hectic, and the fact that I get to release my first ever album is so bizarre. Thank you to everyone who has supported me in good times and bad. This record is for all of you since I will never be able to thank you enough for your love and support.
# If I Know Me. Morgan Wallen.
Four singles—"The Way I Talk," "Up Down," "Whiskey Glasses," and "Chasin' You"—were released in support of If I Know Me. The album's highest point was at number one on the US Top Country Albums list and position 10 on the US Billboard 200 chart. The Recording Industry Association of America (RIAA) also awarded it platinum and double platinum certifications in September 2020 and January 2022, respectively.
# Country Stuff The Album. Walker Hayes.
The lead song from The Country Stuff in 2021, "Fancy Like," peaked at the top of the Hot Country Songs and Country Airplay charts on Billboard. The song also won Billboard Magazine's Top Country Song and was nominated for a Grammy Award for Best Country Song. Additional singles from the album that were made available included "U Gurl" and "AA." Six songs from the album were included on a Country Stuff EP that was released in 2021 under the same name. The album, which features a reprise of Hayes' 2018 single "Craig" with MercyMe on guest vocals, was co-produced by Hayes, Shane McAnally, and Joe Thibodeau.
# Traveller. Chris Stapleton.
Traveller was hailed as an old-school country and Southern rock album by music critics and brought Stapleton numerous honors. During the 2015 Country Music Association Awards, it won Album of the Year. Southern rock and traditional country music are combined on the CD. The album includes acoustic, electric, and mandolin guitars in some of the songs. The lyrics of "Might As Well Get Stoned" express despondency, while "The Devil Named Music" laments the difficult existence on the road.
# Different Man. Kane Brown.
American country music performer Kane Brown's third studio album, Different Man, was released on September 9, 2022, by RCA Records Nashville. With his wife, singer-songwriter Katelyn Brown, Brown co-produced the album, which was preceded by the singles "One Mississippi," "Like I Love Country Music," and "Grand," which debuted on country radio on September 12. Ahead of the album's release, the songs "Leave You Alone" and "Whiskey Sour" were also made available.
# 1989 (Deluxe Edition). Taylor Swift.
American singer-songwriter Taylor Swift's fifth studio album, 1989, was released on October 27, 2014, through Big Machine Records. When Swift released her fourth studio album, the cross-genre Red (2012), to country radio, critics questioned whether she was a country musician. Inspired by 1980s synth-pop, Swift created 1989 to recalibrate her craft to pop. In order to symbolize a metaphorical artistic rebirth, she gave the album the title 1989 and enlisted Max Martin, the producer of Red's electronic-influenced pop songs, as co-executive producer.
# Greatest Hits. Journey.
The American rock band Journey's compilation CD Greatest Hits was first made available in 1988 by Columbia Records. With 768 weeks on the Billboard 200 albums chart (more than any other compilation album in history excluding Bob Marley and the Wailers' Legend), it is the band's best-selling career album. It also spent 1,404 weeks on the Billboard Catalog Albums chart as of July 2023. The Greatest Hits 15 Platinum certification was granted by the Recording Industry Association of America (RIAA) on April 22, 2008, in recognition of the album's 15 million copies sold in the US.
Are you curious about the aforementioned top 10 Amazon albums? These albums are well-known throughout the entire world. We all know, however, that Amazon Prime members are not permitted to store the songs from these albums on their devices in MP3 format or download them for offline listening.
The best approach to export and transfer Amazon Music to your own devices is to download the songs in normal MP3 format, then use a USB cord to transfer the MP3 files to your devices. With the aid of NoteCable Amazie Music Converter, you may complete it swiftly. It is a music converter for Prime or Amazon Music subscribers. To transfer the music songs as MP3 files, you can use NoteCable Amazie Music Converter to convert Amazon Music tracks to MP3, AAC, FLAC, AIFF, WAV, and ALAC formats. When you need assistance downloading Amazon Music without quality loss, NoteCable has proven to be the best option because of its perfectly original sound quality exports and 10X faster conversion speed. The comprehensive instructions for NoteCable Amazie Music Converter are listed below for your reference so that you can get a general knowledge of how it operates.
The Tool You Need:
Step 1On your desktop, start NoteCable Amazie Music Converter. After that, sign in with your Amazon Music Unlimited or Prime account by clicking the "Open Amazon Music Web Player" option.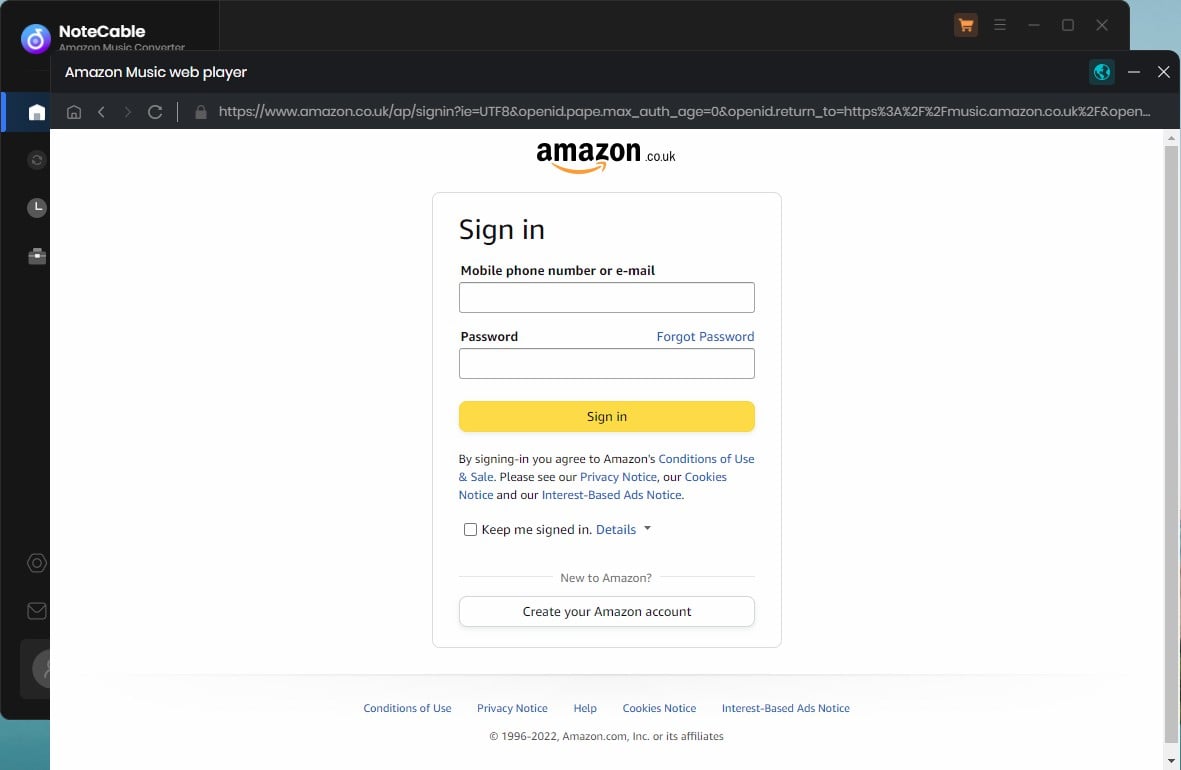 Step 2Go to the "Settings" menu on the left bar and select MP3, AAC, FLAC, WAV, AIFF, or ALAC as the output format for Amazon Music. Additionally, the output parameters should be customized to your liking.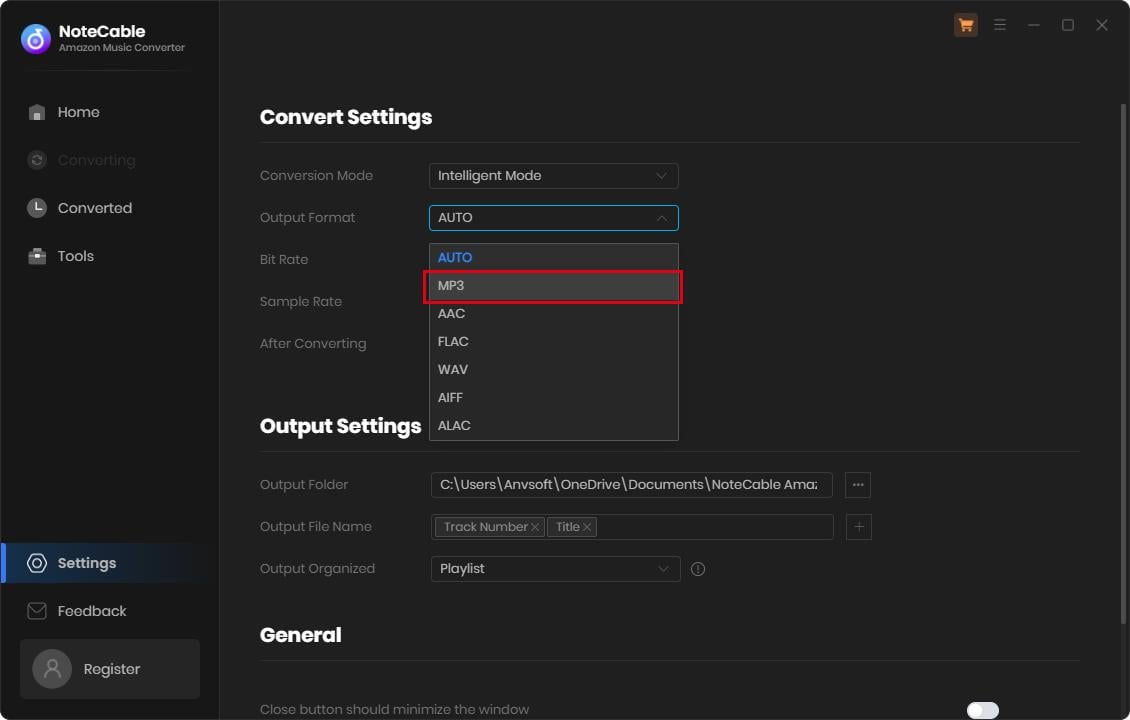 Step 3 You can now add your Amazon playlist to the conversion window after configuring the Amazon Music output options in order to put them into action. When you click the "Click to add" button after opening the playlist you want to download, NoteCable will read the entire playlist. The songs in the playlist are then simply chosen. To start, click the "Convert" button at the end.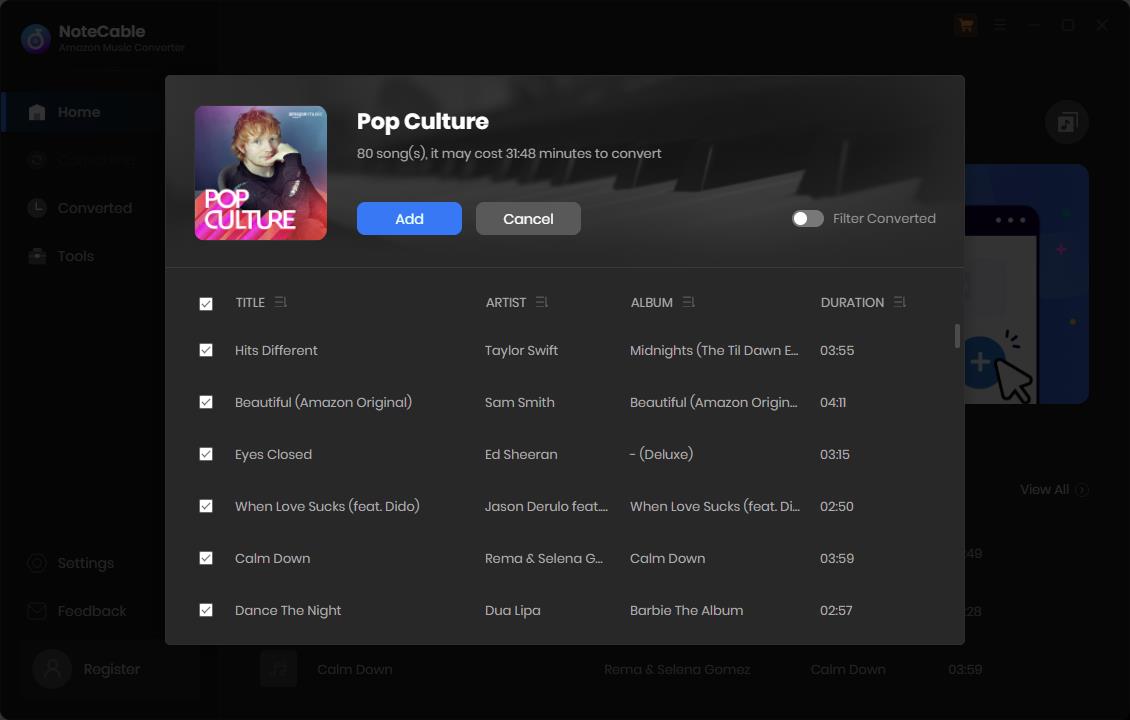 However, you can choose the songs in the conversion panel and then choose "Save" if you want to convert the Amazon Music playlist in batches. The task list will save the selected tunes. You can keep adding songs to your favorite playlists and selecting playlists. Open the task list in the top right corner only after you've chosen everything you want to hear. You can begin the conversion by selecting the "Convert" option.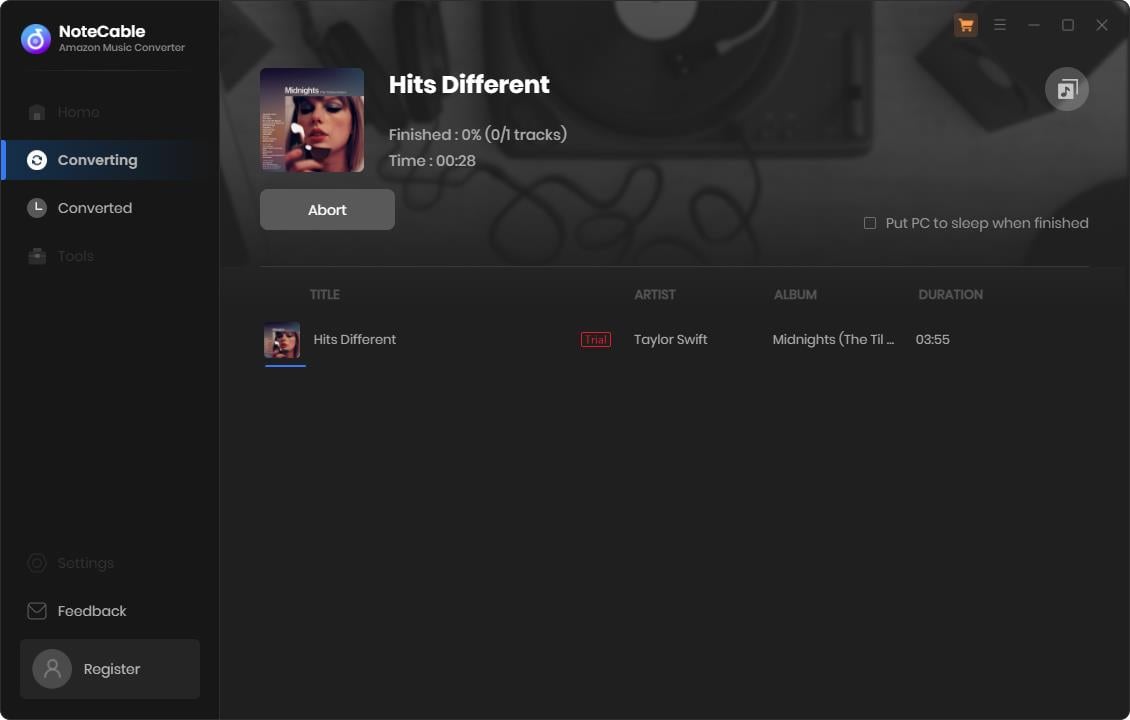 Step 4 You can click the "Converted" section on the left bar to see all of your downloading history. There is a list of all Amazon Music downloads there. You can access the downloaded files in your local location by clicking the folder again after listening to a single song.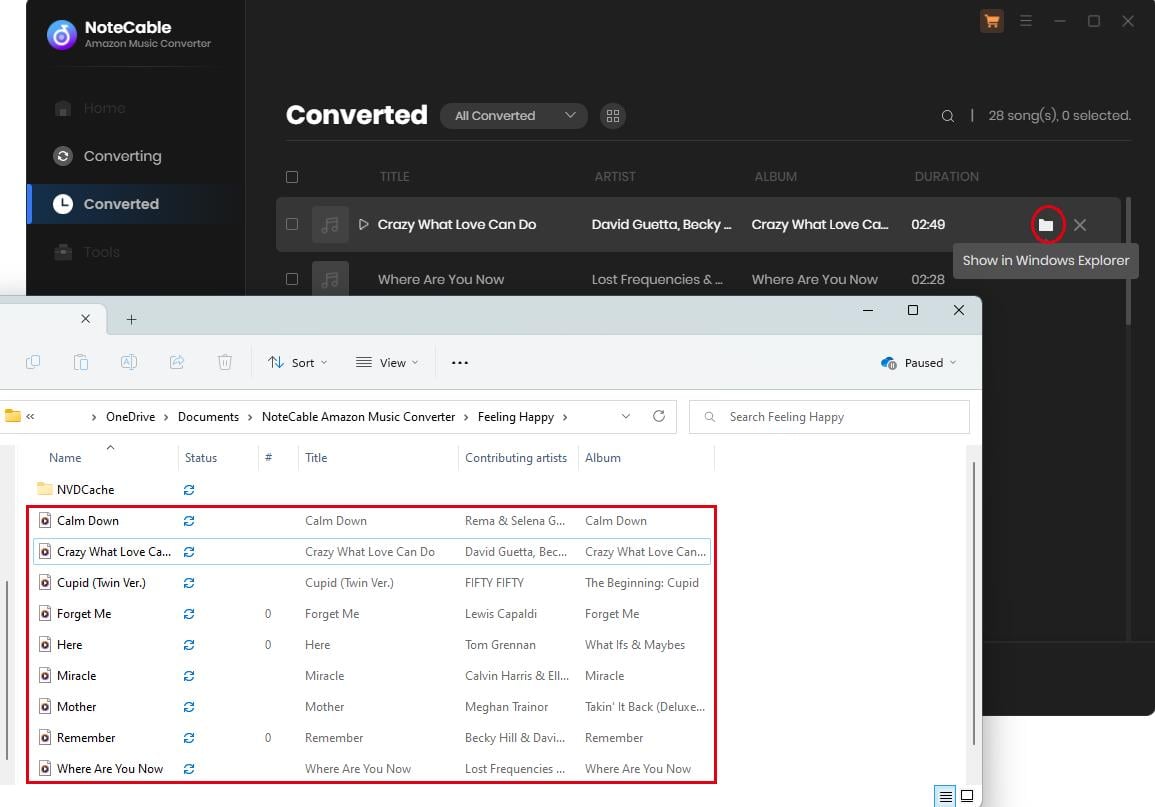 As you can see, your computer classifies all of the tracks listed in your local folder as music files. As MP3/AAC/FLAC/AIFF/WAV/ALAC files, they are open sources for you to enjoy. From now on, you can move them all to your own devices.
Note: The free trial version of the NoteCable Amazie Music Converter enables you to convert the first one minute of each song and convert 3 music files simultaneously. You can unlock the time limitation by purchasing the full version.
---