Home > Amazon Music Tips > Keep Amazon Music Playable after Canceling Subscription
How to Keep Amazon Music Playable after Canceling Subscription
Do you still use Amazon Music to stream your favorite songs now? Or maybe you don't want to subscribe to the service anymore, because you need to have a free plan to save your wallet. No matter what could be the reason for canceling the subscription, you still want to keep your Amazon playlists playable on your devices.
You may ask if we can cancel the subscription on our own, what happens to your downloaded songs if you cancel your subscription, or if users can keep their songs playable after they cancel their subscription. In this article, we are going to answer these questions.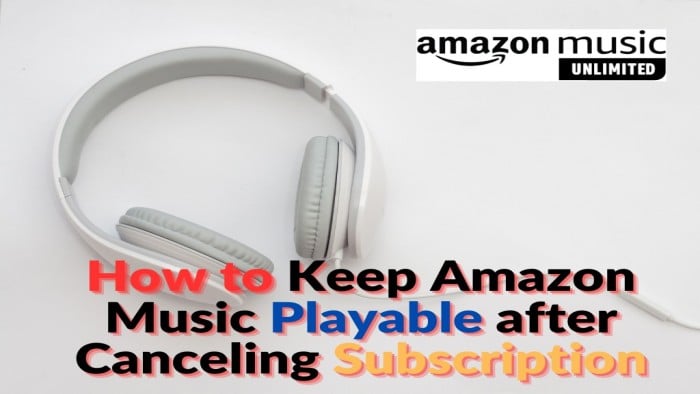 No matter what leads to your decision, you have the right to cancel the subscription whenever you want. Simply following the steps below to quickly cancel your Amazon subscription.
Step 1: Head to Amazon.com. After that, log in to your Amazon account.
Step 2: Then, click the "Amazon Music Setting" page to manage your Amazon Music subscription settings.
Step 3: Click the "Amazon Music Unlimited" section to find your subscription details.
Step 4: Under the "Amazon Music Unlimited" section, click the "Cancel subscription" option which you can find in your Subscription details.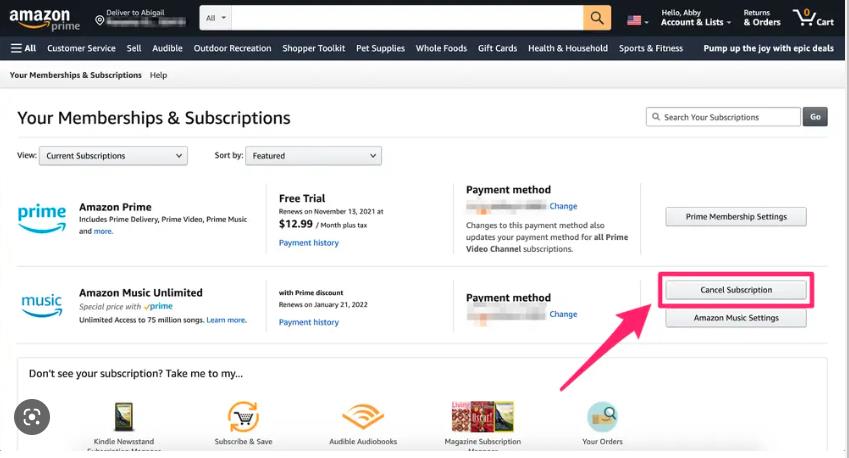 Step 5: Follow the process to cancel your subscription.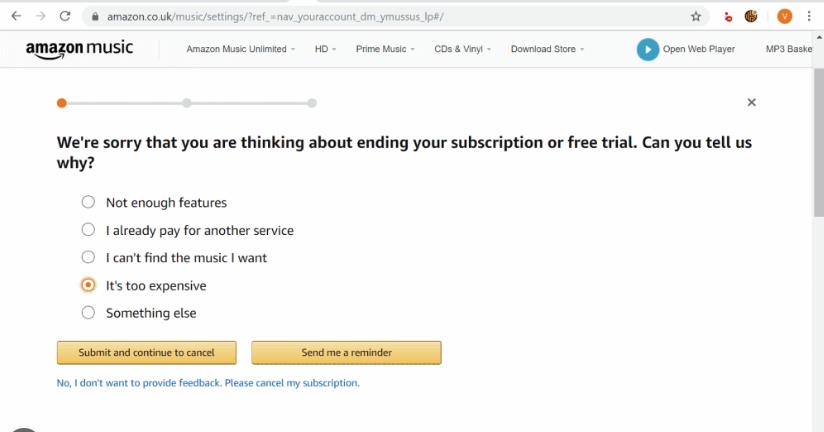 Step 6: Finally, click "Confirm Cancellation" to complete your cancellation.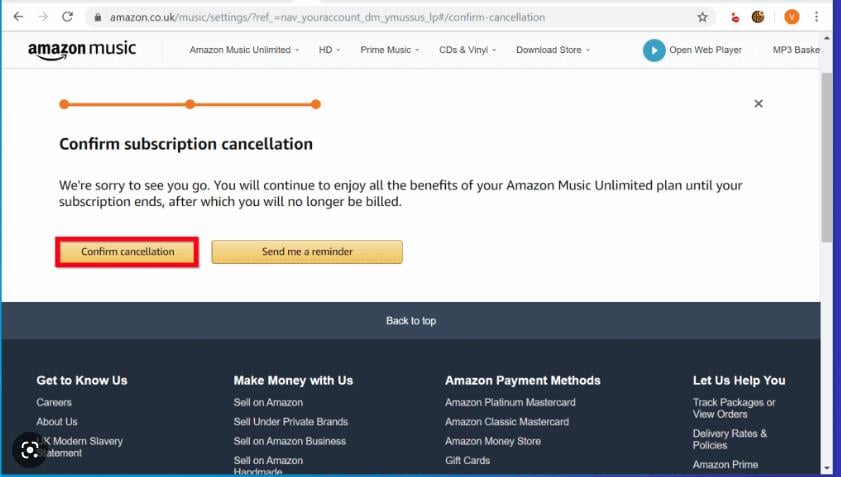 Note: You can continue to access Amazon Music Unlimited until the end date. After this date, any Amazon Music Unlimited titles you've added to Library will be grayed out, with playback options removed.
Many users may think they are unable to stream their songs once they cancel their subscriptions. This worry is unnecessary. Amazon Music allows you to stream the song during your subscription period. That is to say, you still have an access to play your songs on Amazon until the end date of your current subscription period. After your subscription expires, your music will be greyed out and you cannot stream them anymore, which means you lose all your songs on Amazon Music without the next payment. This may depress the users, but the fact is that users don't own the songs they paid for.
Users can't keep playing Amazon Music songs without an Amazon Prime or Amazon Unlimited normally. However, it is lucky that by using NoteCable Amazie Music Converter, users can make their greyed-out songs playable. What's more, you can download your Amazon songs and move them to your other devices for offline listening without any limitations.
NoteCable Amazie Music Converter is exactly a well-built product for Prime & Unlimited music downloading. With this powerful tool, you can easily download songs, albums, and playlists from Amazon Music for offline listening. After conversion, you can listen to these music tracks on a computer or you can transfer them to devices like MP3 players, USB drives, iPhones, Android, PS5, Smart Speakers, and more.
Following the steps below, you can know how it works to keep Amazon Music songs playable after unsubscribing.
The Tool You Need:
Step 1Launch NoteCable Amazie Music Converter on your desktop. And then you can choose App Mode or Webplayer Mode as your conversion mode.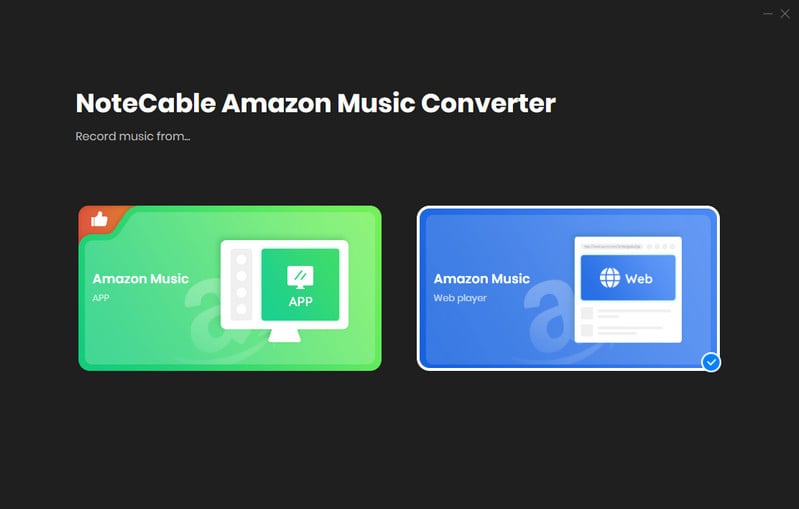 Step 2Choose Webplayer mode, and log into your Amazon account.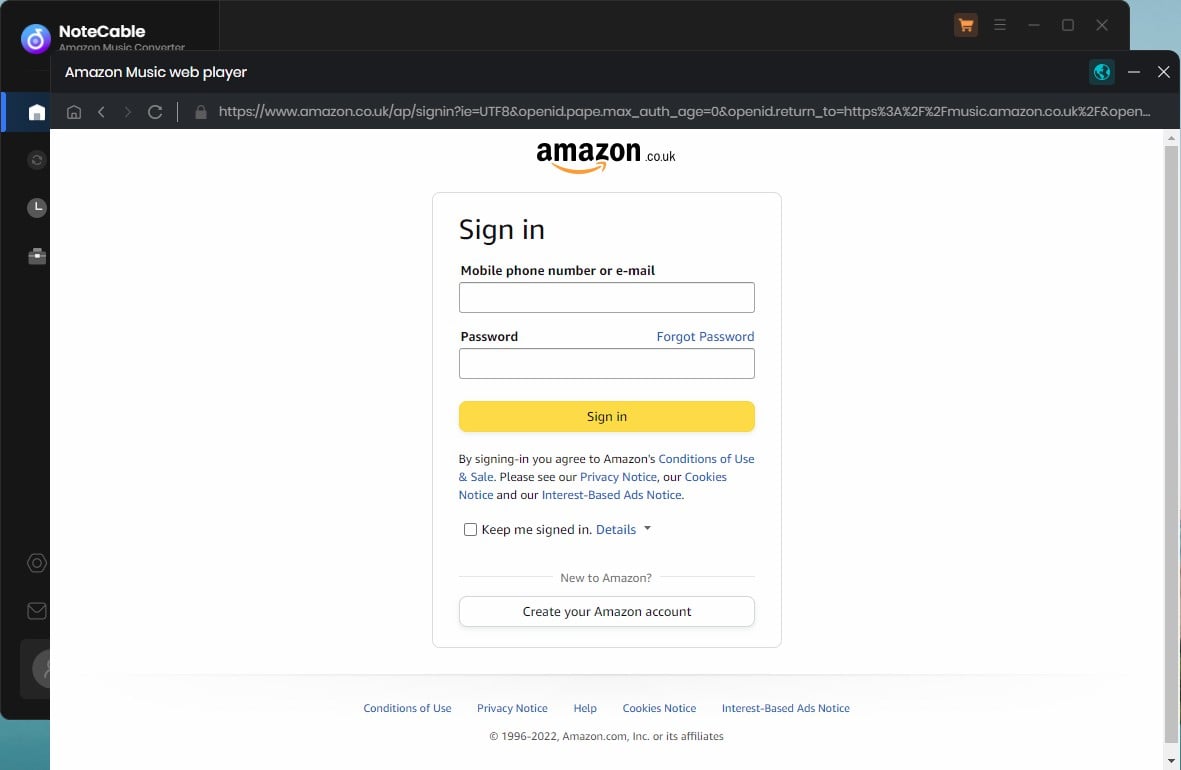 Step 3Navigate to the 'Settings' section on the left bar, you then set up the Amazon Music output format from MP3, AAC, FLAC, WAV, AIFF, and ALAC. Also, you are supposed to personalize the output parameters to your preference.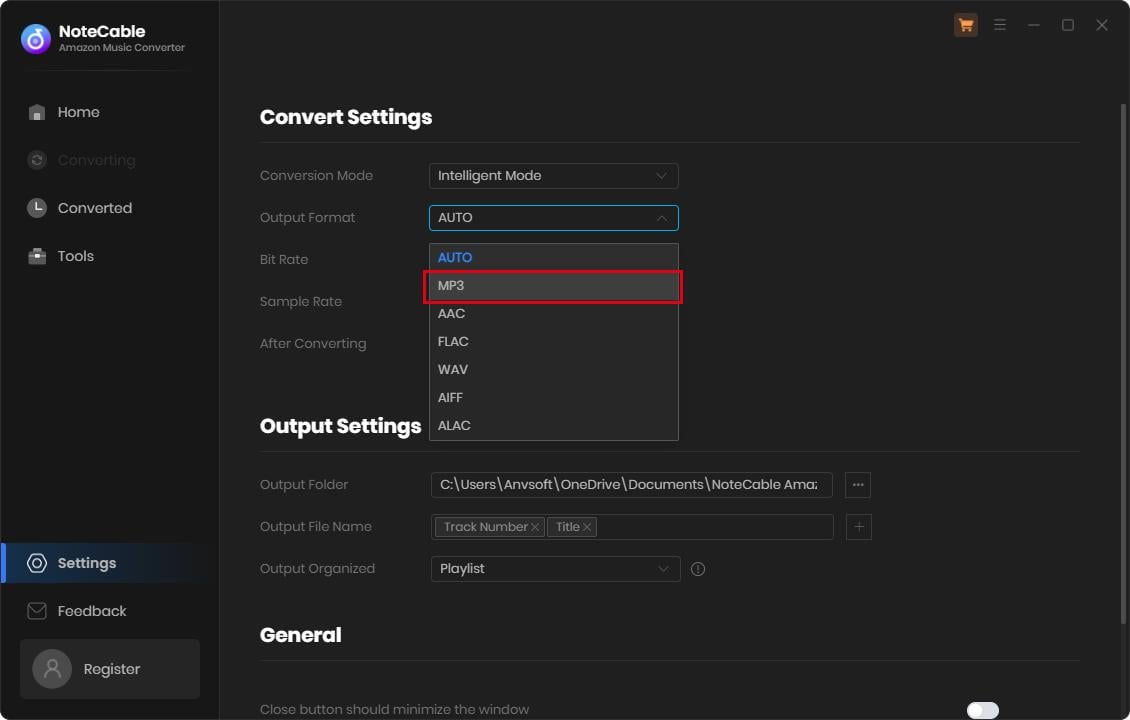 Step 4 After the Amazon Music output settings, you can now add your Amazon playlist to the conversion panel to put them into effect. Open the playlist that you want to download and click on the 'Click to add' button and NoteCable will read the whole playlist. You then just select the songs contained in that playlist. Finally, click the 'Convert' to proceed.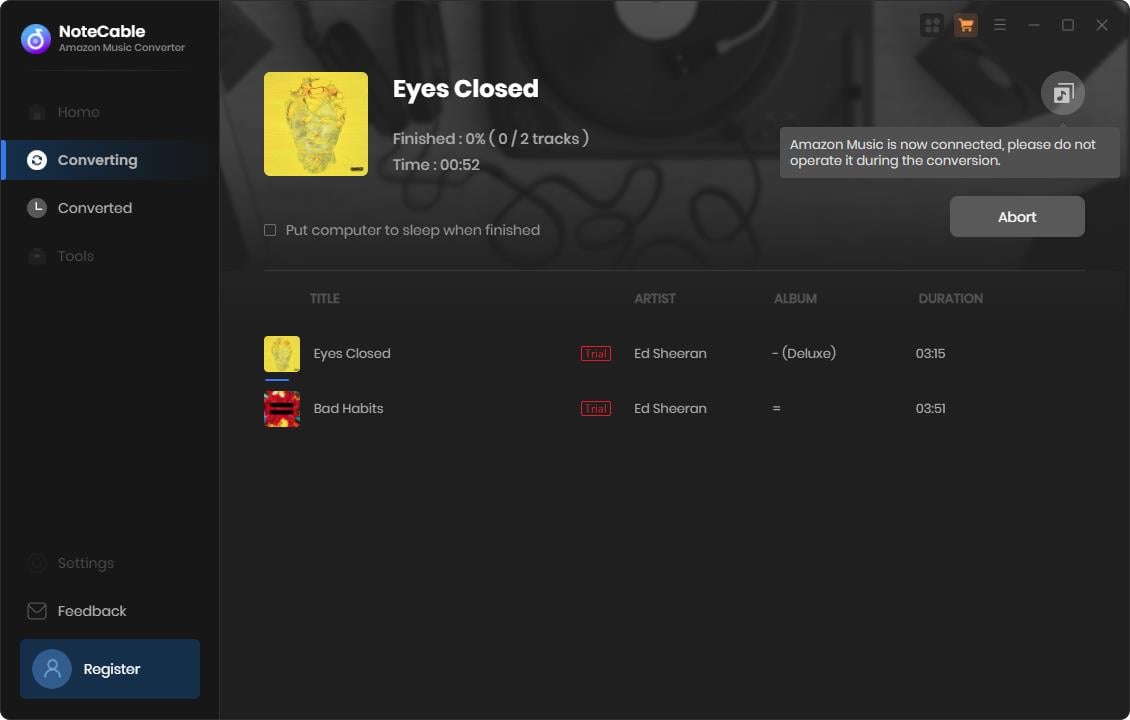 But if you would like to convert the Amazon Music playlist in batch, you can click Add More to add other your preferred playlists and select the songs. By clicking the 'Convert' function, you can start the conversion.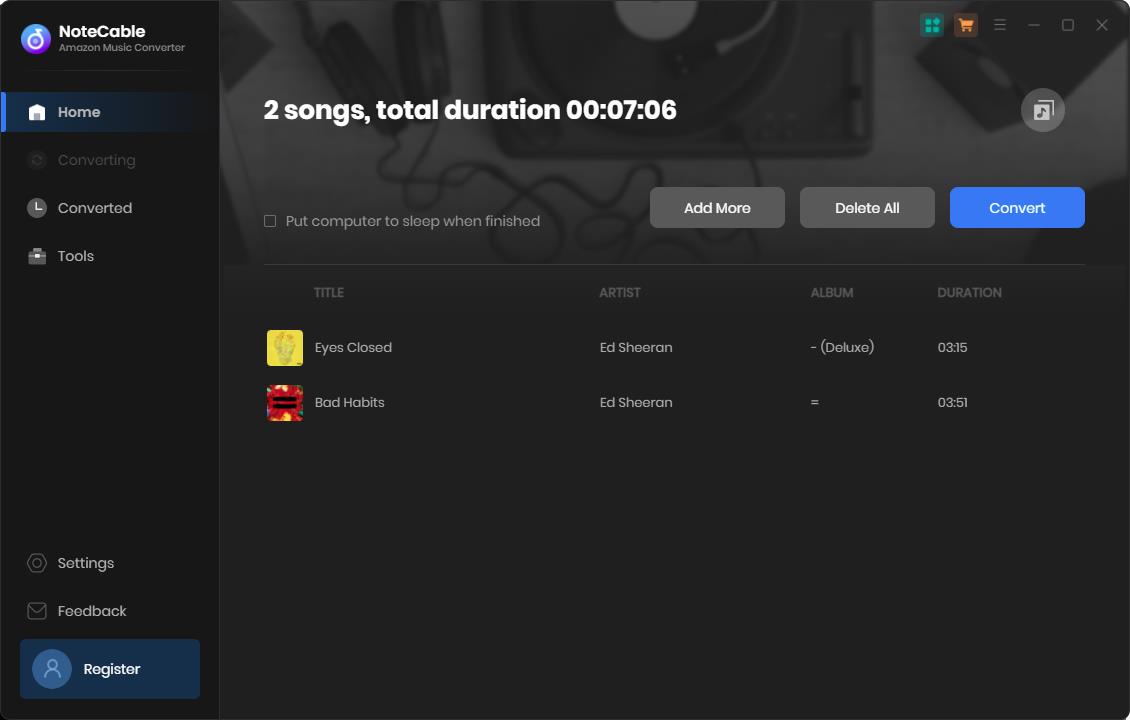 Step 5 To view all your downloading history, you can click on the 'Converted' part on the left bar. All Amazon Music downloads are listed there. Further clicking on the folder after a single song, you can reach out to the downloaded files in your local place.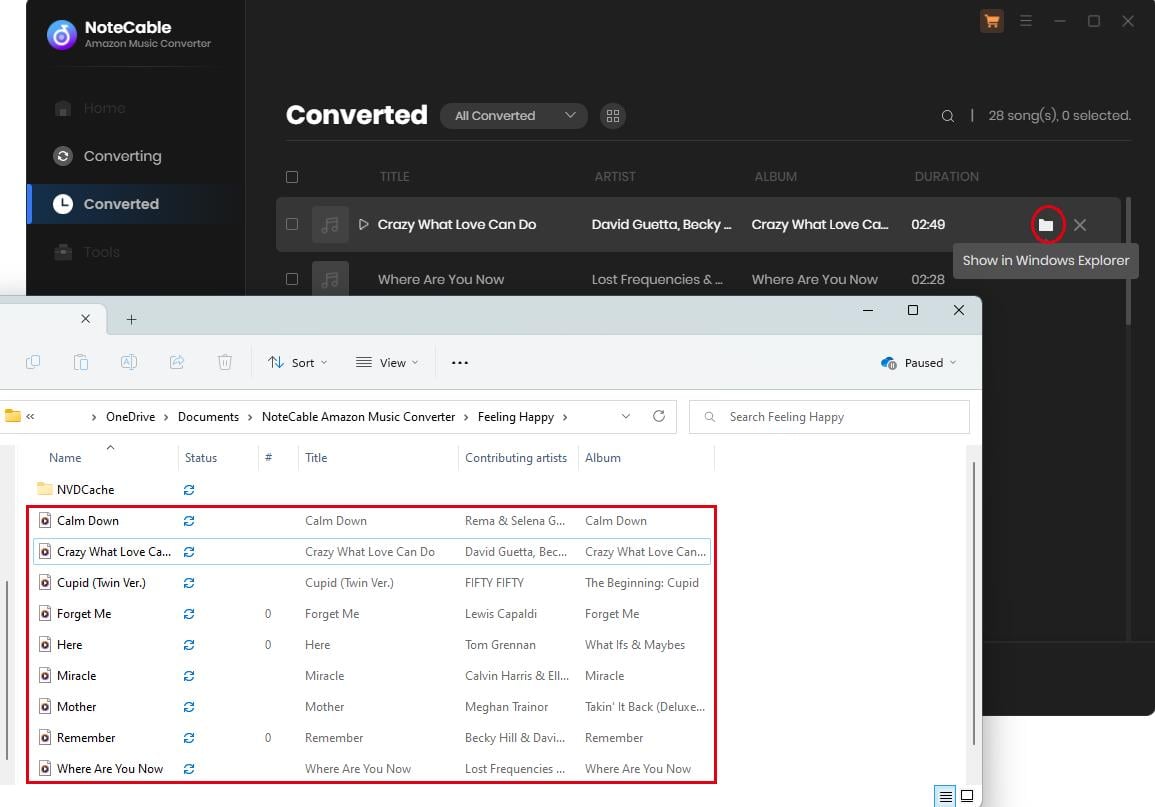 As you can find out, all the songs listed in your local folder are categorized as music files on your computer. That means they are in the open sources as MP3/AAC/FLAC/AIFF/WAV/ALAC format. When you download your Amazon songs on your devices, whether you have a Amazon Prime/Unlimited or nor, you can still play them normally in you daily life. What's more, they can be saved on your devices forever after the subscription expires.
---