Home > Amazon Music Tips > 6 Easy Ways to Play Amazon Music in the Car
6 Easy Ways to Play Amazon Music in the Car
Listening to music is a kind of entertainment that people like very much. With the development of technology, the way of listening to music has been constantly changing. Today, when streaming music services are popular all over the world, Amazon Music is very popular because of its powerful music library. Amazon Music has 730,000 songs online, of course you need to pay for it. But since downloaded Amazon songs are encrypted, you can't play them on devices other than Amazon Music, like when you're traveling by car, you can't play your favorite songs on the car. Also, you can't play when offline.
This means that you can't enjoy your favorite music in the car. It's sad, isn't it? So is there any way to let us play our favorite Amazon Music in the car so that we can have another pleasant and beautiful journey? Put another way, how can we play our favorite Amazon Music songs on a variety of devices? Are we free to enjoy music even when offline? Follow this article, let's find the answers together, and solve our puzzles one by one.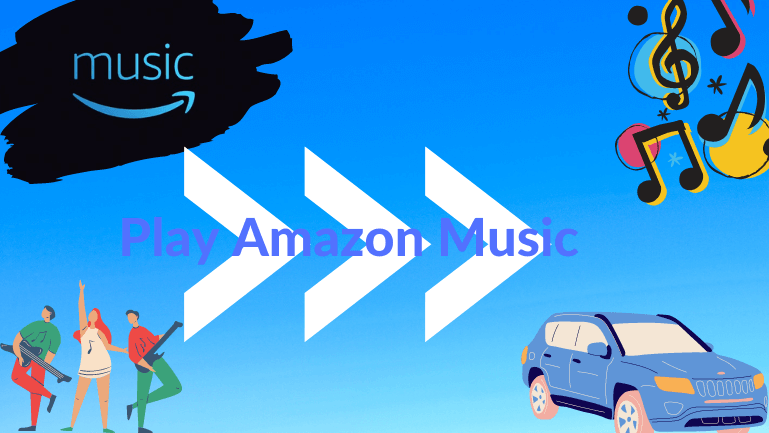 Part 1. What Are the Benefits of Implementing Music in the Car?
1. You can enjoy your favorite music anytime, anywhere, even while driving
2. Make boring road trips fun
3. Pleasant music soothes the tediousness of life
4. Dynamic music can make you more energetic and prevent drowsy driving
5. Music is essential when you are stuck in traffic.
Part 2. 6 Easy Ways to Play Amazon Music in the Car
After learning about the benefits of being able to play music in your car, here are 6 of the most effective ways to do it.
Method 1: Play Amazon Music in Car via Alexa Built-in Devices
If your vehicle doesn't have a built-in dashboard, you can listen to Amazon Music on your car device with Alexa built-in. The specific steps are as follows.
(1) Install the Alexa app on your iPhone or Android phone and set up Alexa on your phone and car.
(2) Power on the device in your car and connect it to your Alexa app.
(3) Pair your Alexa-enabled device with your car's audio system via Bluetooth or Auxiliary Input.
(4) Start playing Amazon songs in your car with Alexa using voice commands now.
Method 2: Enjoy Amazon Music songs by USB
(1) Plug your phone into an available USB port in your car using a USB cable.
(2) Next select the USB option in the car system, then go to Amazon Music from the root folder to play the album or playlist.
Method 3: Listen to Amazon songs via Bluetooth
(1) Turn on the bluetooth of your car stereo and your phone at the same time and pair them.
(2) After the pairing is successful, you can select the Amazon song list you want to play on your phone and sync it to the car stereo.
Method 4: Stream Amazon Songs in Car with Apple CarPlay
(1) Turn on bluetooth on iPhone to pair with car.
(2) On your iPhone, go to Settings > General > CarPlay and select your car audio option.
(3) Then you can fire up Amazon Music in the car and choose the song you want to play.
Method 5: Enjoy Amazon Music songs by using FM Transmitter
(1) Turn on Bluetooth or use a USB cable to connect the FM transmitter to the music device in the car.
(2) Choose a radio frequency on the transmitter to stream your music from Amazon Music.
(3) Tune your radio to the same frequency and turn up the volume. And launch Amazon Music on your phone, and the list you want to play plays on that FM frequency.
Method 6: Listen to Amazon Music via CDs or USB Drive
One of the easiest ways to listen to Amazon Music via a CD or USB drive. But it's also the hardest thing to do because of Amazon Music's built-in protection. So if you want to realize it, you will need a powerful tool- the NoteCable Amazie Music Converter, which supports you convert songs to MP3 format so that you can play Amazon Music songs in the car, to help you. It also supports to download Amazon Prime Music and Amazon Unlimited Music at 10X faster speed, and keep all ID3 tags and original sound quality. Now, I'll share the specific steps with you, let's get it.
Step 1
Launch the NoteCable Amazon Music Converter
Firstly, you need to launch the NoteCable Amazon Music Converter on your computer and you can choose App Mode or Webplayer Mode as your conversion mode.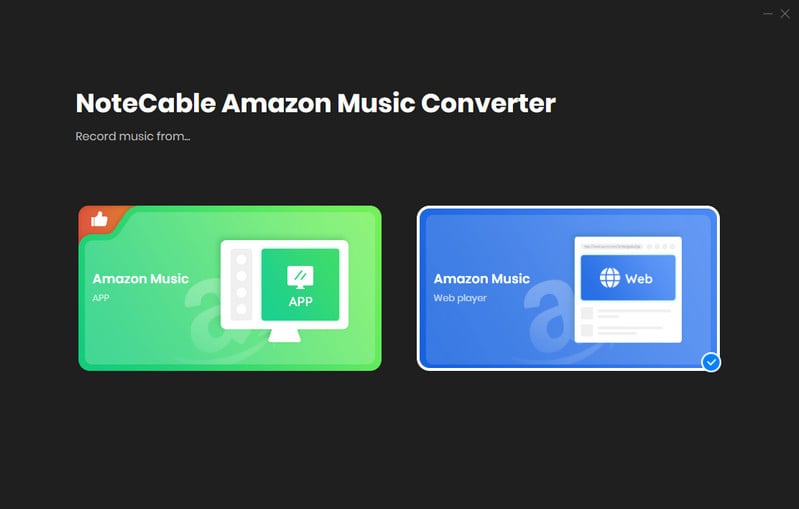 Step 2
Log in with your account
Click the "Sign up" button in the upper right corner and fill in your Amazon Music account password information to log in. The process is 100% clean and safe.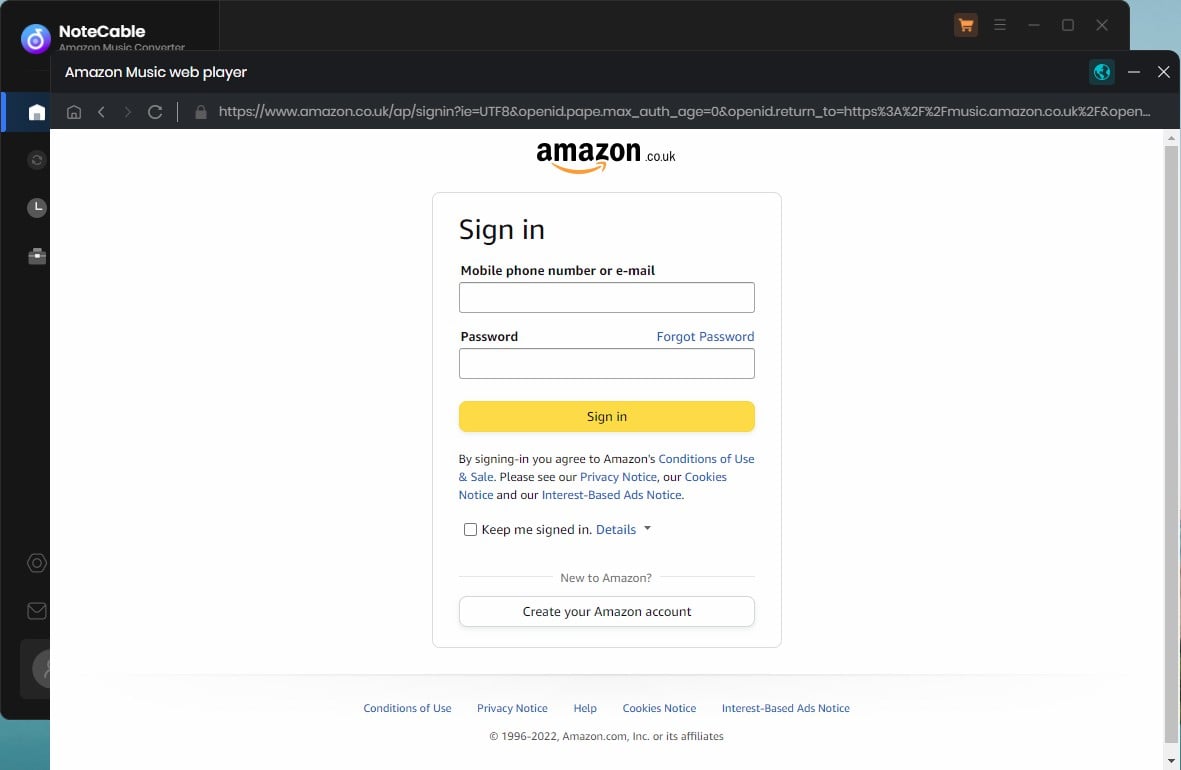 Step 3
Setting the output format
Before starting to download Amaozn Music songs, you need to click the "Setting" section, you can choose to convert Amazon songs to MP3, AAC, WAV, FLAC, AIFF, ALAC format in the output format option in the pop-up settings dialog. In addition, you can also set the bit rate(support up to 320kbps), sample rate(there are four options: 44.1kHz, 48kHz, 96kHz, 192kHz), output file name, output organized. If you skip this step, the program will default to Auto as your output format, and in this case, the program will automatically download the original sound quality and download it as the normal default output format.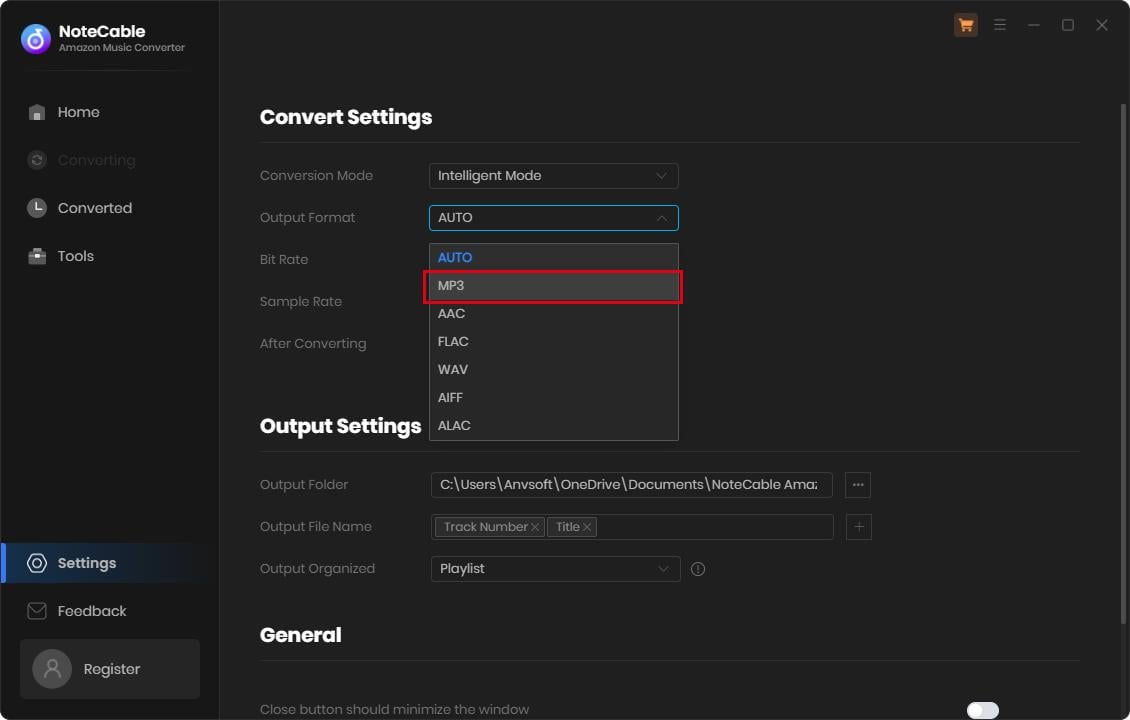 Step 4
Convert the songs you like
After completing the setup steps, you can select a playlist, album, or artist you like the most, open it, click the "Click to add" button to select the songs you want to download, and then click the "Convert" button to start downloading. The whole download process will be very fast, just wait patiently.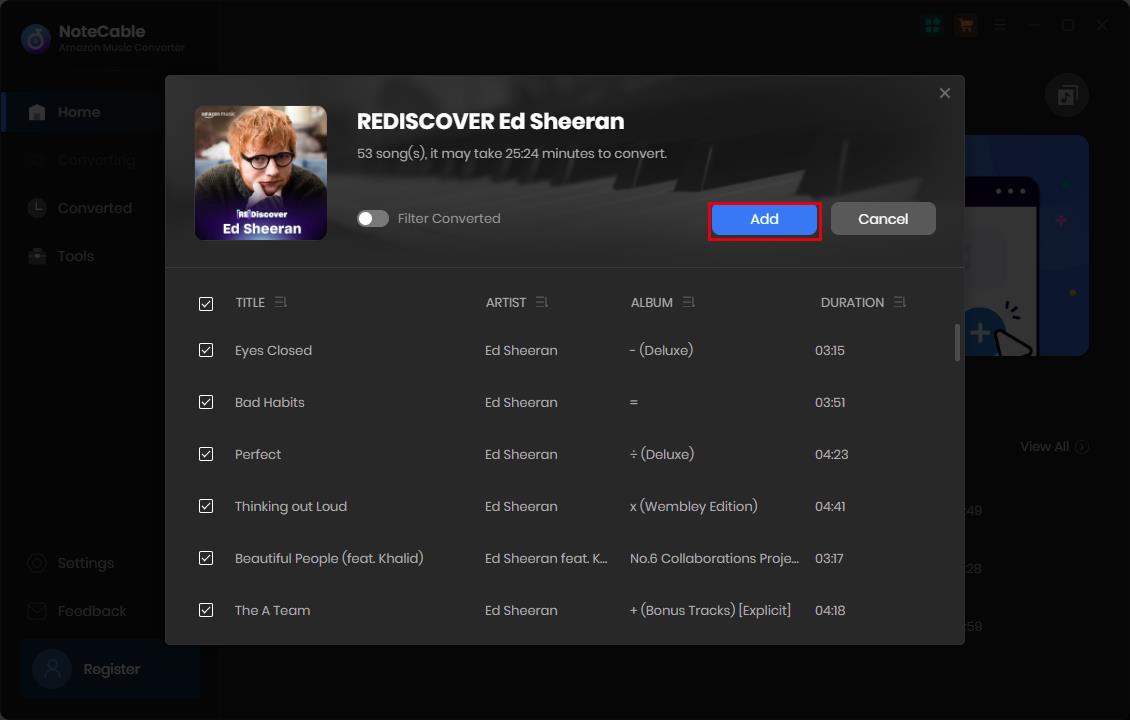 If you want to download playlist & album, you can click the "Save" button, and then select other songs you want to convert. After all songs are selected, click the "Convert" button to start the conversion.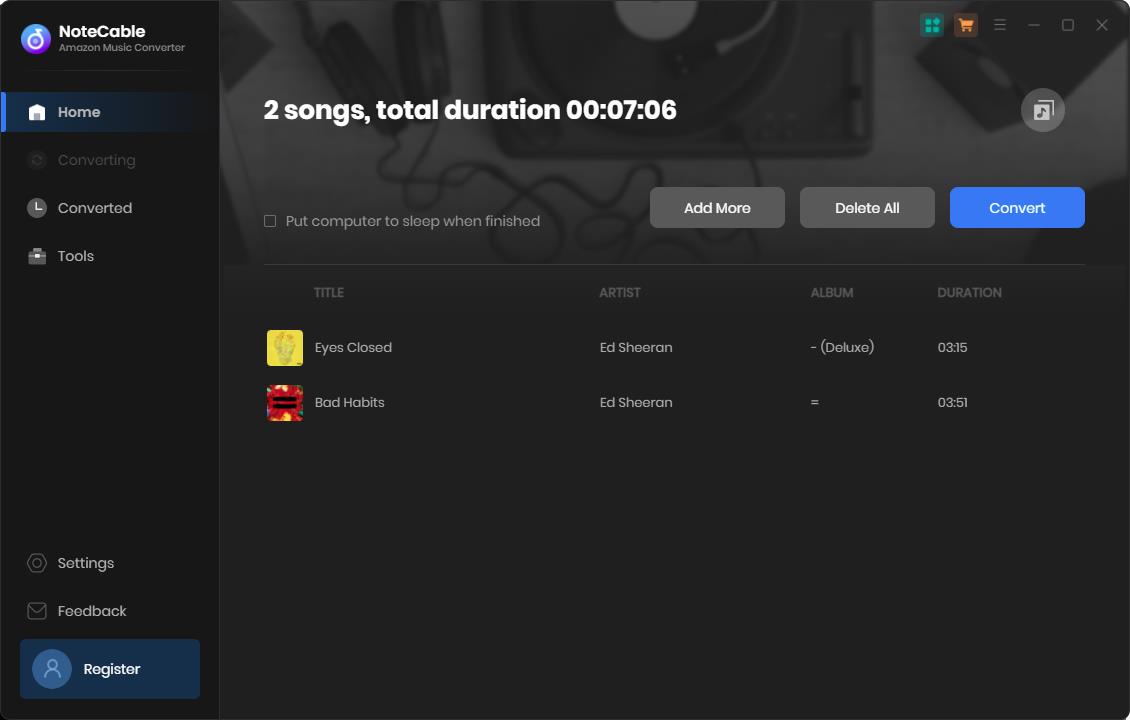 Step 5
Find the downloaded songs
After the song is downloaded, the program will automatically pop up the download folder of the song, or you also can click the "Converted" part on the left bar of the interface to check the songs you have downloaded.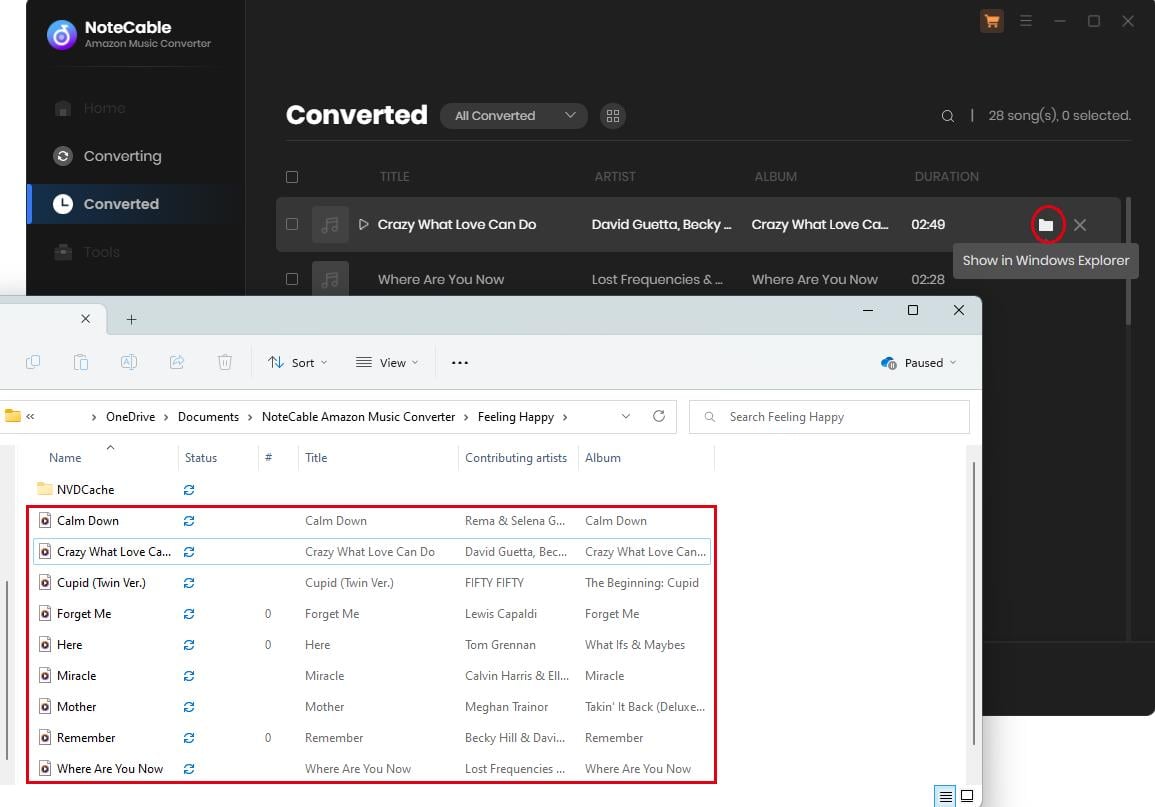 Step 6
How to play Amazon Music songs in the car via USB or CD?
6.1 Connect the USB drive to your computer, then transfer the downloaded Amazon songs to the USB, and finally insert the USB drive into the car to play your favorite songs.
6.2 Insert a blank CD into your computer and use iTunes, window media player, or VLC media player to burn the converted Amazon Music songs to CD, then use the CD to play Amazon Music songs in the car.
End Words
Amazon Music is one of several streaming services that is popular with users for its robust music library. But the only pity is that you can't play Amazon Music songs on other devices. And NoteCable Amazie Music Converter is a powerful tool designed to solve this problem. With it, not only can you play Amazon Music songs in your car, but you can also play your favorite Amazon Music songs on any other device. Now, let's download it, try the free trail, enables playback of Amaozn Music in the car, even offline.