Home > Apple Music Tips > Get Apple Music for Free
How to Get Apple Music for Free
Like other streaming services, Apple Music offers tailored subscription plans to its service, which are available on the music platform's homepage. There are 4 tiers to choose from, including $4.99 for Voice, $5.99 for Student, $9.99 for Individual, and $14.99 for Family per month. For most people, paying for a month's Apple Music subscription is not a huge expense. But if you pay monthly all the time, it could be a large sum of money. But if you don't renew it, you won't access Apple Music anymore. It is a dilemma, right?
So how to get Apple Music for free for those who have a limited budget or are annoyed by this paid subscription? Today, we will give some solutions to solve this trouble. The article contains three parts in total. Let's learn how to get free Apple Music forever with no monthly fee required.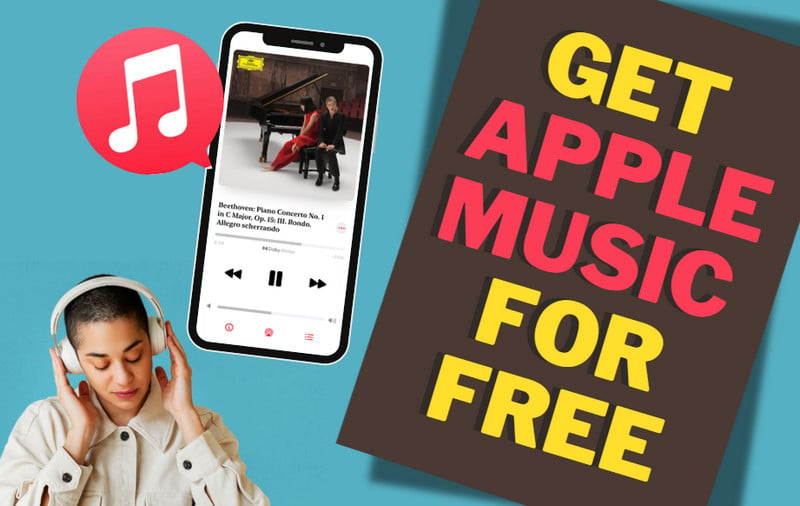 Part 1. Explore an Apple Music Free Trial with Four Methods
There are four ways you can get Apple Music for free for a limited time. A Free Trial also enables you to listen to all high-quality content on Apple Music.
1.1 Free Trial for 1 Month via Apple ID
If you've never tried Apple Music before, you are able to get one month automatically free of charge. Prior to February 2022, this free trial lasted for three months.
To get this free trial, visit Apple Music's website and choose "Try it free" in the top-right corner. Sign in with an existing Apple ID or create a new Apple ID. And click "Try it free" on any of the Voice, Student, Individual and Family plan options. After you claim the free account, you can enjoy up to 100 million songs, exclusive playlists, and radios on your iPhone, iPad, iPod, Android, PC, or Mac with no limitations.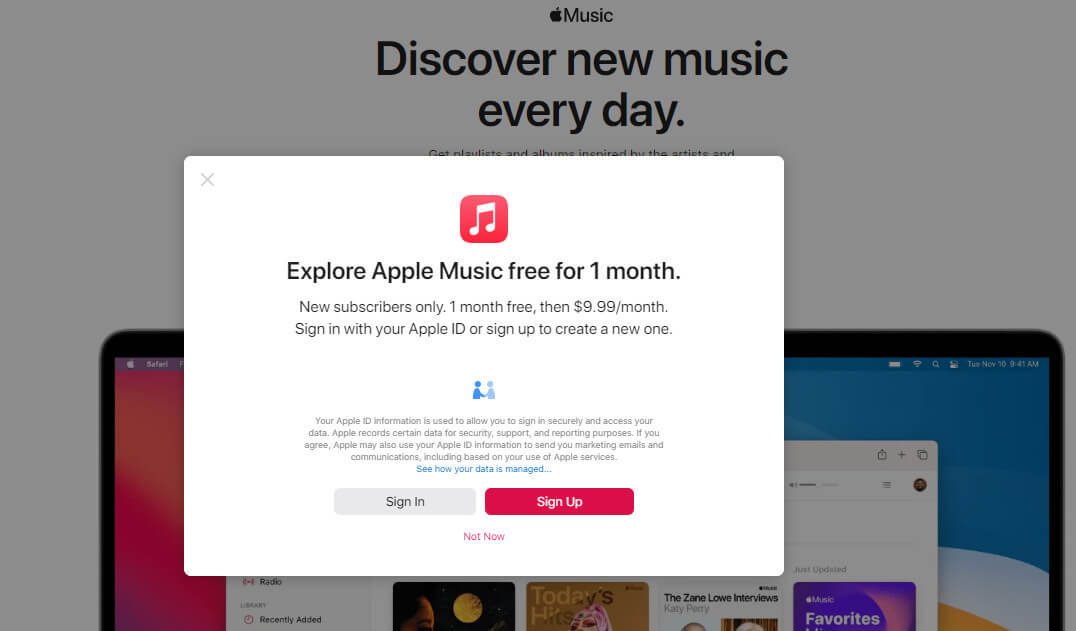 You can get free Apple Music with this method. But after a trial expires, your Apple Music free account will be switched to a paid one. If you don't want to pay for Apple Music, you must make sure to cancel your subscription before it automatically renews. To do this on an iPhone, just go to Settings and click on the section at the top with your Apple ID. Next tap on Subscriptions and find the one you want to cancel. Then tap on Cancel Subscription at the bottom of the page.
1.2 Get 2-month Free Apple Music with Shazam
There is another way to get free Apple Music songs on iOS devices and Android. Shazam is offering a free two-month Apple Music trial via the Shazam app(Shazam is a music identification service owned by Apple). Even if you have previously tried Apple Music for 1 month and are a lapsed subscriber, you can still take advantage of Shazam's two-month free trial. All you need to do is download Shazam to your iPhone, iPad or iPod touch. You don't even need to get the app to identify the song playing. You can find the Limited Time Only offer under your Recent Shazams. Follow these steps below to get a free trial.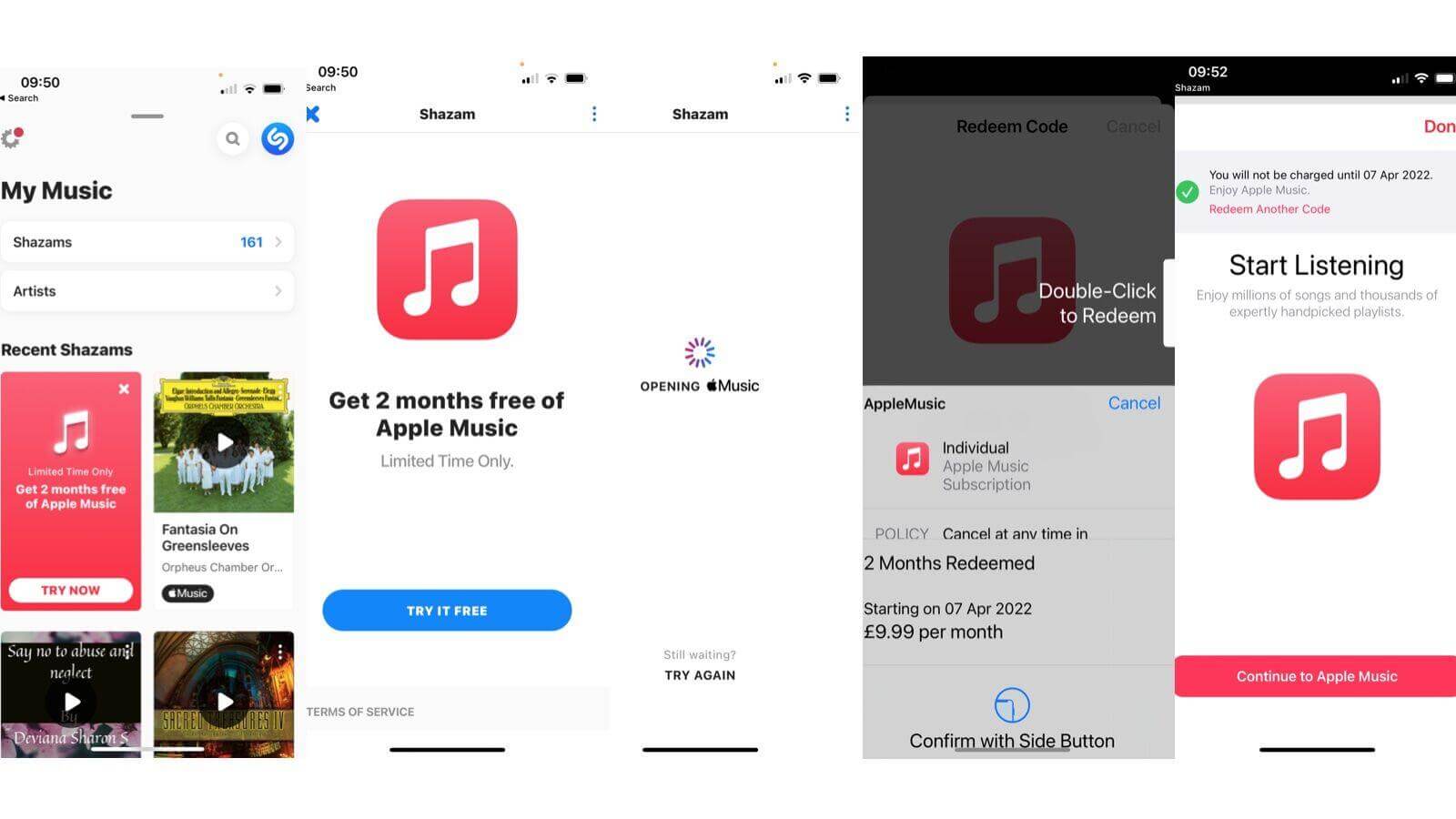 Step 1. Click on Try Now.
Step 2. You'll be invited to Get 2 months free of Apple Music.
Step 3. Click on Try It Free and you will be taken to the Apple Music app.
Step 4. You will then be invited to Double Click to Redeem. You will see the date at which the free trial will end and you will be charged (so you can make a note to either cancel just before or switch to the Voice tier so that you don't have to pay £9.99/$9.99).
Step 5. Finally, you are able to start listening to Apple Music.
1.3 Get Apple Music Free for 6 Months with Eligible Products
While Apple Music's trial period has been reduced to a month for new subscribers, there's still a way to get a six-month trial. The company bundles the extended trial period with selected AirPods, HomePod mini, or Beats products. Here are the simple steps as follows.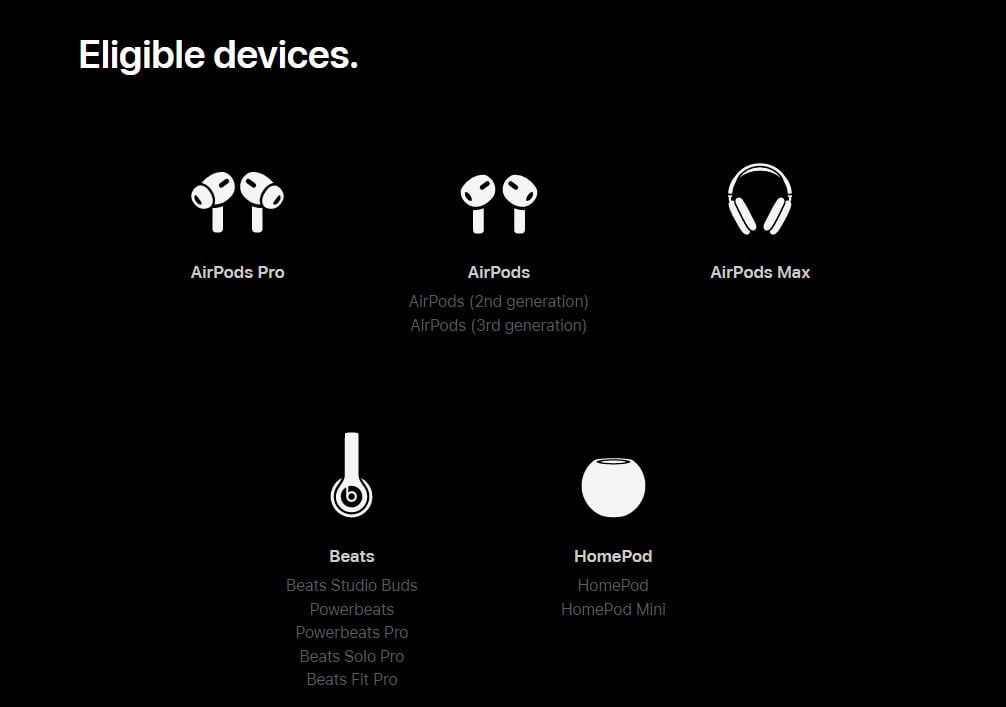 Step 1. Make sure your iPhone or iPad is running the latest version of iOS or iPadOS.
Step 2. Pair your eligible audio device with your iPhone or iPad.
Step 3. Open the Apple Music app on your iPhone or iPad and sign in with your Apple ID. If the offer doesn't appear immediately after launching the app, go to the Listen Now tab where it will appear.
Step 4. Tap Get 6 months free.
Step 5. Finally, you are able to start listening to Apple Music.
1.4 An Additional 3-month Trial by Family Sharing
Perhaps some of you have already used the first 1-month free trial, it's almost impossible to use Apple Music for free. But there is a way for you to get another free trial for 3 months. That's to accept the Family plan invitation. The Apple Music Family plan supports up to 6 people to share under one subscription. You can let your family member or friend subscribe to the Apple Music Family plan. And then ask them to invite you into the plan. But make sure that they have never used Apple Music before.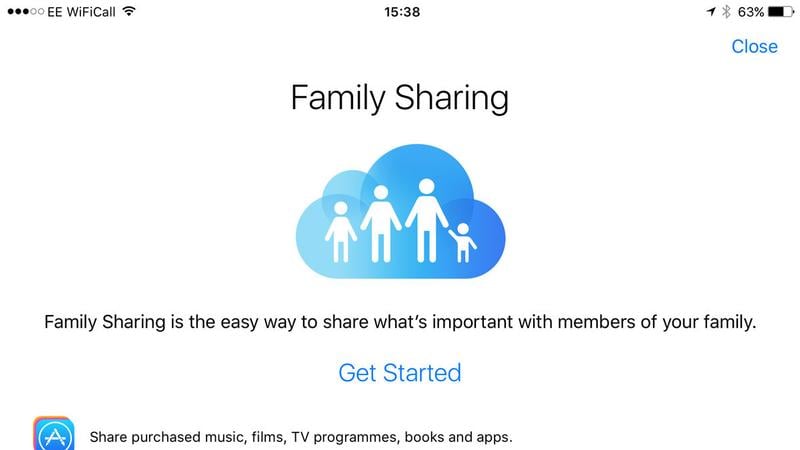 Once you get the invitation, you can accept it on your Mac or your phone. Then you need to confirm your account and choose the features for the family plan.
Part 2. Get Apple Music for Free Forever with a Professional Tool
However, there is a cruel reality you should know that you can't permanently own Apple music songs even if you have already downloaded them. Once the free trial ends and you don't renew it, all songs that you previously saved from the Apple Music catalog will be removed from your devices. Basically, you cannot stream any Apple Music tracks added to your iCloud Music Library anymore. It will be a huge loss, right? So if you want to keep Apple Music free forever and save all your playlists effortlessly, a feasible tool is recommended to help you prepare for the day when the free trial is invalid.
2.1 Tool Required – NoteCable Atunes Music Converter
NoteCable Atunes Music Converter is a specially designed program used for downloading Apple Music tracks. With the assistance of it, you can convert songs from protected format to some popular audio formats such as MP3, AAC, WAV, AIFF, ALAC or FLAC for further editing, backup, or playback without the need to use an authorized Apple device.
Moreover, it will keep the original audio quality and metadata after conversion. You will not lose any important information about your songs, such as the artist's name, song title, or album artwork. It is 100% clean & safe with stable performance. All tracks downloaded with NoteCable are available for lifetime streaming and are playable without any restriction. Plus, it requires no need to install any extra app.
2.2 How to Use NoteCable to Download Apple Music
Please follow the step-by-step tutorial below to learn how to save Apple Music songs to your computer in plain audio formats.
Step 1Install and Run the NoteCable Atunes Music Converter and Choose Conversion Mode
Launch the NoteCable Atunes Music Converter on your computer. And then you can choose App Mode or Webplayer Mode as your conversion mode.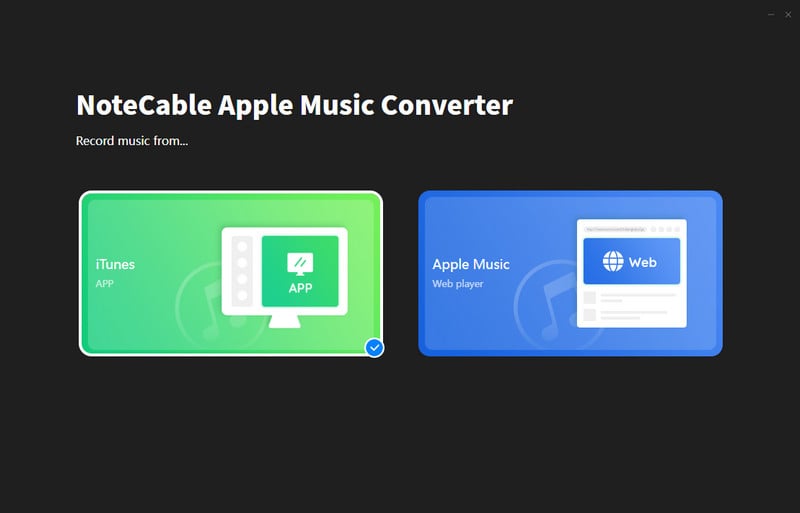 Step 2Sign into Your Apple Music Account
You ought to enter the necessary information to access your Apple Music content with Webplayer Mode.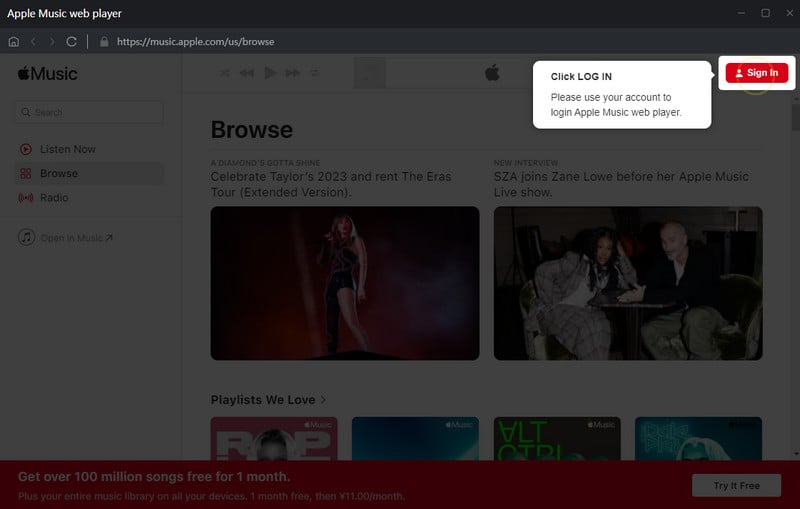 Step 3Choose the Output Settings
Default settings will output all the Apple Music to the original AAC 320kbps. If you want to change it and suit your own need, you can go to the Settings part on the left panel. You can set up the output format, output sound quality, output folder, output file name to meet your personal needs.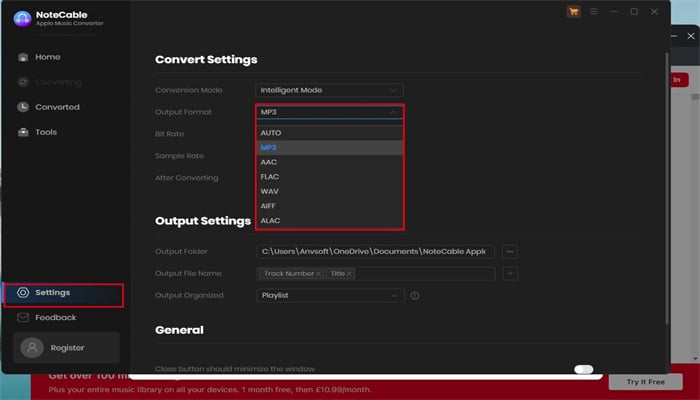 If you are used to putting all downloaded songs in one folder, you can set up the option to None on the output organized column.
Step 4Add Apple Music Playlists to Convert
Now, pick a playlist of the songs that you want to get them to get downloaded. By clicking on the feature Click to add, NoteCable will read the current playlist and put them in the conversion panel. You then can select the songs to convert.
If you want multiple playlists conversion, you can put every playlist on the waiting list by clicking Add More button. All playlists will be converted when you press Convert button to work out the task.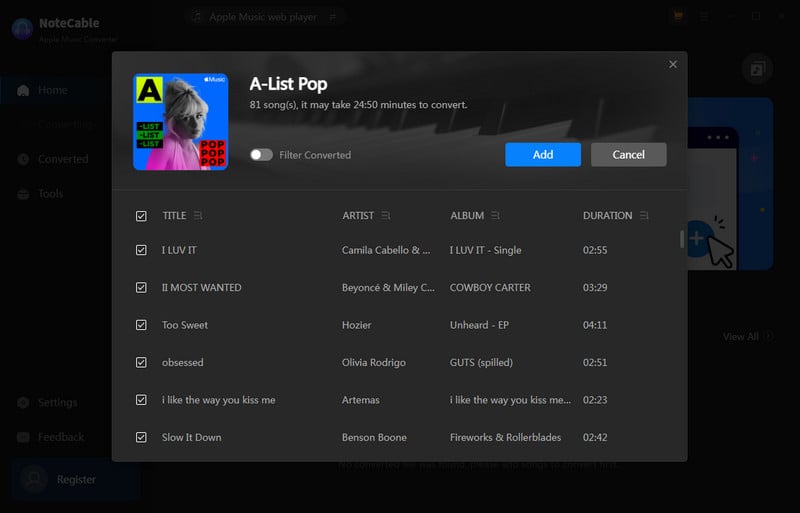 A brilliant 10X conversion speed will cut off the costs of the time spent waiting.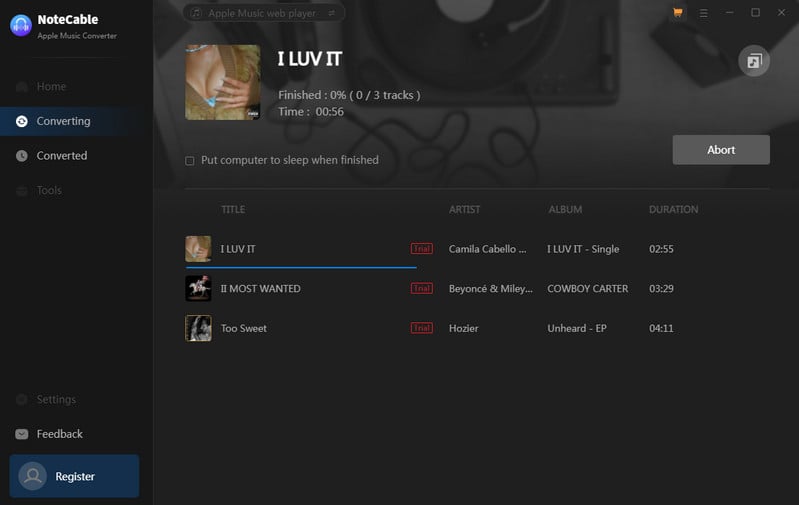 Step 5 Check Out Complete Apple Music
Finally, you can move to the Converted section on the left bar. And by tapping the Folder icon after the songs, you can reach out to the local place.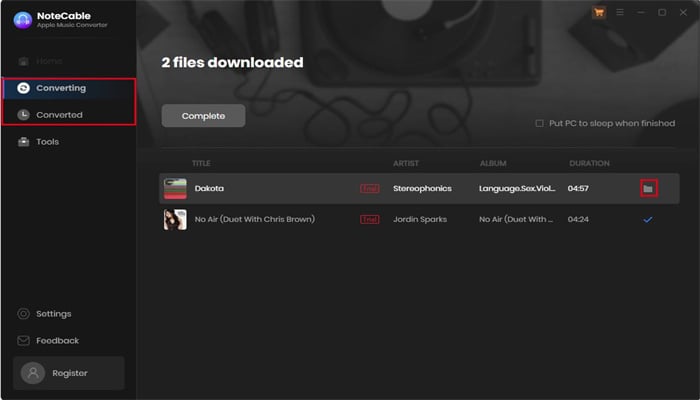 Note: The free trial version of the NoteCable Atunes Music Converter enables you to convert the first one minute of each song. You can unlock the limitation by purchasing the full version.
By downloading Apple Music on your computer, you won't worry about whether to pay for an Apple Music subscription anymore. You can cancel it at any time but still, listen to Apple Music offline on all devices. So in the following part, we will teach you how to get free Apple Music on iPhone/Android. Since you have used NoteCable to remove encryption from Apple Music songs and save them as local music files on the computer, what you need to do is sync Apple Music downloads from your computer to mobile devices. After finishing it, you can listen to Apple Music for free on your iOS and Android smartphones. Here are the detailed steps.
Step 1. Please connect your Android or iOS device to your computer via the USB cable or the WiFi connection.
Step 2. Locate and open the converted Apple Music folder on your computer. For iPhone users, please open the iTunes or Music app also on your desktop.
Step 3. You can drag and drop Apple Music downloads to the folder of your Android phone. Or you should transfer them to iTunes or Music app. After that, you will get Apple Music free on your Android or iPhone.
Summary
We've discussed six ways on how to get Apple Music for free. Now you can start your free trial on the computer and mobile devices. But if you want to get free Apple Music forever after the free trial ends or will not renew your plans, the best way is to seek help from NoteCable Atunes Music Converter. You can use it to download all the songs and get Apple Music for free forever with a trial account. It not only converts encrypted Apple Music songs to plain audio formats but also keeps the original audio quality and metadata. Adopting advanced technology, NoteCable also supports batch conversion with a 10X faster speed, which will save you a lot of time.
If you happen to be within an active subscription period of Apple Music, you can also try this brilliant converter and begin the downloading process. In this way, you'll have full ownership of all the music files and be able to listen to them anytime and anywhere without monthly payment. Don't miss this chance to experience free Apple Music with NoteCable Atunes Music Converter. Come to have a try for free!
---