Home > Apple Music Tips > Export Playlists from Apple Music
How to Export Playlists from Apple Music
If you are eager to play your music outside of iTunes or your Apple Music app, you can try to find the tips on the Apple Music website, which will tell you some devices help technically. All the bits of help are based on a business agreement on both sides. Apart from all of Apple's devices, Apple Music did work on some non-apple devices. It works on PCs with the PC version of iTunes, on Android devices with the Android Apple Music app, on Sonos devices, and Amazon-branded Echo devices. However, there are some Apple Music unsupported devices, which are still the niche appeal of Apple users. It is a pity that you can't get access to Apple Music when you are on some Game Consoles like PSP, PSP Go, PS Vita, PS3, PS4, Xbox 360, Xbox One. You might come across an older smart mobile system, and Apple Music won't be available for Windows Phone, BlackBerry, and Symbian Smart Phones.
Is there a 'one size fits all' solution to the issue? Of course, you can find a way to export the Apple Music playlist and convert them to some common files that are highly compatible with your handy device. Unlike the downloaded Apple Music songs which come in m4p format and can be recognized and only played on certain players. So to improve the Apple Music playability and compatibility, you can use a professional Apple Music converter to export playlist from the Apple Music platform, and convert Apple Music to various formats like MP3, AAC, FLAC, WAV, ALAC and AIFF. Surely, the exported Apple Music will come at substantial applicability.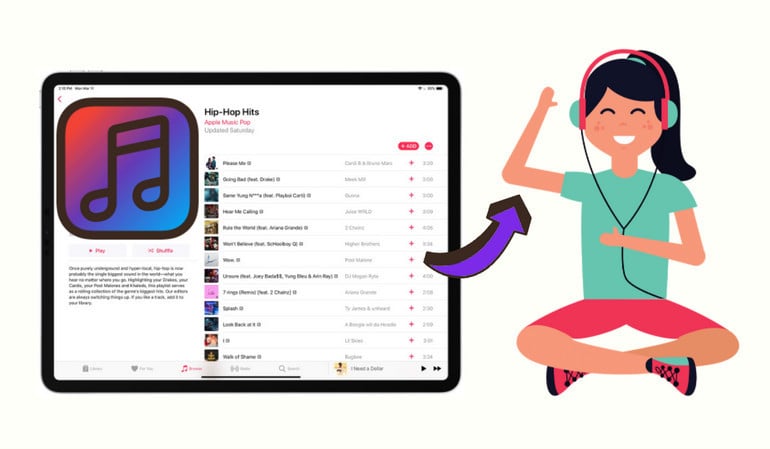 Apple Music Playlist Exporting Tool
It is quite simple if you go with the correct tool. And NoteCable Atunes Music Converter has been proven the top priority if you want to flawlessly download Apple Music, Apple podcast, Apple Music playlist with ease. This is a reliable streaming music converter, whose ability is to convert Apple Music to the normal yet high-compatible audio formats, such as MP3, AAC, WAV, FLAC, ALAC, AIFF. If you plan to switch to another player, you are right with NoteCable Atunes Music Converter. All Apple Music downloads are originally exported and independently saved to the computer for multiple purposes of use. Therefore, you can transfer the songs to other devices and enjoy Apple Music free of a burden even you cancel your Apple Music subscription one day in the future.
Steps to Download Apple Music Playlist and Export to PC
Step 1Install and Run the NoteCable Atunes Music Converter and Choose Conversion Mode
Launch the NoteCable Atunes Music Converter on your computer. And then you can choose App Mode or Webplayer Mode as your conversion mode.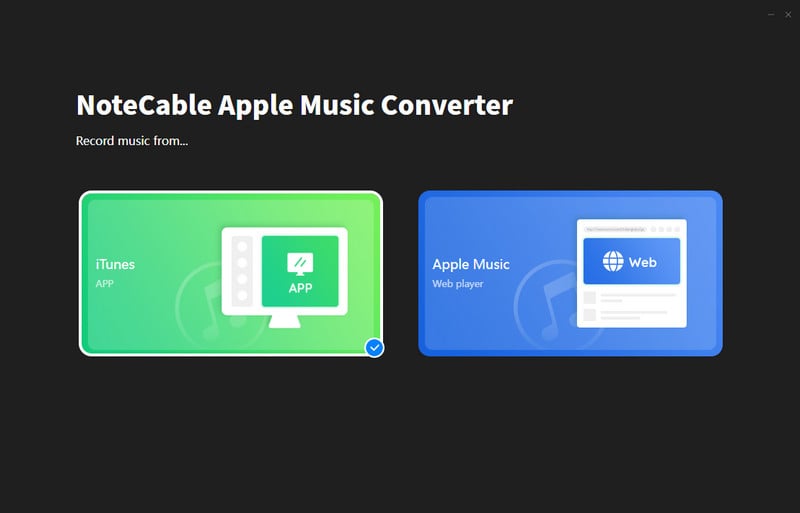 Step 2Sign into Your Apple Music Account
If you choose Webplayer Mode, press 'Sign in' to view the Apple contents.
It is required to log in to your Apple account, thus you can visit the web player and look for your needed playlists. Please be assured: NoteCable won't collect your information but the converter is only for personal use.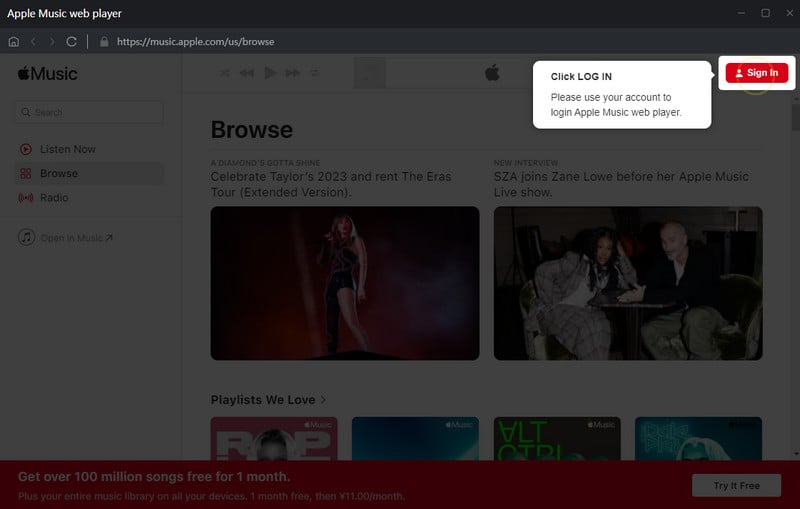 Step 3Self-define Apple Music Output Settings
Output Apple Music format can be customized before the conversion commences. And you can get your wanted audio file format that is in accord with your player device. So go to the Settings which looks like a gear icon on the menu area. And you can define the output format, output sound quality, output folder, output file name as the options are listed for.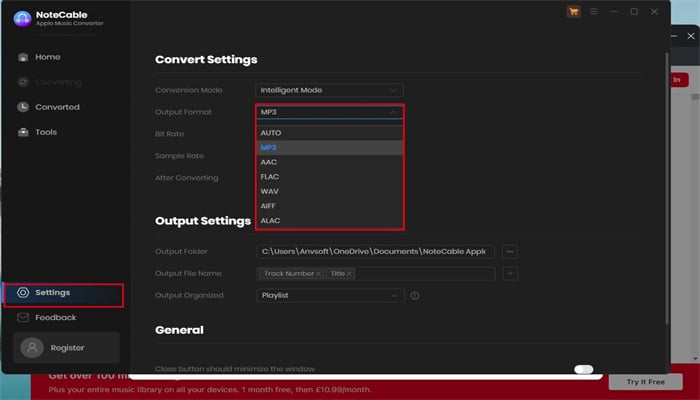 Step 4Convert Apple Music Playlists
Now open your Apple playlist and then tap on the 'Click to add' button. Immediately it will open the window in the way that users can choose the songs to convert. You then select the songs by ticking off the box after the title. After that, click on the key 'Convert' button to start the process.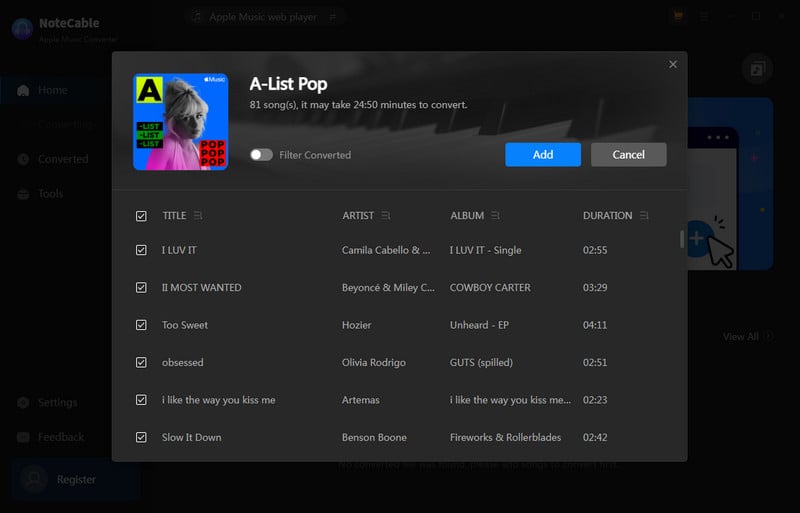 A brilliant 10X conversion speed will shorten your waiting time to a great degree.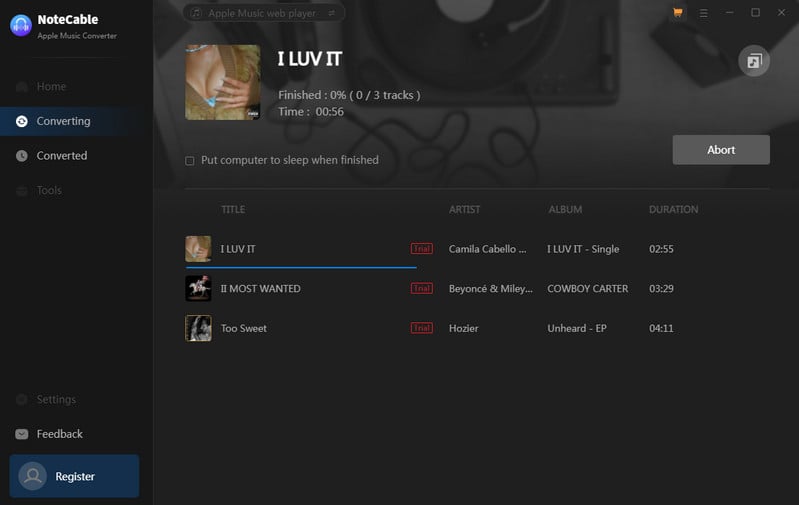 Step 5 Checks Out Finished Apple Music
As we had told in previous, the completed songs will be saved to the computer local storage. To find them out on your computer, click on the Converted part. And then tap on the 'Folder' icon after the song. It will pop up the computer local path that is exactly saving the completed Apple Music.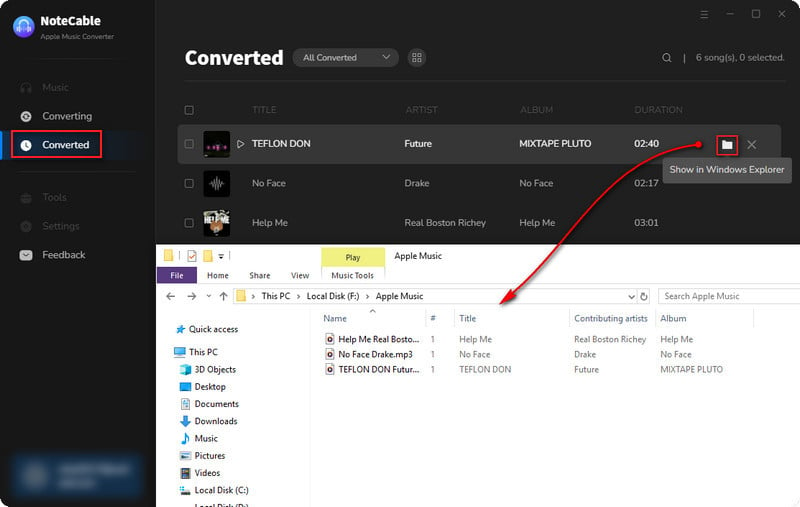 Summary
See! NoteCable Atunes Music Converter helps you get rid of the complicated steps to gain download permission. Instead, you can use this tool to freely download any Apple Music playlist as you want. And you can simply export the Apple Music playlist to a third-party platform without limits. NoteCable Atunes Music Converter is running a free trial for users, why not give you a quick shot right now?
---