Home > Apple Music Tips > Top 10 Songs on Apple Music 2023
Top 10 Songs on Apple Music 2023
Are you searching for ways to keep on top of the music streaming styles in 2023? If so, you'll adore this. We have compiled the Top 10 Songs on Apple Music that are popular in 2023. We have different music for everyone, from Harry Styles' "As It Was" and David Guetta & Bebe Rexha's "I'm Good (Blue)" to Taylor Swift's "Anti-Hero" and Imagine Dragons' "Bones." Additionally, as a bonus, we'll show you how to download any of these songs as MP3 files, enabling simple access from anywhere. With our helpful advice, you can start playing whenever and wherever you want without worrying about streaming troubles or running out of battery. Let's now investigate the major music trends that emerge in 2023.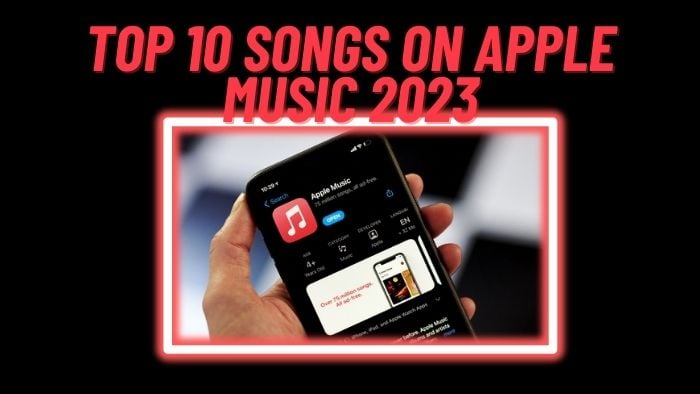 Part 1: Top 10 Songs on Apple Music 2023
# Anti-Hero, Taylor Swift.
Anti-Hero is a pop rock and synth-pop tune propelled by looping percussion and vintage synthesizers. Swift's nightmares and struggles with depersonalization and self-hatred served as inspiration for the lyrics, which also critique society's expectations and her flaws while talking about self-loathing, melancholy, and anxiety. For its straightforward narrative, appealing rhythm, instrumentation centered on synths, and vocal tones, "Anti-Hero" received high marks from music critics.
# Bones, Imagine Dragons.
Bones is one of the American pop rock band Imagine Dragons' songs. As the first single from the group's sixth studio album, Mercury - Acts 1 & 2, the song was made available through Interscope and Kidinakorner on March 11, 2022. Its producers Mattman & Robin, Dan Reynolds, Wayne Sermon, Ben McKee, Daniel Platzman, and Ben McKee wrote the script.
# Hold Me Closer, Elton John & Britney Spears.
The song Hold Me Closer garnered mixed reviews from music critics; some liked the production, the blending of the two songs, and Spears' vocals, while others critiqued the song's lack of verses for her. The song reached the top of the charts in four nations, including Australia and Hungary, and the top 10 in 19 nations, including the United Kingdom and the United States.
# Unholy, Sam Smith & Kim Petras.
Unholy was co-written by German artist Kim Petras and British vocalist Sam Smith. It was made available on September 22, 2022, via EMI Records and Capitol Records. It served as the second single from Smith's fourth studio album Gloria (2023) and a bonus track on Petras's first studio album Feed the Beast (2023). A month before its release, Smith teased it on their TikTok account. It gained popularity when it was used in videos that were modeled after thirst traps.
# Flowers, Miley Cyrus.
Flowers was written, played, and remixed before it became popular on TikTok in 2022. The song's vocals were later redone by Rexha before it was made available as a single. Rexha's "sentimental vocals" are combined with "euphoric piano chords" and "thrilling dancefloor energy" to create what has been called an "emotional club hit" in the song. The response to "Unholy" from critics was mostly positive. Many thought the song stood apart from Gloria and commended its sound for being catchy yet unique, while some thought the song wasn't as transgressive as it should have been and attacked Petras's verse.
# Creepin', Metor Boomin, The Weekend & 21 Savage.
Creepin' was written by Atlanta-based rapper 21 Savage, American record producer Metro Boomin, and Canadian vocalist the Weeknd. On December 13, 2022, Republic Records and Boominati Worldwide released it as the lead single from Metro's second studio album, Heroes & Villains, on rhythmic contemporary and contemporary hit radio.
# Kill Bill, SZA.
Kill Bill features a detuned melody and a midtempo, groovy groove. It is supported by guitars, a bassline, and a flute sampled from a Prophet-6 synthesizer. It is influenced by the boom bap hip-hop style. Critics praised the song's frank examination of SZA's unrestrained, aggressive emotions. Due to its underlying themes of doing whatever it takes for love, they considered her murder fantasies to be excessive yet somewhat sympathetic.
# As It Was, Harry Styles.
Harry Styles, a British singer, released As It Was as the first single off his third studio album, Harry's House (2022), on April 1, 2022, via Erskine and Columbia. Styles co-wrote the song with its producers Kid Harpoon and Tyler Johnson. After "Sign of the Times" in April 2017, Styles' second number-one single "As It Was" received high praise from music critics and debuted at the top of the UK Singles Chart.
# I'm Good (Blue) ---David Guetta & Bebe Rexha.
I'm Good (Blue) was written, played, and remixed before it became popular on TikTok in 2022. The song's vocals were later redone by Rexha before it was made available as a single. Rexha's "sentimental vocals" are combined with "euphoric piano chords" and "thrilling dancefloor energy" to create what has been called an "emotional club hit" in the song.
# Nonsense, Sabrina Carpenter.
American singer Sabrina Carpenter wrote the song Nonsense for her upcoming fifth studio album, Emails I Can't Send (2022). Carpenter and Steph Jones collaborated on the song's lyrics, while Julian Bunetta produced it. Nonsense, which was the ninth song on the album when it was first published, went on to become the album's fifth single after becoming popular on the video-sharing app TikTok, earning praise from fans as a fan favorite and supporting parallels to the music of other singers like Ariana Grande.
Part 2: How to Download Top 10 Songs on Apple Music as MP3 Files
The top 10 songs on Apple Music are listed above; many people are wondering if they may download these to their devices for sharing or offline listening. But as we all know, according to the licensing agreement, Apple Music does not permit users to download their songs in a standard format.
Generally speaking, you must locate a file's storage location in order to change its format. Then you deal with it by using relevant converter tools. You could lose patience because it is so frustrating. The fact that NoteCable Atunes Music Converter is both fully functional and user-friendly makes this conversion procedure easier. It is an audio recorder that can be used to download and convert any Apple Music songs, podcasts, albums, and playlists to basic formats including MP3, AAC, AIFF, WAV, FLAC, and ALAC.
Besides, it has a built-in web version of Apple Music, so you only need to open NoteCable Atunes Music Converter to convert music files, which saves time and is convenient. After converting, these audios are downloaded to the computer as local files. At this moment, transferring them to a USB stick is just one step away.
---
Step 1Install and Run the NoteCable Music Converter and Choose Conversion Mode
Launch the NoteCable Atunes Music Converter on your computer. And then you can choose App Mode or Webplayer Mode as your conversion mode.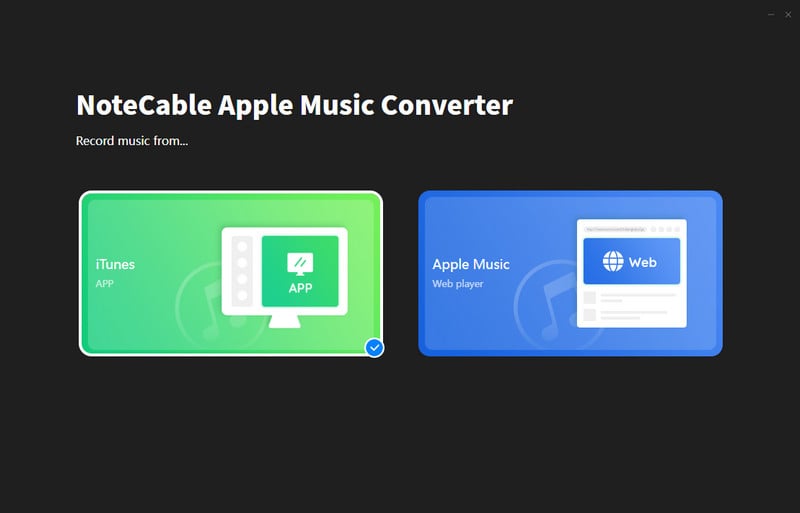 Step 2Sign into Your Apple Music Account
By choosing the Webplayer Mode, you should fill out the required fields in order to access your Apple Music content.
Please be assured: NoteCable won't collect your information other than the tracks. It is just for personal use. Also, you must be an Apple Music subscriber in order to convert Apple Music with NoteCable.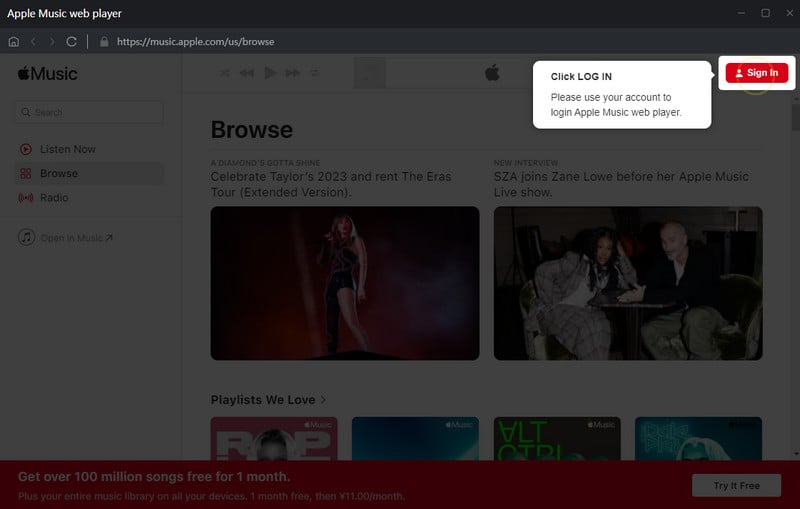 Step 3Choose Output Settings
To customize the output settings, click the "Settings" button on the left bar. The output format (Auto, MP3, AAC, WAV, FLAC, ALAC, AIFF), bit rate (128kbps, 196kbps, 256kbps, 320kbps), output folder, sample rate (11kHz, 22kHz, 44.1kHz, 48kHz, 96kHz), and other settings are all changeable. Alternatively, you may use the Playlist index option in the Output File Name column if you wish to export the songs in the same order as the original playlist.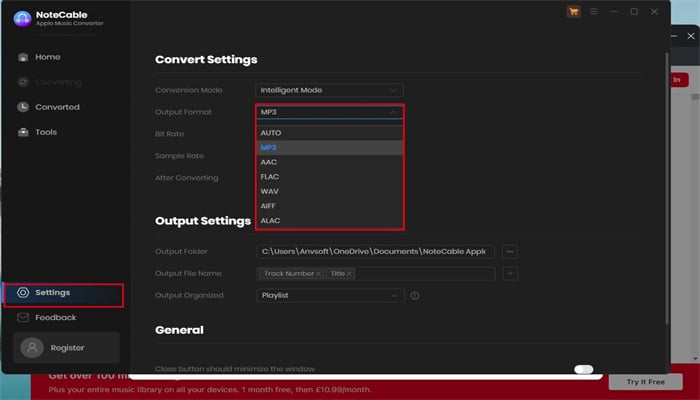 Step 4Add Apple Music Playlists to Convert
Before clicking the Add button, you can first launch a playlist and listen to the music inside of it. Another window displaying the playlist's tracks will appear when you click it.
You then just tick off the box beside the title. And finally, press the Convert to proceed.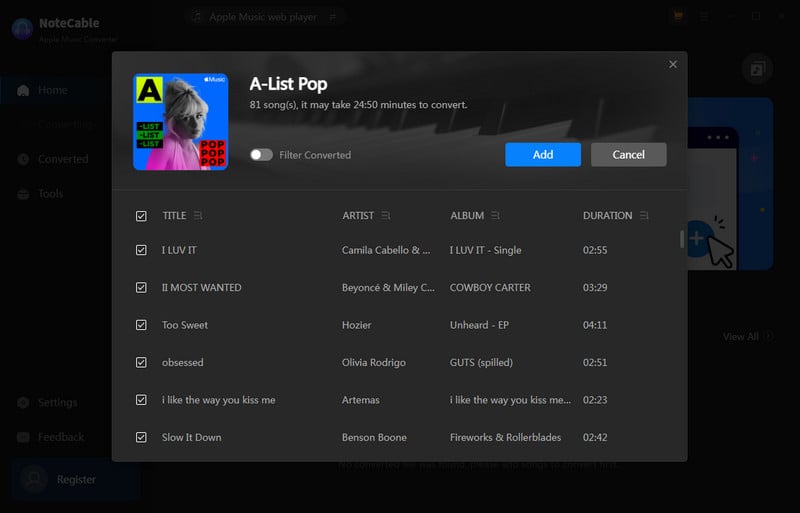 A brilliant up to 10X conversion speed will cut off the costs of the time spent waiting.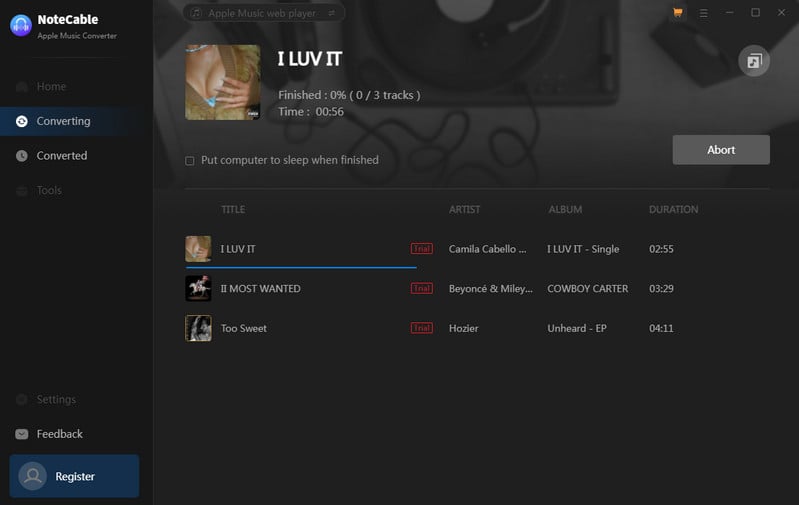 Step 5Check Converted Music Files
The output folder will automatically open once the conversion has been completed. Alternatively, by selecting "Converted" from the left-hand menu, you can find converted Apple Music songs. The folder icon may be found on the right side of the bar when you open it and move your mouse over the converted tracks.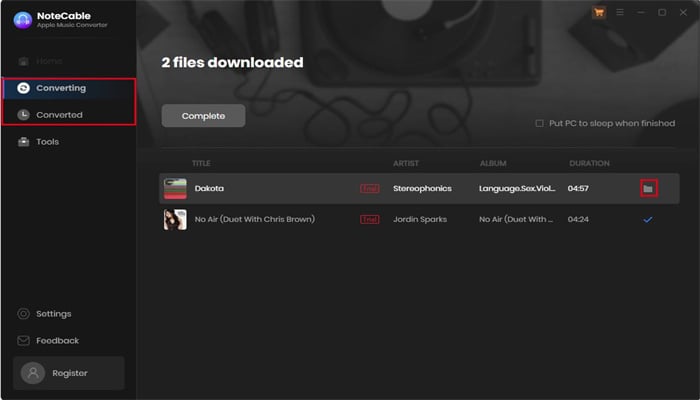 Note: The free trial version of the NoteCable Atunes Music Converter enables you to convert the first one minute of song. You can unlock the limitation by purchasing the full version.
---
Summary
The Top 10 Songs of 2023 can be found on Apple Music. These songs include "Anti-Hero" by Taylor Swift, "Bones" by Imagine Dragons, and "Hold Me Closer" by Elton John. Users can use NoteCable Atunes Music Converter to get any of these songs as MP3 files from Apple Music for simple access. You may listen to Apple Music without worrying about a lack of battery life or streaming issues. What's more, you can also transfer them to your external hard drive for permanent saving.
---