Home > Apple Music Tips > Play Apple Music on PlayStation 4
How to Play Apple Music on PlayStation 4
As a popular home video game console developed by Sony Computer Entertainment, the PlayStation 4 (PS4) becomes widely used and popular among gamers. It can deliver awesome gaming power, vibrant HDR technology, and incredible entertainment. Apart from playing games, one of the important features of PS4 is its ability to play movies and music thanks to the built-in media player application. With it, you can watch videos and listen to music from a USB-connected drive or a home server. If you are both a game player and a music lover, it must be a wonderful experience to enjoy loved music while playing an interesting game.
So are some streaming services like Spotify and Apple Music available on PlayStation 4? We all know PlayStation 4 Music is powered by Spotify, so you can install Spotify and access Spotify music on your PS4. What about Apple Music? Many PS4 users also want to offline enjoy Apple Music on PS4 while playing games. Is there a way to stream Apple Music to PS4? If you looking for a solution to listening to Apple Music on PS4, please keep reading this article, and you will find the best way to play your favorite songs on PS4 offline.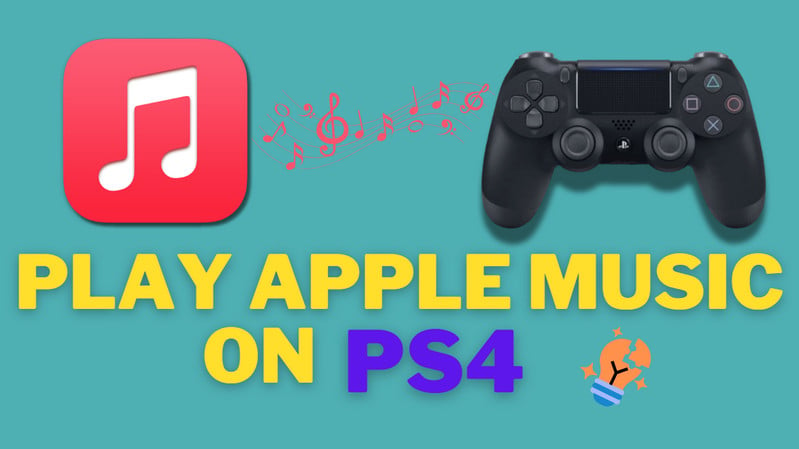 Part 1: Is Apple Music Available on PlayStation 4
In October 2021, Apple Music officially launched on the PS5 console. PS5 users with an Apple Music subscription can access a catalog of 100 million songs, playlists from their own library, and curated gaming playlists. Unfortunately, Apple Music is unavailable in the PlayStation 4 Store. So in all probability, Apple Music is exclusive to PlayStation 5 for now.
Besides, Apple Music comes with encrypted protection in formats that can only be played within authorized devices such as Apple Music or iTunes app. It is no easy job to stream tracks from Apple Music to Sony PS4 directly. So is it possible to enjoy your Apple Music tracks on PS4 freely? The answer is yes. Today, we will teach you two effective ways to stream and play Apple Music on PlayStation 4 (PS4). By downloading Apple Music to a USB drive or connecting Apple music from iPhone via DLNA Media Server, you can listen to music in the background without interrupting games.
Part 2: Two Methods to Play Apple Music on PS4
Although Apple Music doesn't offer its streaming service to PlayStation 4 now, you still can stream Apple Music on the PlayStation 4 in two ways below.
2.1 Listen to Apple Music on PS4 via USB Drive
PS4 allows you to use Media Player to play music files in FLAC/MP3/AAC format saved on a USB stick or home server. In this way, you can transfer Apple Music files to a USB drive and stream your favorite playlists as background music while playing PS4 games. However, as mentioned above, Apple Music songs are protected in special formats and can not be played on other unauthorized devices. So you cannot directly move Apple Music files to your USB flash drive even though you've downloaded them as a subscriber of Apple Music.
To play Apple Music on PS4 with Media Player, you need to remove the encryption and convert Apple Music songs to some open formats such as MP3 first. Here we will recommend NoteCable Atunes Music Converter, a powerful Apple Music converter allowing you to download songs from Apple Music permanently in MP3, AAC, WAV, AIFF, ALAC or FLAC formats at 10X faster conversion speed. And the impressive thing is that it keeps original quality during the conversion. All songs will be saved on your devices with lossless quality.
Tool Required – NoteCable Atunes Music Converter
It is
100% clean & safe with stable performance
. All tracks downloaded with NoteCable are available for
lifetime
streaming and are playable without any restriction. Plus, it requires no need to install any extra app.
How to Use NoteCable to Stream Apple Music on PS4
Here is a step-by-step tutorial on how to download Apple Music songs to your USB drive and play them on PS4.
Step 1Install and Run the NoteCable Atuns Music Converter and Choose Conversion Mode
Launch the NoteCable Atunes Music Converter on your computer. And then you can choose App Mode or Webplayer Mode as your conversion mode.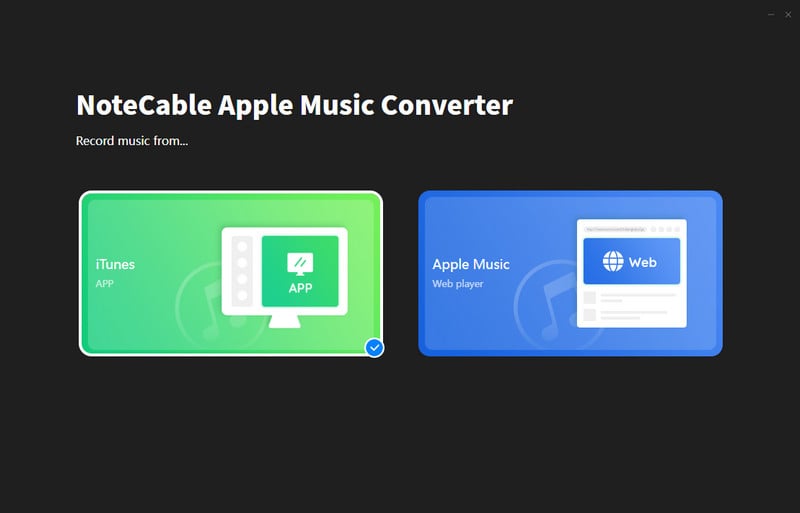 Step 2Sign into Your Apple Music Account
If you choose Webplayer Mode, you ought to enter the necessary information to access your Apple Music content.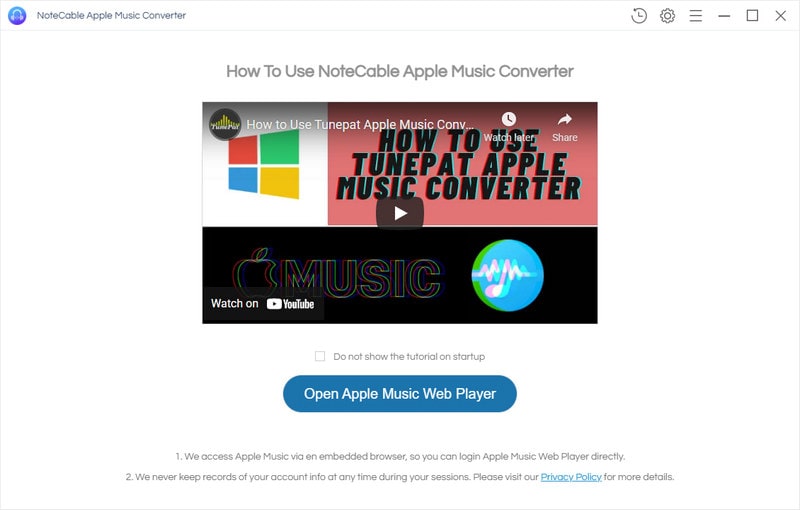 Step 3Customize the Output Settings
Please go to the Settings part on the left panel. There you can set up the output format, output sound quality, output folder, output file name according to your needs. In order to play Apple Music songs on PS4, you are suggested to select MP3, AAC, FLAC as output formats.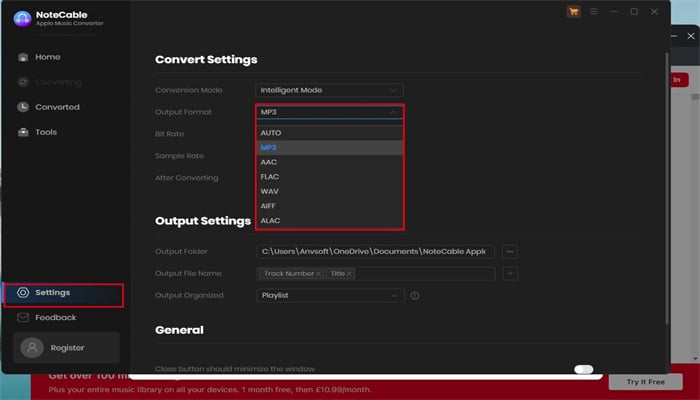 If you are used to putting all downloaded songs in one folder, you can set up the option to None on the output organized column.
Step 4Choose Apple Music Playlists to Convert
Now close the Settings window and go back to the music library to browse Apple Music songs you want to download. You can find any track or playlist you want to play on the PS4 and then open an album or playlist you want to get. Click the Click to add

button suspended on the right side, and the program will list all songs immediately in the Add window. Now all you need is to select songs you want to convert.
Once all the songs are added, you could get started downloading songs by clicking on the Convert button at the bottom right corner of the window. NoteCable will work at a 10X fast speed and you just need to wait for the conversion.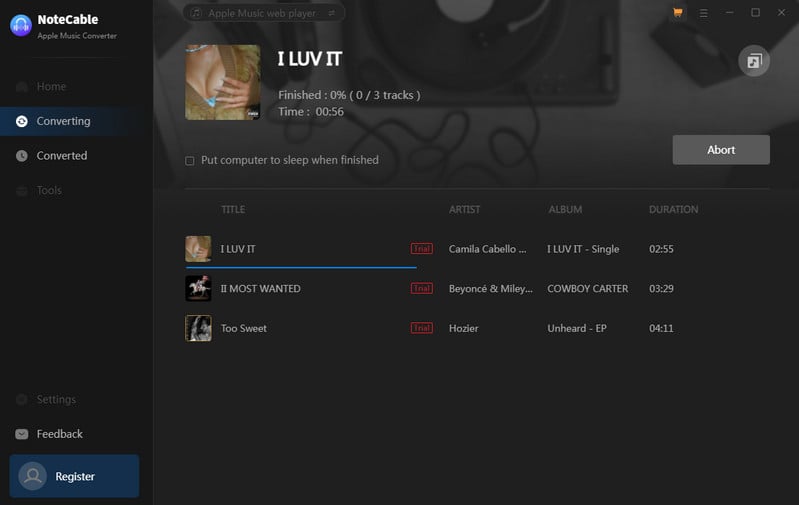 Step 4 Check out the Conversion History
After downloading, you could navigate to Converted to view the converted Apple Music tracks. Tap the Folder icon after the songs, you can reach out to the local file. Now, you have saved Apple Music albums, songs and playlists on your PC or Mac, you can listen to the converted Apple Music songs offline on the computer.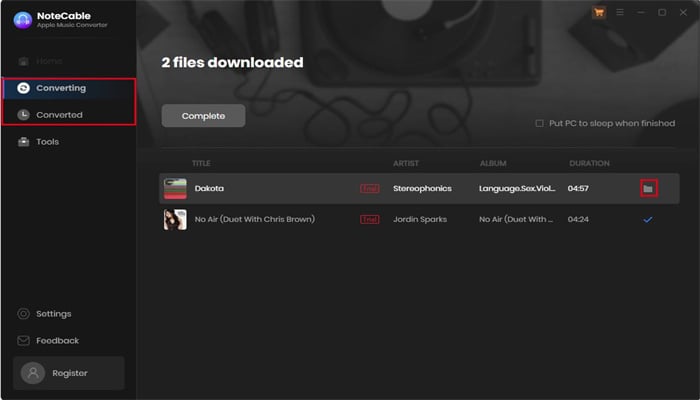 Step 5Transfer Downloaded Songs to the USB Drive
Plug your USB flash drive into the computer and open the folder of your USB drive. Create a folder called Music in the USB drive so that your PS4 system can detect the song files correctly later. Locate the converted Apple Music files you wish to transfer from your PC. Simply drag the audio to the USB folder. Once transferred, you can safely remove the USB from your computer.
Step 6Connect the USB storage device to PS4 and Play Music
Plug your USB drive into one of the USB ports on your PS4 device. The PS4 will detects the USB drive automatically and pop up a window, please select the "USB Music Player" option. Finally, find the Apple Music songs you want to play on PS4. Now, you can offline enjoy your favorite Apple Music tracks on PS4 while playing games.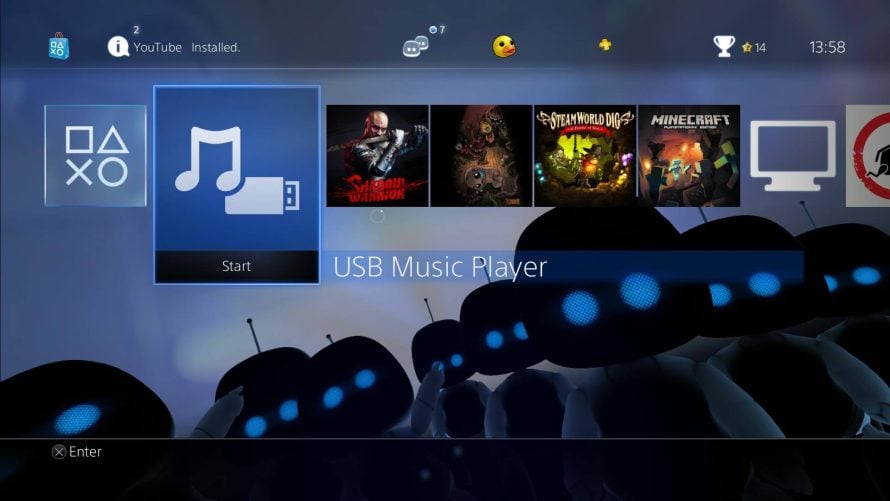 Note: The free trial version of the NoteCable Atunes Music Converter enables you to convert the first one minute of each song. You can unlock the limitation by purchasing the full version.
2.2 Connect Apple Music to PS4 Using DLNA Server
Another method to stream Apple Music on PS4 is to use DLNA Media Server. DLNA (Digital Living Network Alliance) works by using DLNA devices to share the media files like music, videos, pictures, and others to other devices over a home network. If you are using iPhone, you can also stream Apple Music to PS4 via DLNA server. If you haven't got such a server, you can find it and other similar apps from App Store.
The following guidance will show you how to play music on PS4 from iPhone with DLNA.
Steps to Stream Apple Music on PS4 with DLNA
Step 1Install and Run the NoteCable Music Converter and Choose Conversion Mode
Launch the NoteCable Atunes Music Converter on your computer. And then follow the prompt to sign in with your Apple ID.
Please be assured: NoteCable won't collect your information other than the tracks. It is only for personal use. Also, you must be an Apple Music subscriber in order to convert Apple Music with NoteCable.
Step 1 Download and install a DLNA application on the iPhone
Firstly you'll need a DLNA server to stream music from iPhone to PS4. You can find a lot of such apps that can function as DLNA server for iPhone from the App Store.
Step 2Connect Apple Music to PS4 with DLNA
Sony offers DLNA support through the Media Player app. So next, launch the Media Player on PS4. You can go to PlayStation Store > Apps > Catalog to find it. If you don't have this application, you can download it. Then select the existing DLNA server on your iPhone. After completing the connection, you can freely choose any Apple Music song for playing on iPhone and it will be streamed to PS4 simultaneously as long as they are connected to the same network.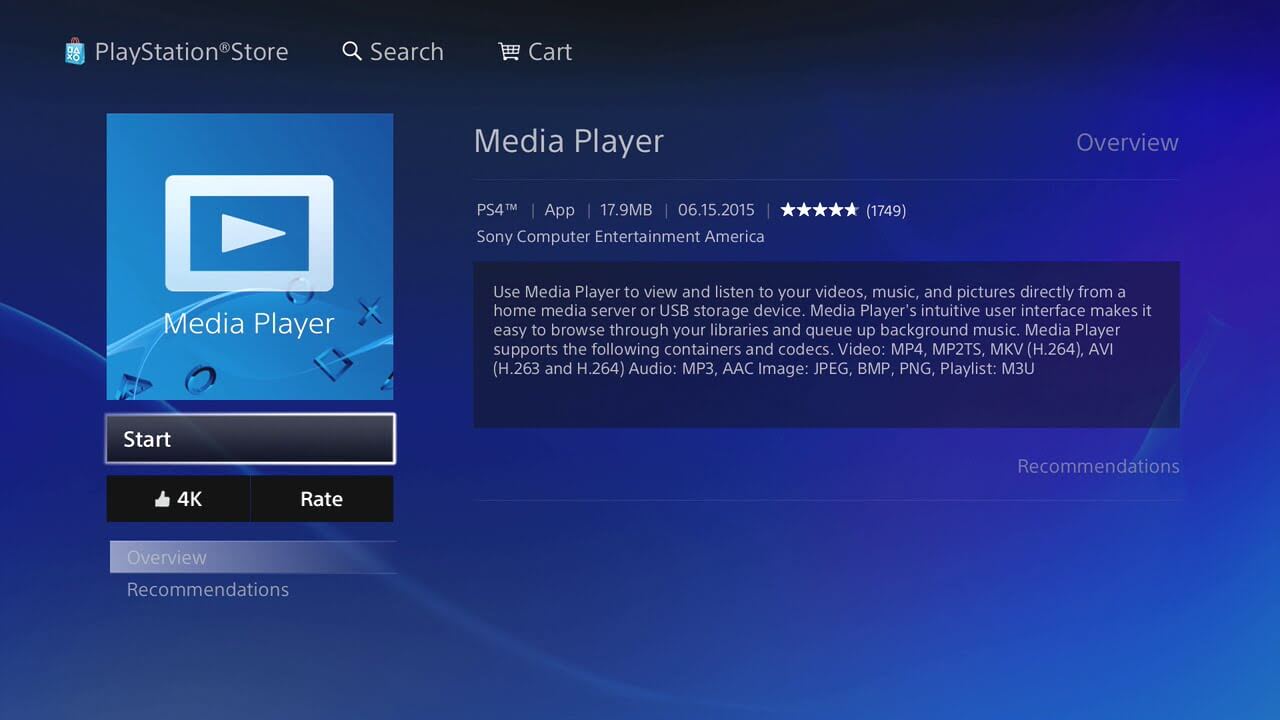 Notes: The playback of Apple Music relies on the internet. If your internet connection is not stable, you will not get smooth playing. The songs may buffer again and again. And you need a phone to help with the playing. Unlike the first method, you cannot play Apple Music after the subscription.
Q1: Why we can't play Apple Music on PS4 directly?
A: Although PS4 provides some streaming apps to let you enjoy music, TV shows and movies, Apple Music is not included. On the other hand, Apple Music songs are in encrypted formats that prevent you from streaming songs from Apple Music to PS4. You can listen to music via USB Music Player on PS4, but not all music files can be played with USB. Some types of content distributed over the Internet and by other means have playback restrictions. PS4's Media Player cannot play copyright-protected music files. In addition, the supported file types by this application only contain FLAC, MP3 and AAC.
Q2: How to play music on your PS4?
A: You can play music on a PS4 in two different ways - Spotify or Media Player. Thanks to Sony's partnership with Spotify, the PlayStation Music app is connected to Spotify. You can scroll on your home page and click this application, the system will ask you to create or log into your Spotify profile. After you log in, you can play music on Spotify through your PS4. Also, PS4 owners can utilize the Media Player with a USB drive to listen to downloaded songs, even doing so in the background while you play games. Refer to Step 5 and Step 6 on Part 2.1 for a detailed tutorial.
Q3: How to stream Apple Music during PS5 console gameplay?
Step 1. Download the Apple Music app and follow the on-screen instructions to log in to your account.
Step 2. Press the PS button to open the control center and then select Music. Your recently played music and podcasts appear. Choose the music you want to play. Your selection starts playing.
Step 3. The song that's playing appears as a card in the control center. Select the card to pause and access other playback controls. Press the PS button to return to the game you were playing.
Step 4. Select the Now Playing card from the control center and press the square button on your controller to pause and start track playback.
Step 5. While in a game or an app, you can press the PS button twice to return to your most recent card without going through the control center.
Conclusion
To most users, what's exciting is that they can stream music on PS4 while playing video games. Though the Apple Music app is unavailable on PlayStation 4 consoles, you can play Apple Music through NoteCable Atunes Music Converter or DLNA. NoteCable can help to download Apple Music songs for normal playback offline, while the method via DLNA relies on a stable Internet connection to stream Apple Music songs online. So by comparison, it is recommended to download music files with NoteCable and play Apple Music songs on PS4 from the connected USB hard drive.
Apple Music has so many music catalogs and new releases to choose from, so if you are an Apple user and own a PS4 at home, come to try streaming Apple Music files to your PS4. All your need is just an Apple Music Converter, like NoteCable Atunes Music Converter. It is free to download. You can test it to see whether it works well.
---