Home > Apple Music Tips > Convert Apple Music to MP3
How to Convert Apple Music to MP3
Released in 2015, Apple Music is now available in hundreds of countries and regions. The Apple Music app will be preinstalled on Apple's devices, like iPhone, iPad and etc. What is Apple Music? It is just like an all-you-can-eat restaurant. Pay a fixed fee every month, then you can unlock 100 million Apple Music tracks on demand. There're personalized algorithmic playlists, curated playlists, mood-based playlists and more types of playlists you can access to.
However, unlike the iTunes Store where you can gain media ownership, Apple Music is all about streaming. You can connect to its entire catalogue when you're a subscriber. Furthermore, you can download songs for offline playback. But if you cancel the subscription, the songs that you've downloaded were no longer work, since the files can't live individually on your devices. And in fact, the .m4p Apple Music songs are locked by DRM. That doesn't mean you can't convert the Apple Music to MP3 format and then transfer it to unlimited devices. You will find what you want here.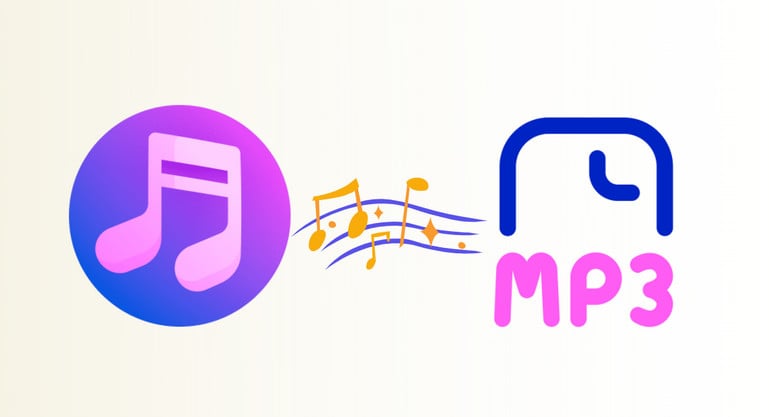 Three Steps to Get Apple Music in MP3 Format
If you wish to play Apple Music on smart speakers, car, mobile phones, tablets and more other devices, it's recommended to convert Apple Music into open-source MP3 format. And for users, a lift of finger will do to finish the conversion with the help of NoteCable Atunes Music Converter.
Compared with getting Apple Music app downloaded, the launch of Apple Music Web Player makes our music life easier. For someone who can't access to a PC with Apple Music or iTunes installed, the web player can be fully supported by almost all the modern browsers. Based on function, NoteCable Atunes Music Converter is developed for converting Apple Music. You can export high-quality Apple songs from NoteCable built-in web player at 10X faster speed than any other traditional converting methods.
It is noteworthy that Apple Music doesn't offer a free ad-supported music tier like Spotify. And you are supposed to use NoteCable to grab music during the valid subscription period of Apple Music. Certainly, to attract more people to try their excellent service, Apple Music gives every new user three-month free trial. Sign up for one and begin the conversion process together.
The Tool You Need:
Step 1 To begin with, download and install a suitable version of NoteCable Atunes Music Converter onto your computer. Visit the Apple Music web player by choosing the blue button in the middle of the program. In the next page, there will be a prompt informing you to sign in to your Apple ID. Type in the correct email address and password.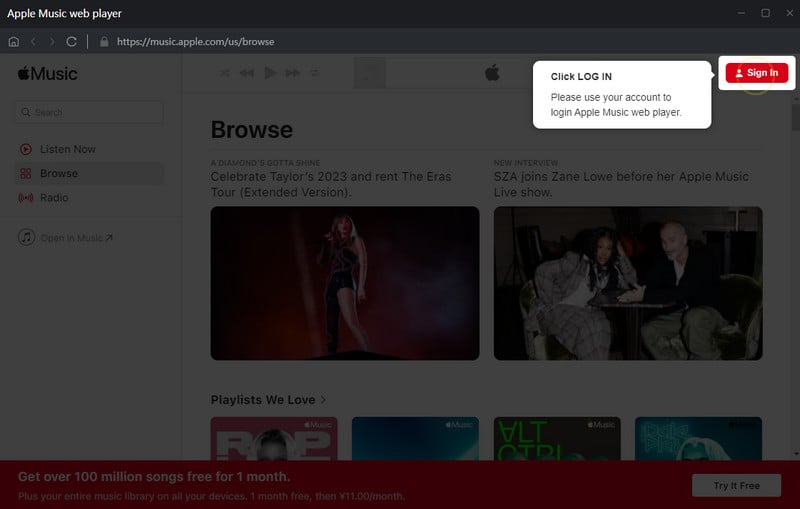 Step 2 Go ahead to find the Gear icon in the upper-right corner of the toolbar. You are allowed to change the output settings there. To download Apple songs as MP3 files, choose MP3 option in the Output Format column. The Sample Rate can also be changed. (What is Sample Rate?) If needed, new a folder to particularly save the converted songs. Customize the output file name and output organized by yourself. When you are finished, close the window.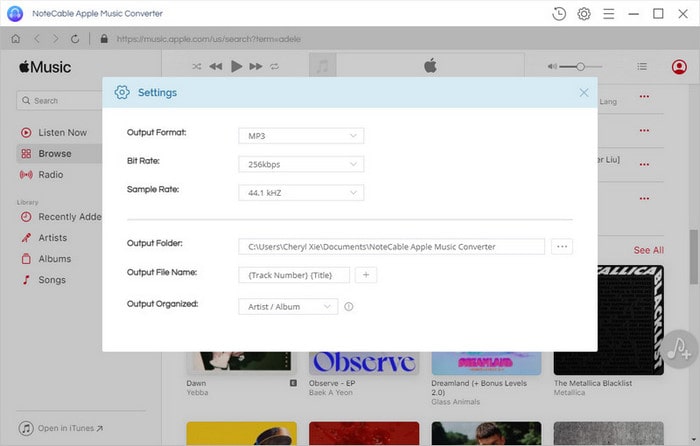 Step 3Open the radio, song, playlist or album you want to export from Apple Music. Click on the cover and you will find the Add to list button on your right-hand side, which is used to detect and list the songs. On the pop-up, all tracks will be checked by default.
If you don't want to get all of them, you can uncheck the box beside Title and tick off what you need manually or you can select Hide Converted option to filter the repeated songs that you've converted before.
Click the Convert button and all thing you should do is to patiently wait until all the songs finished converting.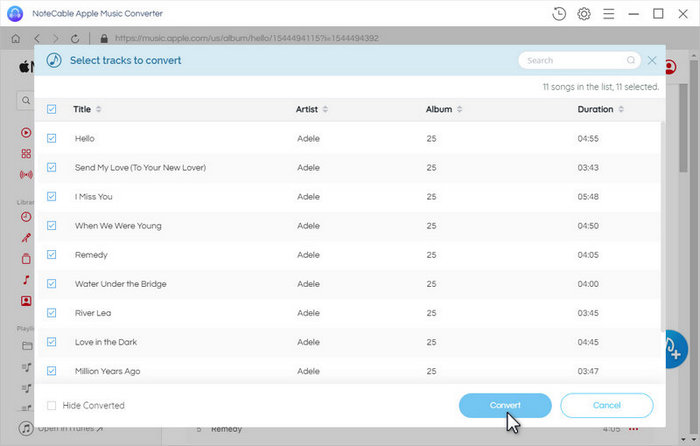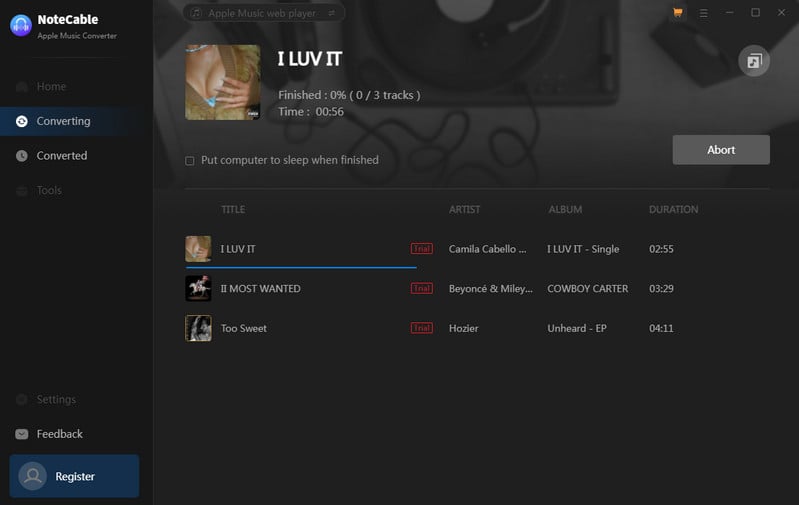 Cheers! Now you can view the detailed information of certain converted song on local folder. Then you will find the type of this converted piece is MP3 Format Sound. See? NoteCable makes amazing thing possible. You are free to listen to the Apple Music tracks on Windows or Mac outside the Apple Music or iTunes without connecting to the internet.
Note: The free trial version of the NoteCable Atunes Music Converter enables you to convert the first one minute of each song and convert 3 music files simultaneously. You can unlock the time limitation by purchasing the full version.
Summary
If you are a loyal fan of Apple products, it's well worth downloading NoteCable Atunes Music Converter. This easy-to-handle program is good at converting Apple Music into a plain format. The converted files have high compatibility and you are share the songs with people around you via various ways. Instantly become the member of NoteCable and you will get the full version with an optimum price.
---