Best Apple Music Converter: NoteCable Atunes Music Converter Review
There are so many Apple Music converters on the market. So you must be confused and don't know how to choose a trustworthy one. If you value the fast conversion speed and output audio quality, NoteCable Atunes Music Converter is highly recommended with some competitive advantages. It not only converts encrypted Apple Music songs to popular audio formats, but also keeps the original audio quality and metadata. This means that you won't lose any important information about your songs, such as artist name, song title, or album artwork. At the same time, NoteCable also supports batch conversions and 10X faster speed, which will save you a lot of time.
Without further ado, let's dive into a more comprehensive review of NoteCable Atunes Music Converter. In this article, we are going to introduce its features, pros and cons, tutorial steps. Most importantly, we will tell you the reasons why you need NoteCable Atunes Music Converter.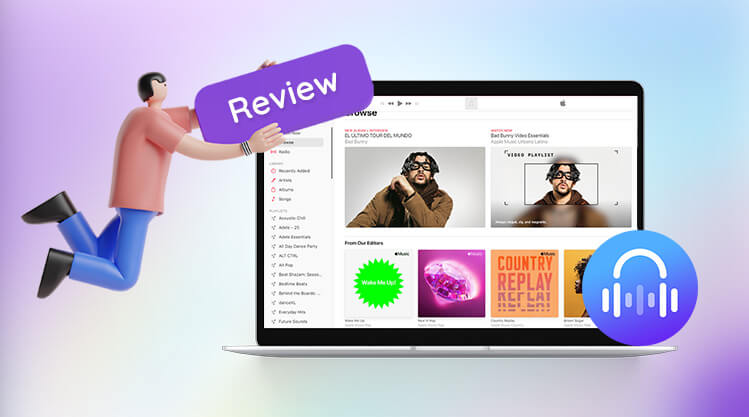 Part 1. Why Do We Need NoteCable Apple Music Converter?
Among three major music streaming providers, both Spotify and Amazon Music pale before Apple Music which offers a lossless audio quality of up to 24-bit/192 kHz like a CD. At the same time, Apple Music is also praised for its playlist curation, a vast library of songs to stream, and its integration with other Apple devices and services. Some music lovers mention that Apple Music is more like a record store while Spotify resembles a radio station. So Have you tried Apple music and experienced its charm? Do you feel more engaged with music using Apple Music?
However, it's a pity that you can only listen to Apple Music songs on Apple's authorized devices after you have a subscription. Even if you have downloaded your favorite songs, you cannot play or utilize them on other unauthorized devices. This is because Apple Music has encrypted all its tracks and offers protected songs. Besides, The downloaded audio files take up some storage because high-quality music requires more capacity than normal audio. With time, you will feel that everything is getting troublesome facing these limitations.
So, if you want to take full control of your music file and do anything you like with them, such as playing music on iPod shuffle offline, or burning music to CD, you definitely need to use a music converter to convert Apple Music to unencrypted audio formats like MP3. Here, we will highly recommend a powerful converter—NoteCable Atunes Music Converter to assist with this task.
NoteCable Atunes Music Converter is a specially designed program used for downloading Apple Music tracks. With the assistance of it, you can convert songs from protected format to more popular audio formats such as MP3, AAC, WAV, AIFF, ALAC or FLAC for further editing, backup, or playback without the need to use an authorized Apple device. For example, you are able to transfer the Apple Music songs to your MP3 player or listen to Apple music in the car by a USB stick. Plus, you can still play and even keep these Apple Music tracks forever even if you don't have an active Apple Music account anymore.
Here, we will list some detailed advantages to make a full introduction about this music converter.
Clean User Interface - Easy to Use
User Interface NoteCable Atunes Music Converter is easy to use and anyone can handle it for the first time even without referring to the user tutorial. Another fascinating feature that may impress you is that it includes an embedded Apple Music interface that corresponds to its name and offers some convenience when converting. This means you needn't install Apple Music.
Offer a Variety of Output Settings
Output Format: Auto, MP3, AAC, WAV, FLAC, AIFF, ALAC
Bit Rate: 320kbps, 256kbps, 192kbps, 128kbps
Sample Rate: 44.1kHz, 48kHz, 96kHz, 192kHz
Output File Name: Track Number, Title, Artist, Album, Playlist Index, Year
Output Organized (way): None, Artist, Album, Artist/Album, Album/Artist
Keep Original Quality & 10X Fast Speed(Windows & Mac) & ID3 Tags & Batch Conversion
The exciting part of using this software is that it supports 10X faster speed and batch conversion. In this way, you can succeed to convert whole albums in just a few minutes. Besides, you maybe find most music converters on the market are limited to 1X conversion speed on Mac. But Thanks to the adoption of advanced technology, NoteCable can convert music at a faster speed with ease. After the downloading, you would get the audio files with lossless quality and ID3 tags including Artwork and Metadata(title, artist, album, genre and more).
Various Tutorials and Tips for Reference
There are two channels to have access to these tutorials. You can enter the homepage of the official website. In the navigation bar there is a function named How To where you will find many tip articles about related products. The second is through the right tips column of each article. As you can see NoteCable is doing its best effort to earn the trust of customers. It keeps providing a better experience and customer support for all users.
Free Upgrade and Efficient Technical Support
In order to provide our users with the best user experience, we'll always keep the program up-to-date to be capable of the latest version of Windows and Mac. After-sales services are freely offered as NoteCable will open 24-hour professional technical support to all customers.
Restricted to One Music Streaming Service
NoteCable Atunes Music Converter is specially developed for Apple Music only and concentrates on Apple Music conversion. It doesn't provide additional functions to convert other streaming songs, but it covers almost every key feature that a best Apple Music converter should have.
Restricted to Windows & Mac Computers
NoteCable Atunes Music Converter is available on Windows & macOS computers only. It couldn't be installed on an Android or an iPhone.
Please follow the step-by-step tutorial below to learn how to save Apple Music songs to your computer in plain audio formats.
Step 1Install and Run the NoteCable Music Converter and Choose Conversion Mode
Launch the NoteCable Atunes Music Converter on your computer. And then follow the prompt to sign in with your Apple ID.
Please be assured: NoteCable won't collect your information other than the tracks. It is only for personal use. Also, you must be an Apple Music subscriber in order to convert Apple Music with NoteCable.
Step 1 Download and Install NoteCable Atunes Music Converter
Simply click on the download (Windows or Mac) button provided above to get NoteCable Atunes Music Converter installed on your computer. On the front page, tap on the Sign in entrance. You ought to enter the necessary information to access your Apple Music content.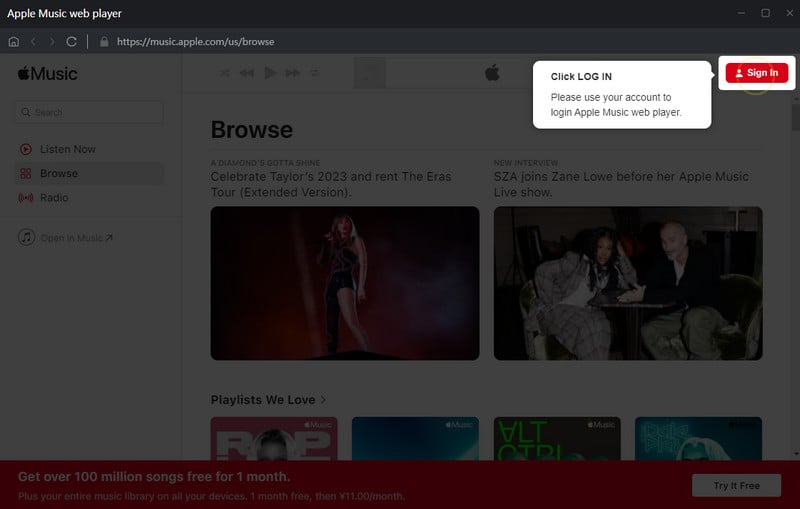 Step 2Choose the Output Settings
Default settings will output all the Apple Music to the original AAC 320kbps. If you want to change it and suit your own need, you can go to the Settings part at the top right corner. You can set up the output format, output sound quality, output folder, output file name to meet your personal needs.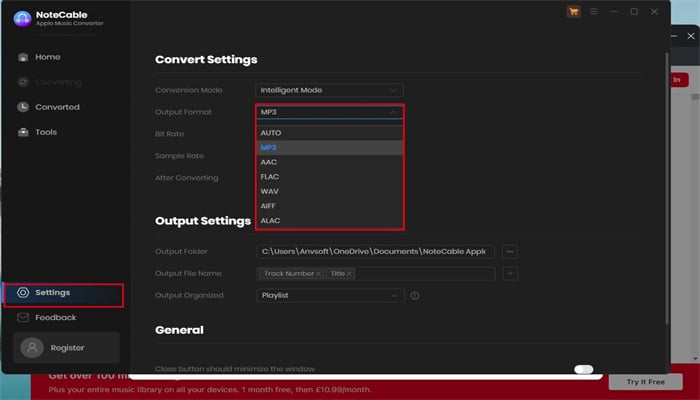 If you are used to putting all downloaded songs in one folder, you can set up the option to None on the output organized column.
Step 3Add Apple Music Playlists to Convert
Now, pick a playlist of the songs that you want to get them to get downloaded. By clicking on the feature Click to add, NoteCable will read the current playlist and put them in the conversion panel. You then can select the songs to convert.
If you want multiple playlists conversion, you can click Add More to add more playlists. Then, all playlists will be converted when you press Convert button to work out the task.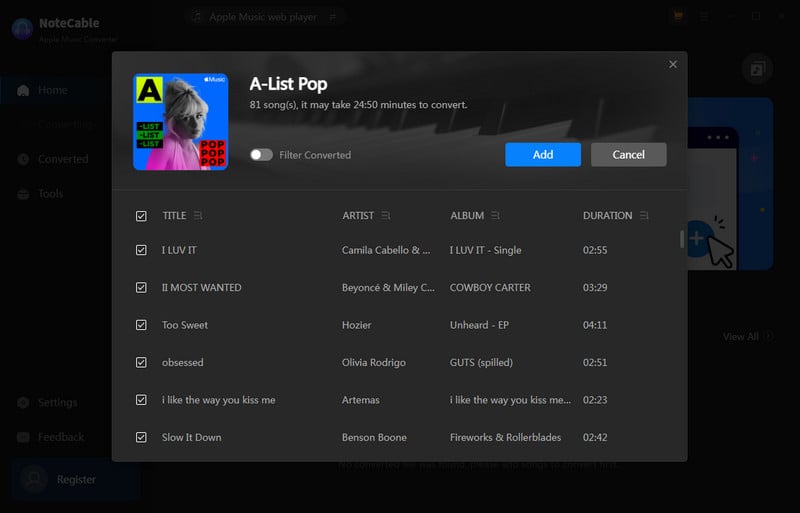 A brilliant 10X conversion speed will cut off the costs of the time spent waiting.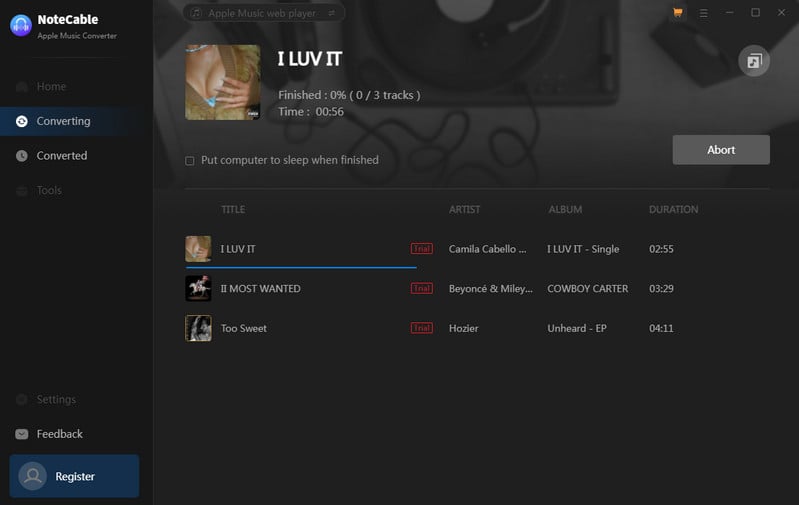 Step 4 Check Out Complete Apple Music
Finally, you can move to the History section which should look like a clock icon in the menu area. And by tapping the Folder icon after the songs, you can reach out to the local place.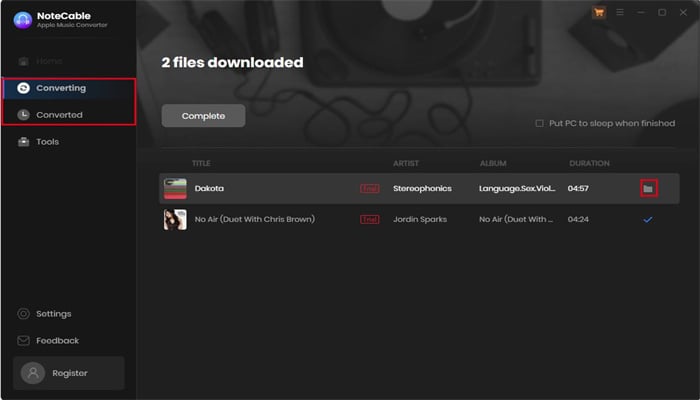 NoteCable Apple Music Converter is free to try. You can download the program and test whether it meets your need. The free trial version of the NoteCable Atunes Music Converter enables you to convert only one minutes of each song. You can unlock the limitation by purchasing the full version.
If you feel happy with it, you can then purchase the full version. The full version costs $14.95 per month, But I found the lifetime version might be much better, $129.90 for one device, and you can get free updates and tech support forever.
Final Words
We have discussed almost every aspect of NoteCable Apple Music Converter. So now we draw a conclusion that this Apple Music converter is very helpful and user-friendly, having lots of advantages. If you're looking for a safe and clean way to convert Apple Music to MP3, then Notecable Atunes Music Converter is definitely worth checking out. With it, you are free to listen to the Apple Music tracks offline on other music players outside Apple Music or iTunes. All in all, we cannot deny that NoteCable Atunes Music Converter indeed changes the way you download music and increases your autonomy in utilizing music.
As we all know, Apple Music gives every new user a three-month free trial. If you have not signed up for Apple Music yet, you can seize the precious opportunity to try it and begin the conversion process together. If you subscribe to Apple Music but are not choose an additional tool like NoteCable Apple Music Converter, you are not making the most of your subscription. Whatever, it is a wise choice to use NoteCable to save your favorite songs forever as soon as possible during the valid subscription period of Apple Music.
---