Home > Spotify Music Tips > Convert Spotify Music to FLAC Format
Convert Spotify Music to FLAC Format
Spotify has been proven the most popular streaming service. Like all digital media, Spotify uses file compression to maximize bandwidth, thus you can stream and download music even over speed-challenged online connections, ideally without gaps or interruption. On the encoding format, Spotify offers Ogg Vorbis format at 320Kbps. Technically, the Ogg format is superior to mp3. However, the FLAC format is a compelling advantage that has been compressed to take up a lot less space, while is still a lossless audio format and keeps the same quality as the original files. If you are used to ripping music with a higher standard, converting Spotify Music to FLAC format will be a wise option for you.
What Is Lossless FLAC Format?
FLAC stands for Free Lossless Audio Codec, a musical file format that offers bit-perfect copies of CDs but at half the size. FLAC stands out as the fastest and most widely supported lossless audio codec. Emerged as an open-source reference implementation, FLAC has reached a larger audience than audiophiles and tech enthusiasts. And nowadays, mainstreaming platforms are working hard to support the format. So far, Apple Music has already added lossless audio and Spatial Audio to its basic music subscription. And on Spotify, we don't know yet.
Which Devices Are Supported with FLAC Format?
FLAC not only supports tags but is also applicable for most music players, both software and hardware. It is widely compatible with most mobile phones, Android, iPhones with the app.
How to Convert Spotify OGG Vorbis to Lossless FLAC?
However, here we are talking about the Spotify to the FLAC format conversion. We will adopt a popularized way to download the Spotify FLAC audios to your computer. Therefore, you will gain actual physical access to the files later. Also, you will be able to move the FLAC files to another application to play the files there as you want. NoteCable Spotify Music Converter is right here for the solution. This program is given you a fresh to output Spotify original files, converting Spotify Music to the lossless FLAC format. It is worth upgrading your audio equipment to fully enjoy the benefits of lossless audio.
Step 1Launch NoteCable Spotify Music Converter on Computer
Now, run NoteCable Spotify Music Converter on your computer desktop. If you have not got a NoteCable Converter to your computer yet, you can click on the 'Download' button provided and get it downloaded to your computer.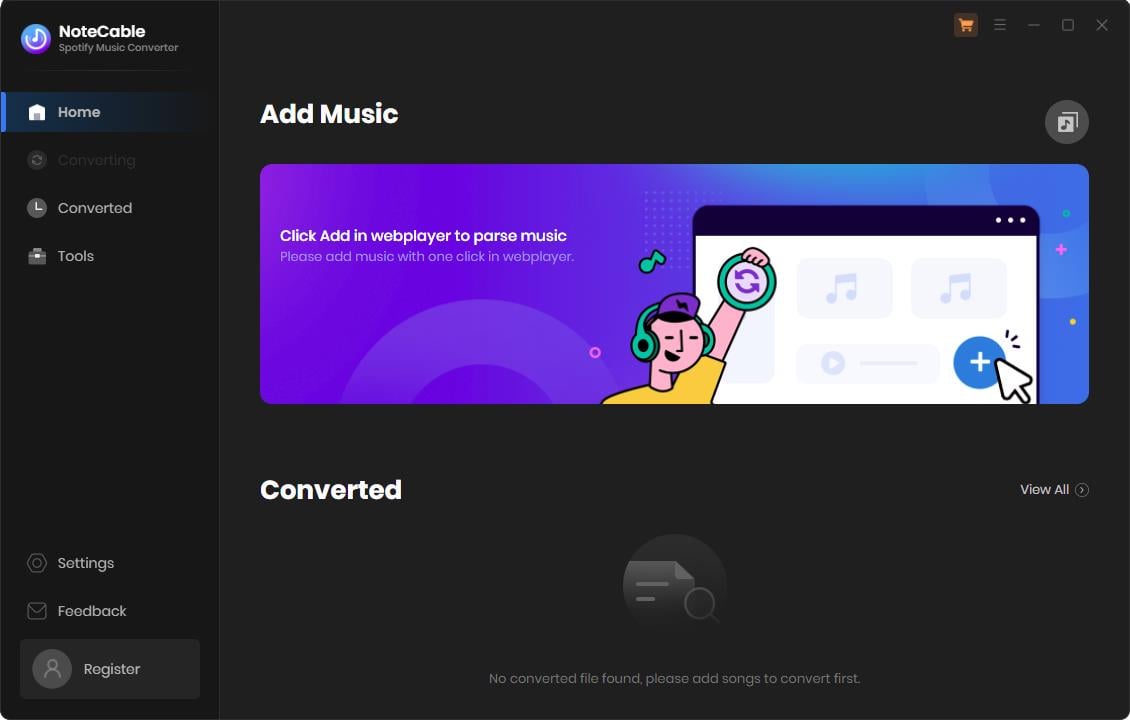 Step 2Choose Conversion Mode
After opening the program, you are allowed to choose App Mode or Webplayer Mode as conversion mode.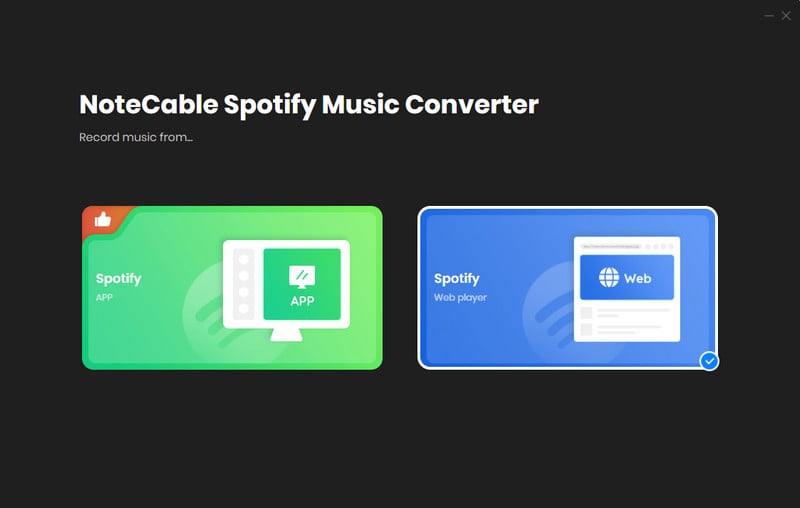 If you choose Webplayer Mode, click on the 'Open Spotify Web Player' entrance. Then you will be supposed to log in with your Spotify account information to access Spotify library contents.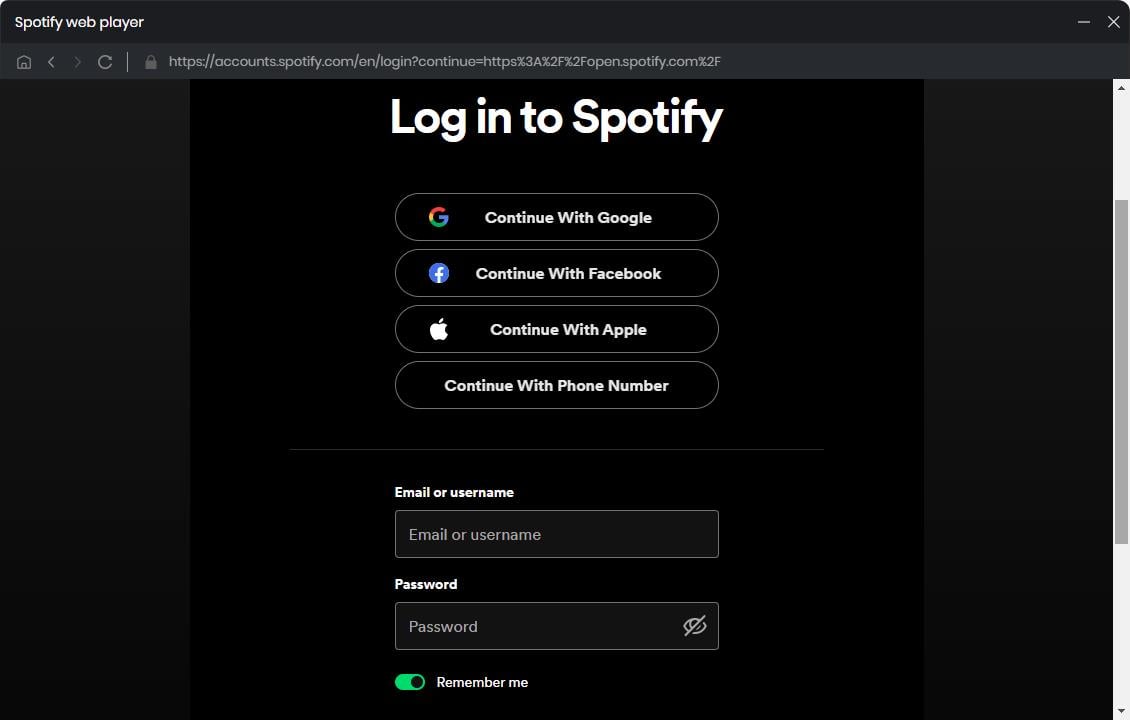 Step 3Set up Output Spotify Downloads to SD Card
Evidently, what you set up will decide what you finally get. And to output Spotify Music to FLAC format, navigate to the converter settings. On the output format column, do choose the FLAC option. And for other settings, you can choose to change the default settings or just let them be as it is set to be. If the settings are done, close the current window to apply the new settings.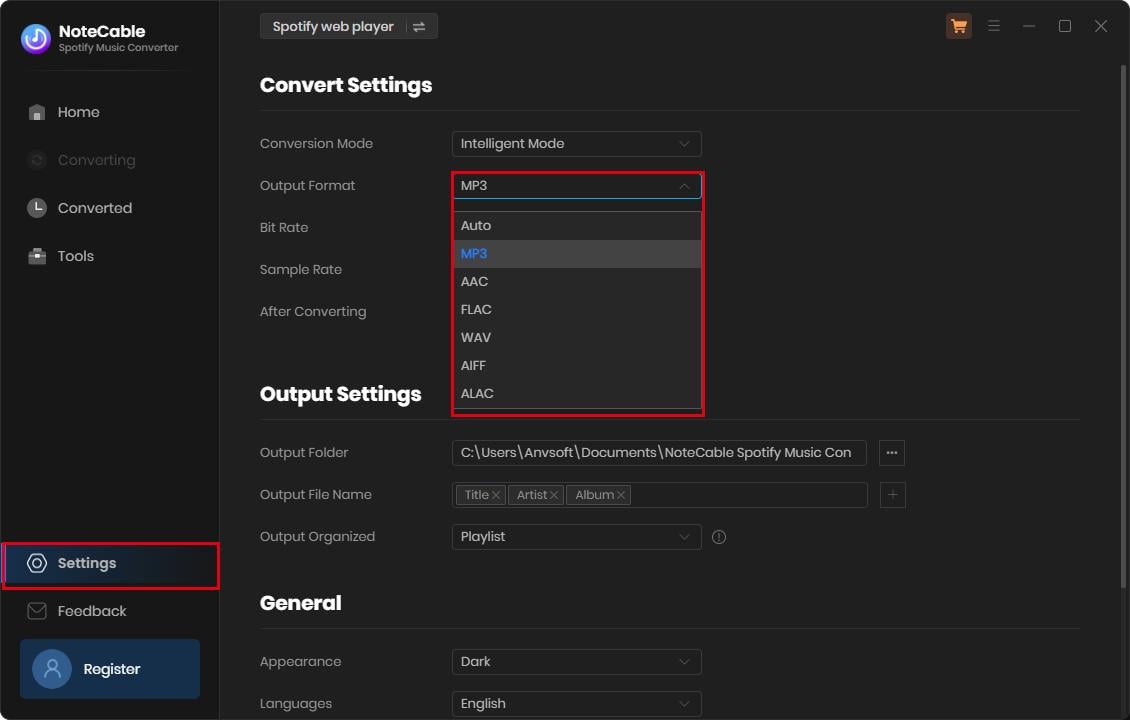 Step 4Deliver Spotify Playlist to Conversion Panel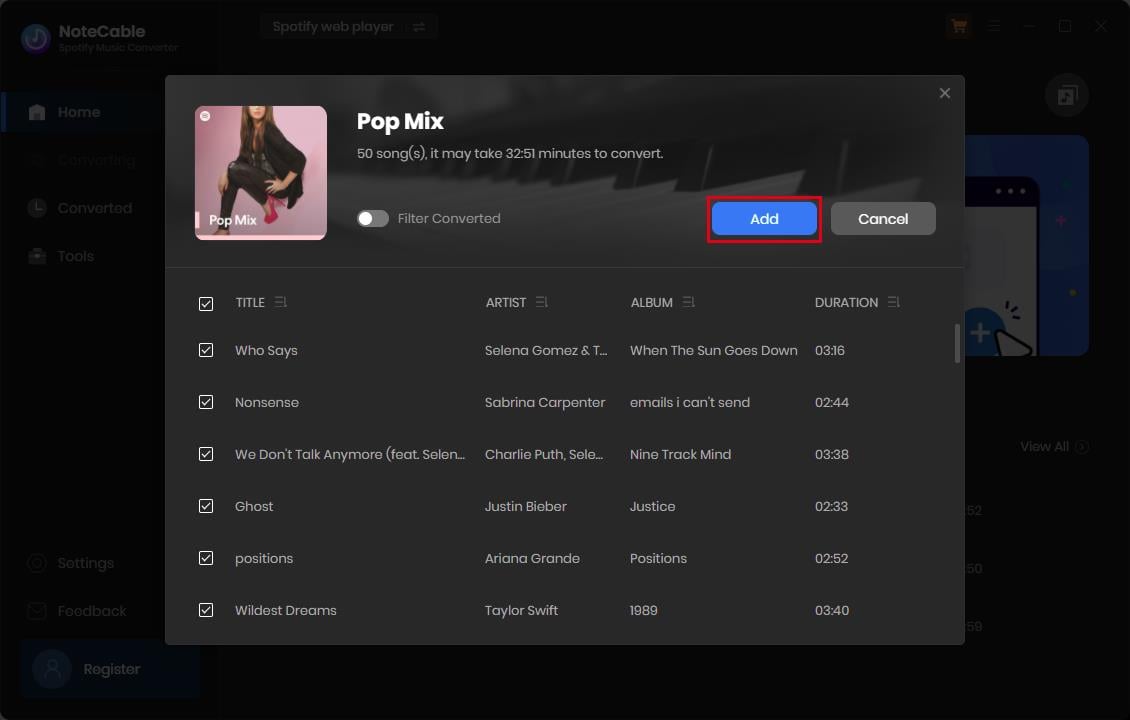 At last, press the 'Convert' button to perform the task.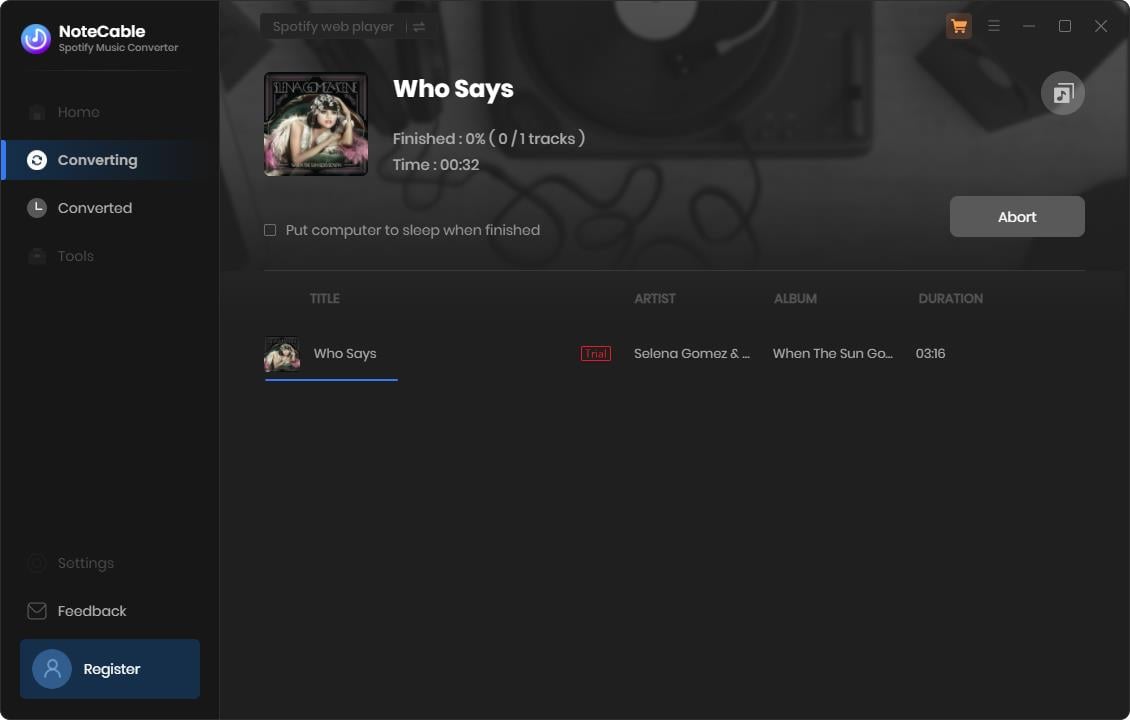 Step 5View All Spotify FLAC Files on Computer
In the final, go to the Converted part that included all the Spotify workouts. And to manage the FLAC files on your computer, simply tap the 'Folder' icon after the songs, you will arrive at the specific output folder.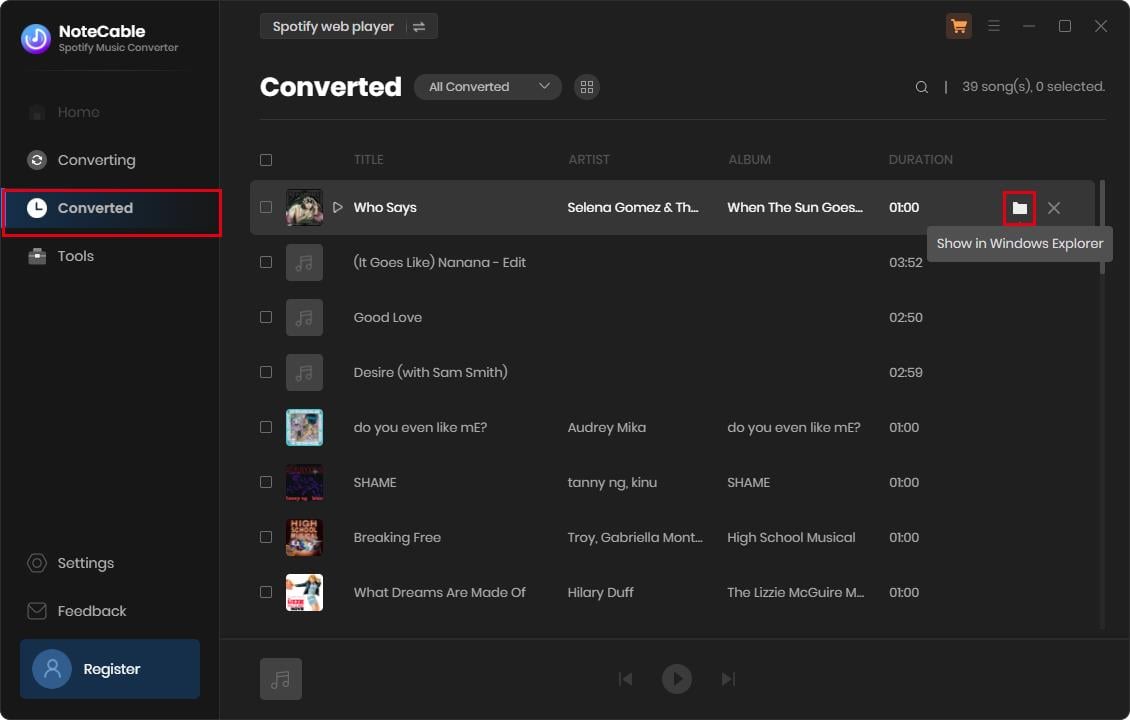 Summary
Let me repeat that, FLAC file delivers decent small audio files after compressing it without affecting the sound quality. The thing is, there is no way to directly get Spotify to FLAC file in routine. So NoteCable Spotify Converter makes this naturally happen to satisfy your need. As always, NoteCable is providing a time-limited free trial. If you are new to this program, have a free take on it at the right moment!
---