Home > Spotify Music Tips > Set Sleep Timer on Spotify
How to Set Sleep Timer on Spotify
If you frequently find yourself falling asleep with your headphones in, it's time to take control of your music listening and figure out how to establish a Spotify sleep timer. Simply put, a sleep timer helps turn songs or podcasts off after a certain length of time so you can get the calm, deep sleep you need without having to fumble around in the dark for your phone's power button. Let's get started! In this article, we'll go through step-by-step instructions on how to quickly and effortlessly use Spotify's Sleep Timer function.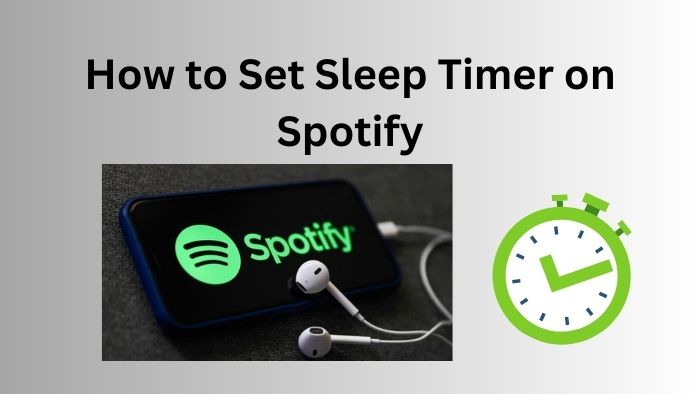 Part 1: How to Set a Sleep Timer with Spotify on iPhone/Android
As Spotify is more frequently used on phones, many users are likely to listen to their favorite songs during the bedtime. Spotify provides the feature of Sleep Timer on its own application on iPhone or Android, which makes mobile users enjoy their Spotify songs on a certain duration.
Step 1: Open Spotify app on iPhone or Android devices.
Step 2: To find the Sleep Timer, tap the Now Playing bar to bring up the full Now Playing screen.
Step 3: While listening to podcasts, you can access the Sleep Timer directly on the Now Playing view by tapping the moon icon to the right of the play button. For music, tap the three-dot menu in the top-right corner and scroll to the bottom of the menu where you can tap on the Sleep Timer option.
Step 4: Select how long you want your tunes to play. You can choose to have the music go for 5 minutes, 10 minutes, 15 minutes, 30 minutes, 45 minutes, 1 hour, or until the end of the track.
Step 5: An on-screen notification will say "OK, your sleep timer is set."
Step 6: If you want to check how much time you have left on your Sleep Timer, just tap the three-dot menu, then scroll down and you'll see the time alongside the Sleep Timer logo.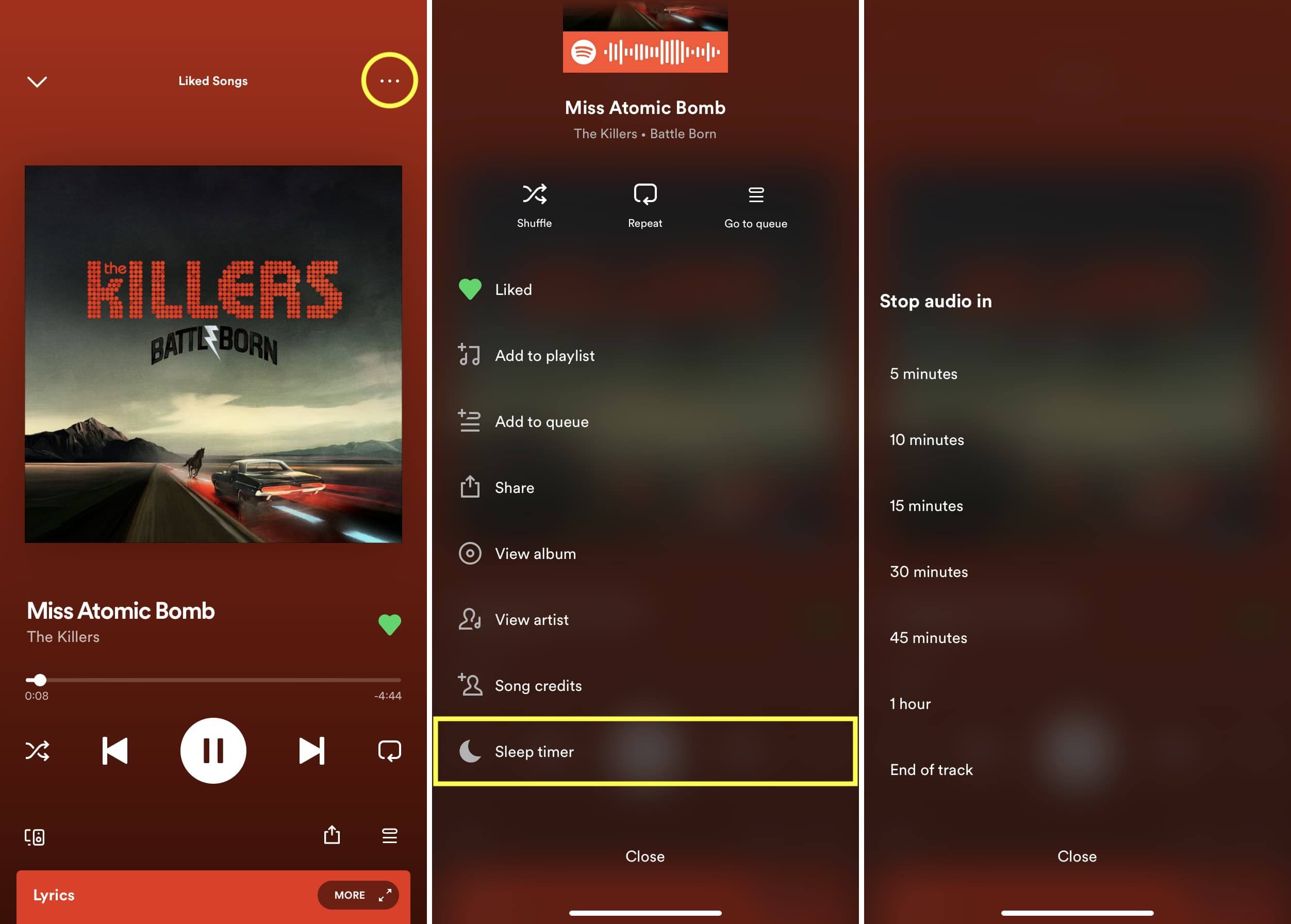 You can easily and freely set a Spotify sleep timer on your iPhone or Android. However, it seems difficult to manage on Spotify of Windows and Mac versions. If you do want to set a Spotify sleep timer on your laptops, the best and easiest way for you is to download your Spotify songs onto your computer and you can use any other application with built-in sleep timer to set a Spotify sleep timer when you are going to sleep.
NoteCable Spotify Music Converter is specifically made for downloading Spotify playlists, complete albums, individual tracks, and podcasts to a local computer. It enables you to download Spotify songs in the MP3, AAC, FLAC, WAV, AIFF, and ALAC plain music formats. After that, you can freely listen to Spotify music on your phone, MP3 player, automobile, DJ software, or any other compatible device.
Tool Required:
Toturial: Download Spotify Music as MP3 Files
Step 1Install and Run the NoteCable Spotie Music Converter and Choose Conversion Mode
Launch the NoteCable Spotie Music Converter on your computer. And then you can choose App Mode or Webplayer Mode as your conversion mode.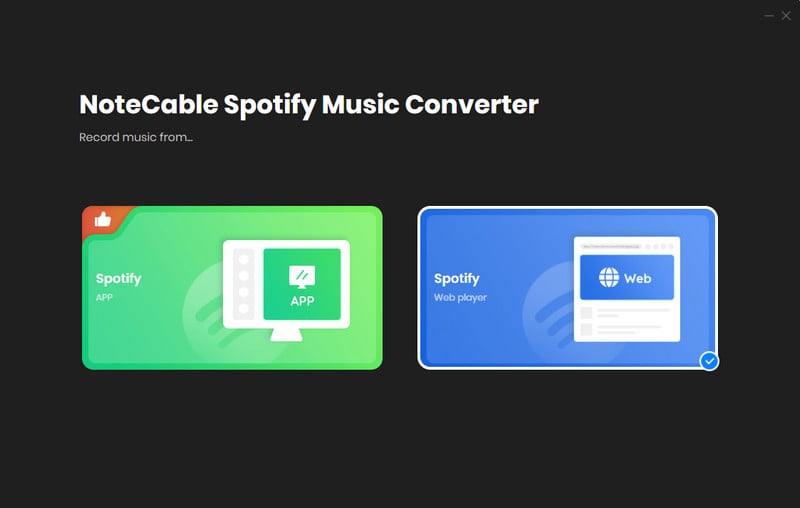 Step 2Sign into Your Spotify Music Account
If you choose Webplayer Mode, you may need to log in to your Spotify account the first time you run it on your computer.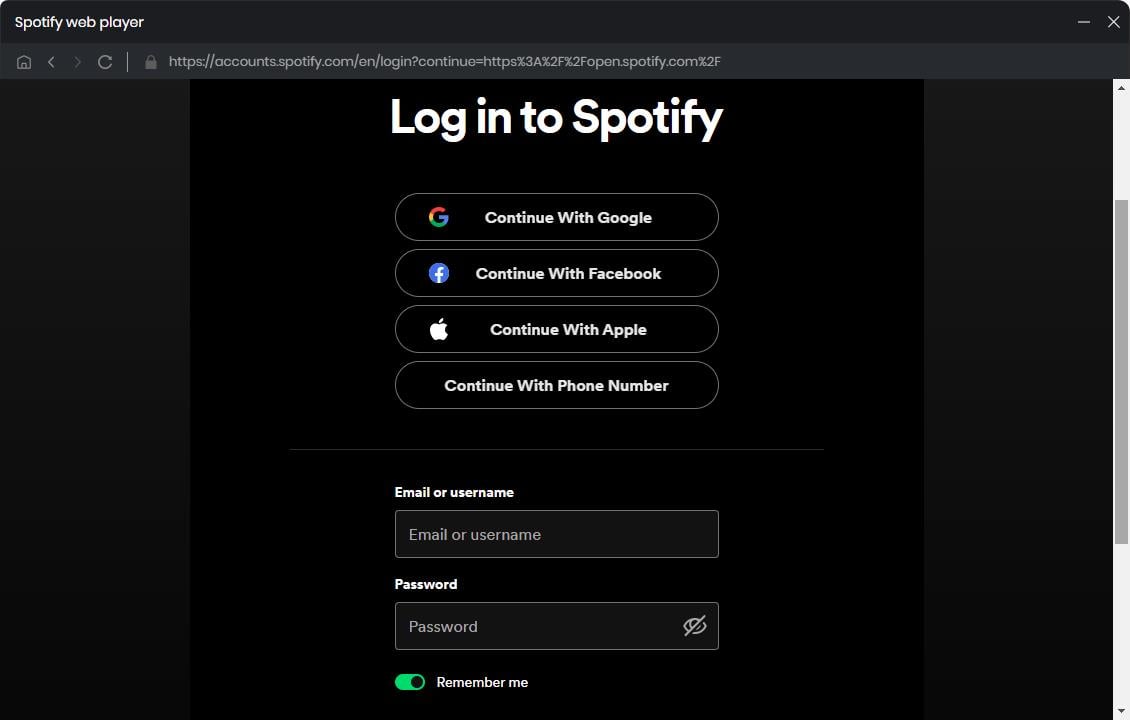 Tips: NoteCable supports both Spotify Free and Premium accounts. Whether you are a Premium user or not, you can download any playlist from Spotify to your Windows PC or Mac computer.
Step 3 Choose MP3 Format and Output Settings
Click the Settings section on the left bar of NoteCable. Here you can choose the output format, output quality, specify the output folder and customize how you'd like to sort out the downloaded files, and so on.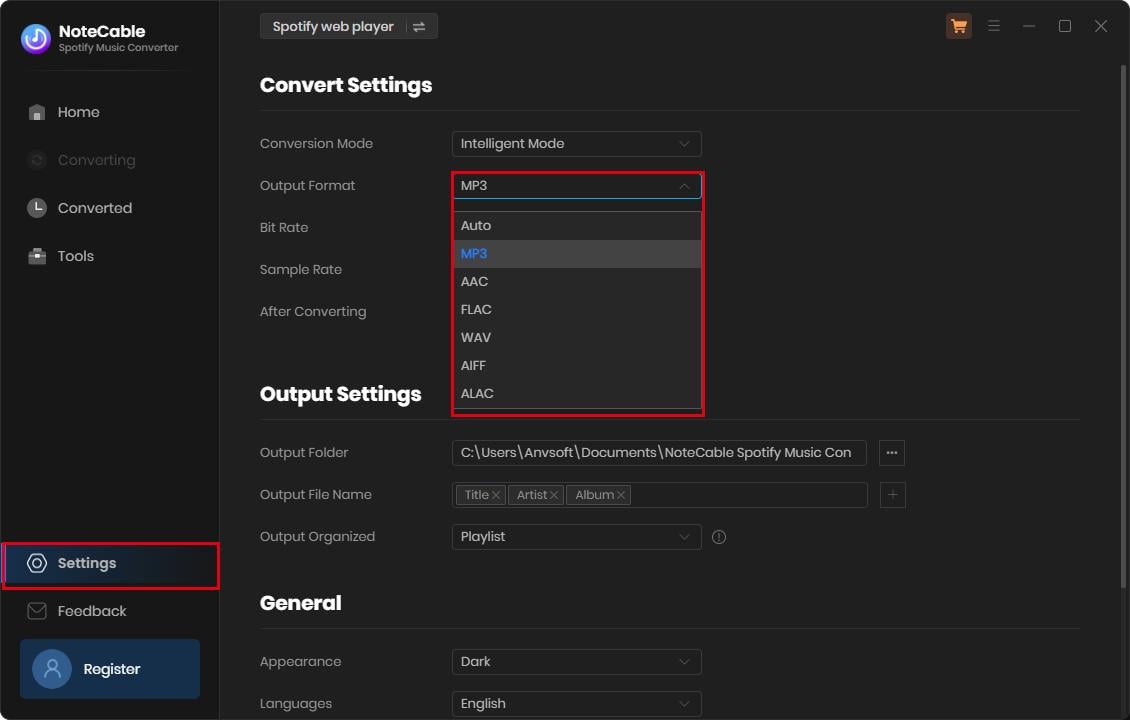 Tips: Auto is the recommended format to get the highest output audio quality.
Step 4 Convert Spotify Playlist to MP3
Open a specific playlist and click the floating Click to add button. Then NoteCable will recognize all the songs in this playlist. Selectively choose the songs you'd like to download and then click Convert to start downloading the Spotify playlist to MP3.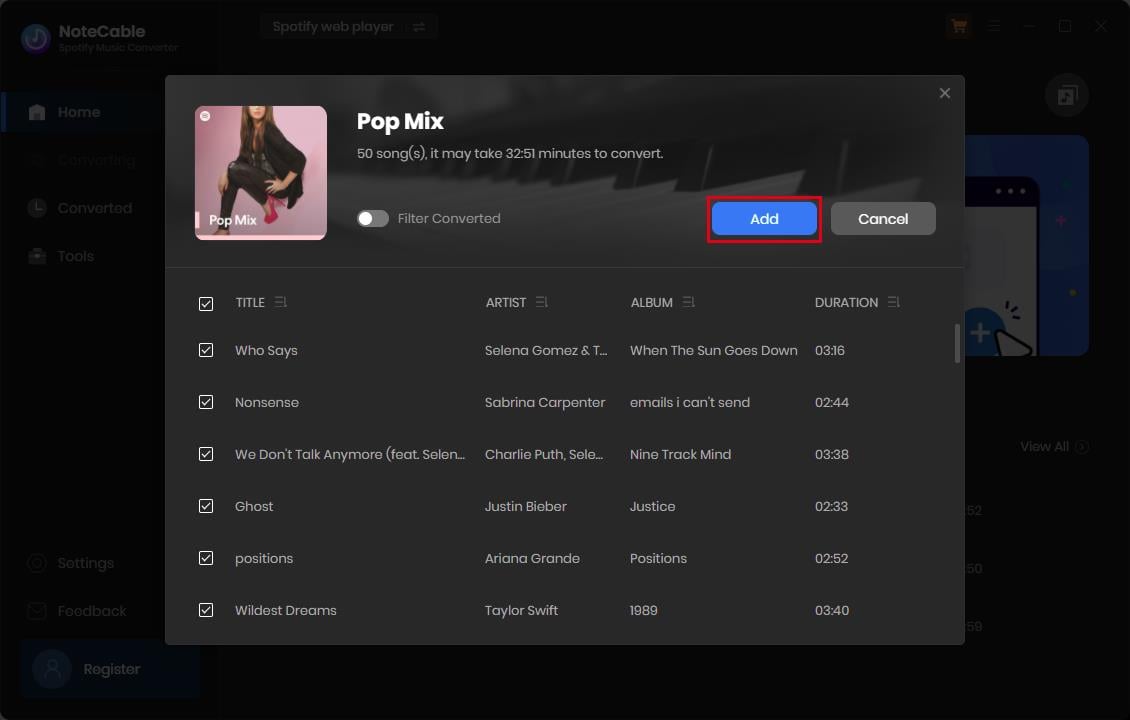 If you need to convert songs from multiple playlists in a single go, simply click the Add More button and add more songs from various playlists to the conversion list.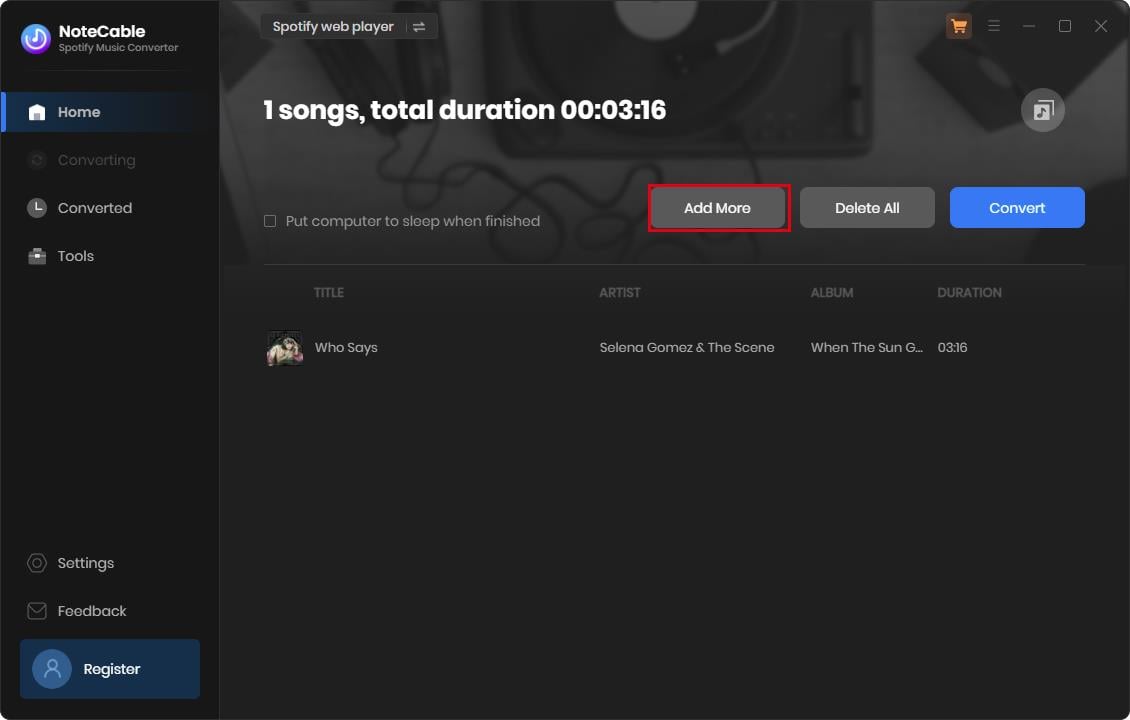 Step 5Find the Downloaded Spotify Playlist in MP3 Format
NoteCable supports 10x faster conversion speed. Once the conversion is done, click the Converted part, and you will find all the downloaded Spotify songs listed here. Click the Folder icon behind the Duration, you can locate them on your computer.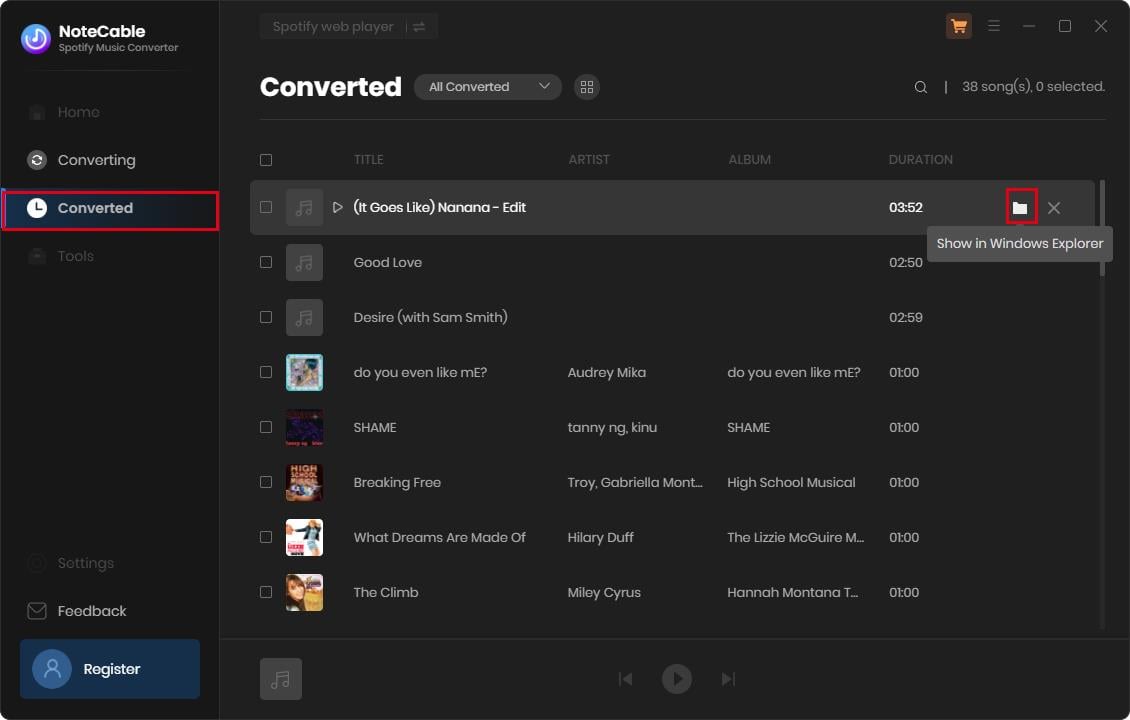 There are several ways to set your Spotify sleep timers in order to enjoy a relaxing time before falling asleep. Now, we will introduce two basic methods to adjust your Spotify sleep timer.
Spotify only provides adjustments for Volume level, and it offers 3 options: Quiet, Normal, and Loud. Quiet option will make songs a littler quieter and sound cleaner, making it a good choice if you're relaxing at home.
Step 1: Open Spotify on your iPhone or Android.
Step 2: Go to Settings > Playback.
Step 3: Scroll to Volume Level, choose your mode: Loud, Normal, and Quiet.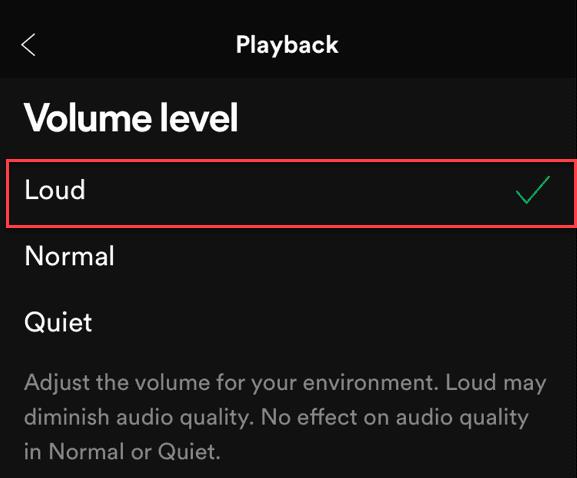 A Sleep Focus assists in minimizing distractions before and during bedtime for the sleep regimens you specify. It can block calls and notifications, for instance, and let others know when you're unavailable. A wind-down phase can also be set to start anywhere between 15 and 3 hours prior to bedtime. When your wind down period starts, your Sleep Focus kicks in.
Step 1: Go to Settings > Focus, then tap Sleep.
If you don't see Sleep as an option, tap the Add > SleepCustomize > Focus.
Step 2: Customize your focus.
For example, you can allow interruptions from people important to you, customize the Lock Screen and Home Screen, and customize how apps and your iPhone behave when a Sleep Focus is on.
Note: If you set up Wind Down Shortcuts in iOS 15, they automatically appear in iOS 16 as Shortcuts on your Sleep Focus Home Screen.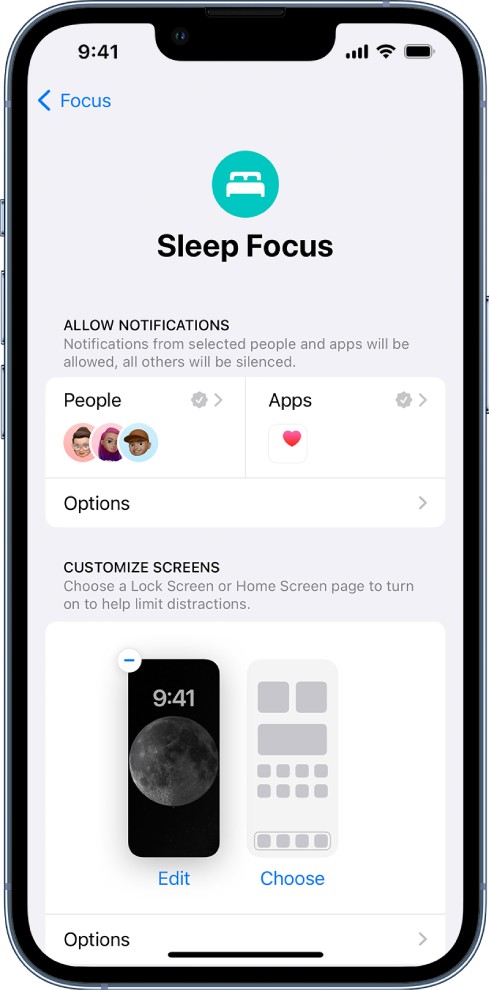 Conclusion
In conclusion, Users can decide how long their music should continue playing before it shuts off by using the Spotify Sleep Timer. In order to use the Sleep Timer on a PC or Mac, users must download a particular program (such as NoteCable Spotify Music Converter) that enables converting Spotify music to other formats and transferring Spotify songs to other devices forever.Except for setting a Spotify sleep timer, you may be also interested in setting Spotify songs as a alarm at the beginning of the day.
---