Home > Spotify Music Tips > Transfer Music from Spotify to Apple Music
The Complete Guide to Transfer Music from Spotify to Apple Music
If you are considering transferring Spotify Music to Apple Music, but you don't want to give up your favorite playlists you've spent a lot of time creating, how to do? Here we will offer a complete guide to help you out.
Why Switch Over from Spotify to Apple Music
Apple Music and Spotify are the two most popular music streaming services. Essentially, Spotify and Apple Music are so similar. Both have the same monthly subscription fee. Both apps let subscribers stream music for offline listening.
There are differences between the two. Spotify has a catalog of over 100 million songs and Apple Music is over 100 million,too. They don't share the exact same libraries. Unlike Spotify, Apple Music sometimes offers exclusives for certain music videos. Apple Music also allows subscribers to listen to hi-res audio at no extra charge while Spotify Hifi is not yet available.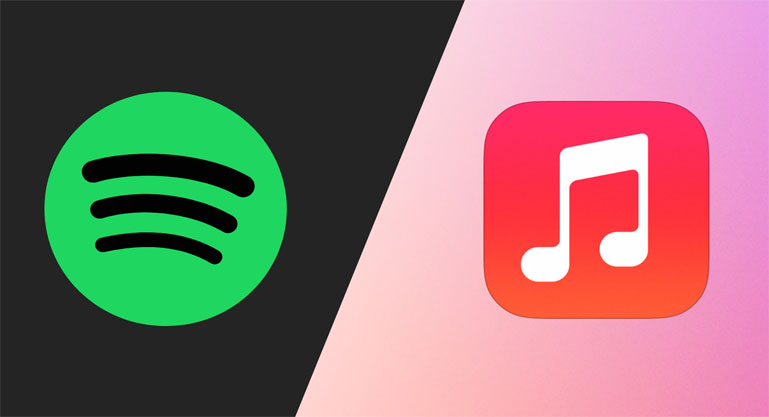 The reason why you'd switch to Apple Music depends largely on which devices you have. As we all know, Apple Music is the default music service and preinstalled on the new iPhone, iPad, etc. Compared with Spotify, Apple Music has better compatibility and Siri integrated.
In general, you are not able to move playlists between Spotify and Apple Music due to restrictions. Thankfully, there are several excellent tools can be used to transfer Spotify music to Apple Music easily. These tools you can choose according to different platforms you are using.
Soundiiz is a playlist manager for several music streaming sites, which allows to transfer your playlists, albums, artists, and tracks between Spotify and Apple Music. Soundiiz has a web app and an Android app (on Google Play Store), and their operations are similar.
Step 1. Open the web app in your web browser and login.
Step 2. Click on Platform to Platform in left panel of the interface.
Step 3. Select Spotify as the source service and connect it.
Step 4. Select Spotify albums or playlists that you want to move. And then choose Apple Music as the destination service.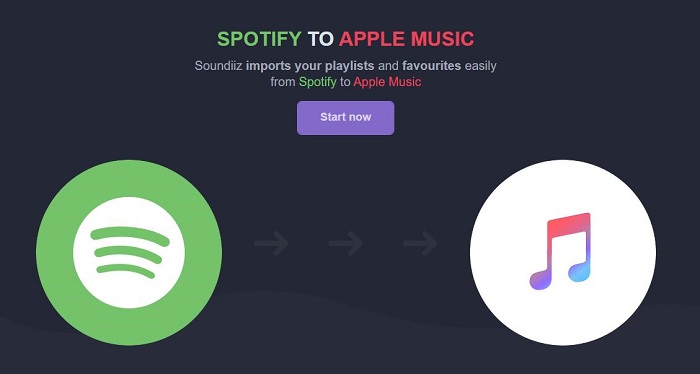 The process starts. Once finished, your albums or playlists you've transferred will be available on Apple Music. Enjoy listening.
If you have already purchased an iOS device like iPhone or iPad, you can try an iOS app called SongShift. It's fairly easy to select the playlists, albums, or songs from Spotify you want to move over. Except transferring from Spotify to Apple Music, SongShift also supports YouTube Music, Tidal, Pandora, LastFM and more.
Step 1. Download SongShift from the App Store.
Step 2. Open the app and select "get started". Select "Spotify" and "Apple Music" in the "available services" section. Sign into the two accounts and you'll give the app access to each music service.
Step 3. Select the Spotify playlist you want to transfer and head over to Apple Music and manually search for Destination and add them.
FreeYourMusic is other alternative to SongShift, which enables users to transfer playlists between music platforms. With it, you can move your favorite songs, playlists, and albums to Spotify, Apple Music, YouTube, and more. It can be used across multiple services, including Windows, macOS, iOS, Android and Linux. Before started, download and install the FreeYourMusic app from App Store.
Step 1. Open the FreeYourMusic, select Spotify platform as a source and start to transfer playlists music.
Step 2. Select Apple Music as a platform where you want to create a new playlist.
Step 3. Find playlists, albums or tracks you want to transfer from Spotify service to Apple Music and select all the music you want to move.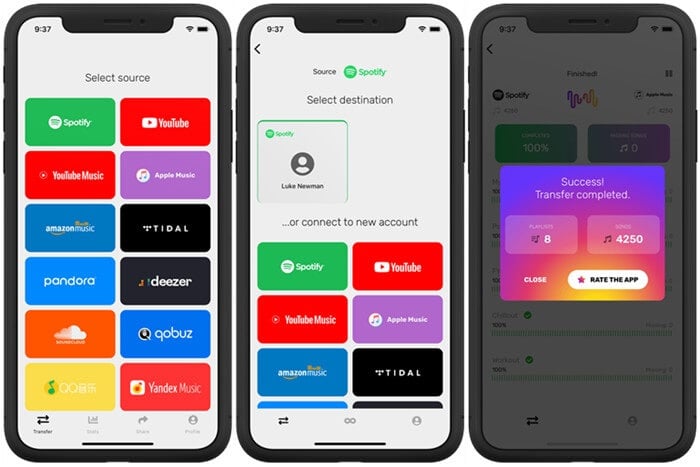 Once the transfer is finished, your Spotify songs and playlists have been moved to Apple Music. Now you can start enjoying your Spotify songs on Apple Music.
Soundiiz, SongShift or FreeYourMusic? No matter which tool you choose from, you can quickly transfer your Spotify playlists over to Apple Music. However, one thing to keep in mind is that you can only sync the content to Apple Music instead of truly owning the Spotify music or playlists. In addition, you're limited to play the music within app, and have no right to move Spotify music out of Spotify app.
What was worse, Spotify and Apple Music each have songs that may not be available between them, there is a chance you'll lose out on some tracks or albums that Apple Music doesn't have. To prevent this, we will introduce another tool - NoteCable Spotify Music Converter for you.
It is an all-in-one Spotify Downloader for both Windows and Mac users. With it, you are capable of downloading Spotify tracks, podcasts, albums and playlists to common audio formats like MP3, AAC, WAV, FLAC, ALAC, AIFF, etc. Therefore, you are able to import Spotify music to Apple Music. It doesn't particularly matter if you've used Spotify for free or have been a Premium subscriber. Whether the offline playlist Premium users created or online tracks free users played, NoteCable Spotify Music Converter can download to Apple Music.
Moreover, after downloading, it can also preserve the high audio quality and ID3 tags like artist, album, track number, etc. Here are its key features.
Download Playlist from Spotify to Apple Music on Computer
To switch your playlists from Spotify to Apple Music, simply follow the steps below with NoteCable Spotify Music Converter. First of all, download and install the latest version of the program.
Step 1. Login Spotify Web Player
Launch NoteCable by clicking the

icon, hit "Open Spotify Web Player". Please use your Spotify music account to login Spotify Web Player. Free account is also available, the ads will be removed in downloaded Spotify songs.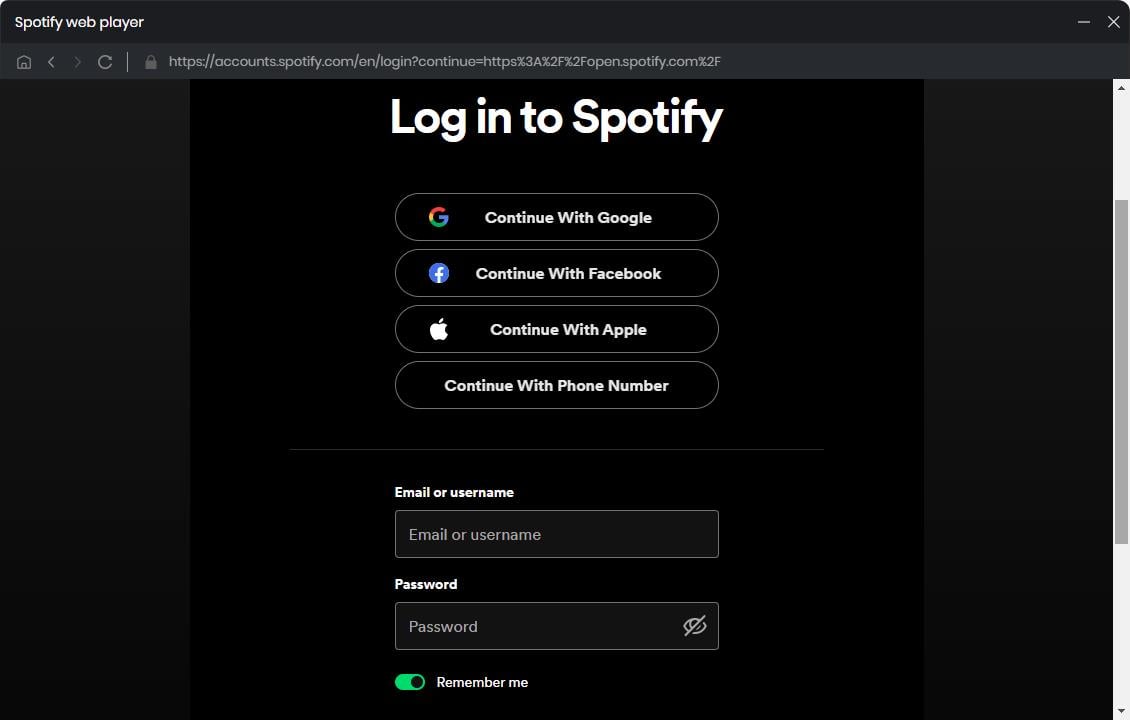 Step 2. Set Output Parameters
On the top right of NoteCable main interface, find a gear icon

and tap it. From the pop-up settings window, you can set MP3, AAC, FLAC, WAV, ALAC or AIFF as output format. Besides, you can adjust the value of bit rate and sample rate for getting audio quality.
The Spotify songs will be downloaded in the default directory, click on the "..." button to change the output path. If you prefer to sort the output files, please set the output organized by Artist, Album, Artist/Album, or Album/Artist as you need.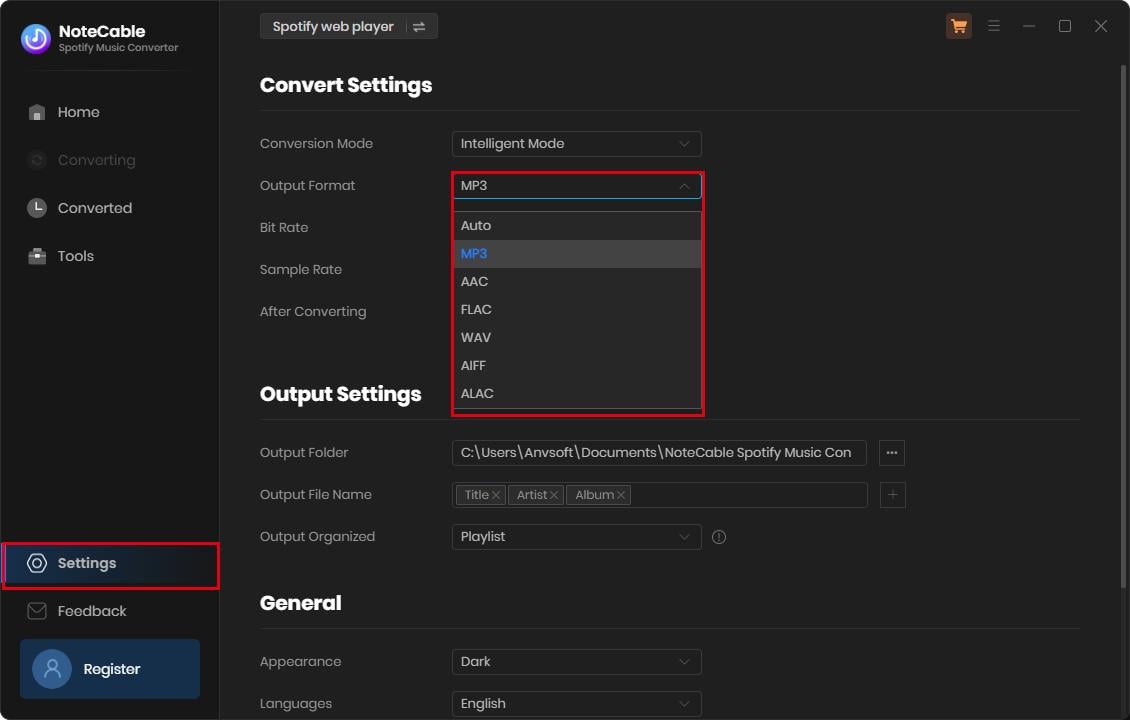 Step 3. Add Spotify Music or Playlists
Open an album or a playlist, click on the "Add to list"

button, the program will load all the music that can be downloaded. And you can select the songs you want to download.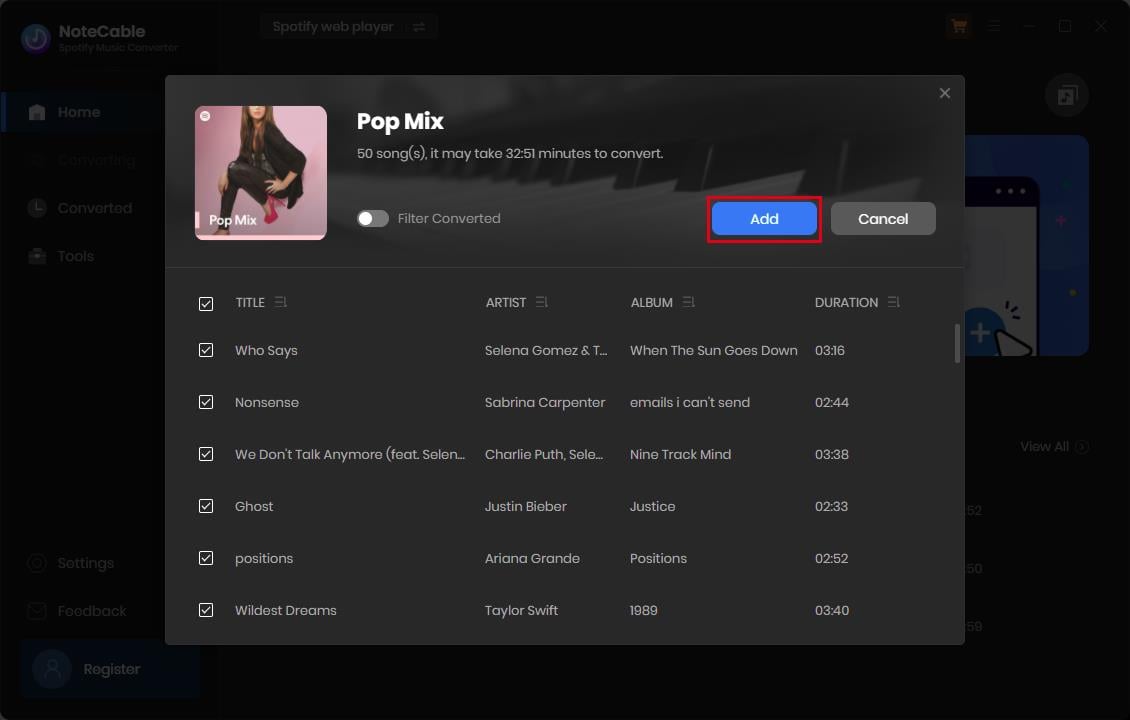 Step 4. Start to Download Spotify Music
After all the settings, just press the "Convert" button to start downloading Spotify music.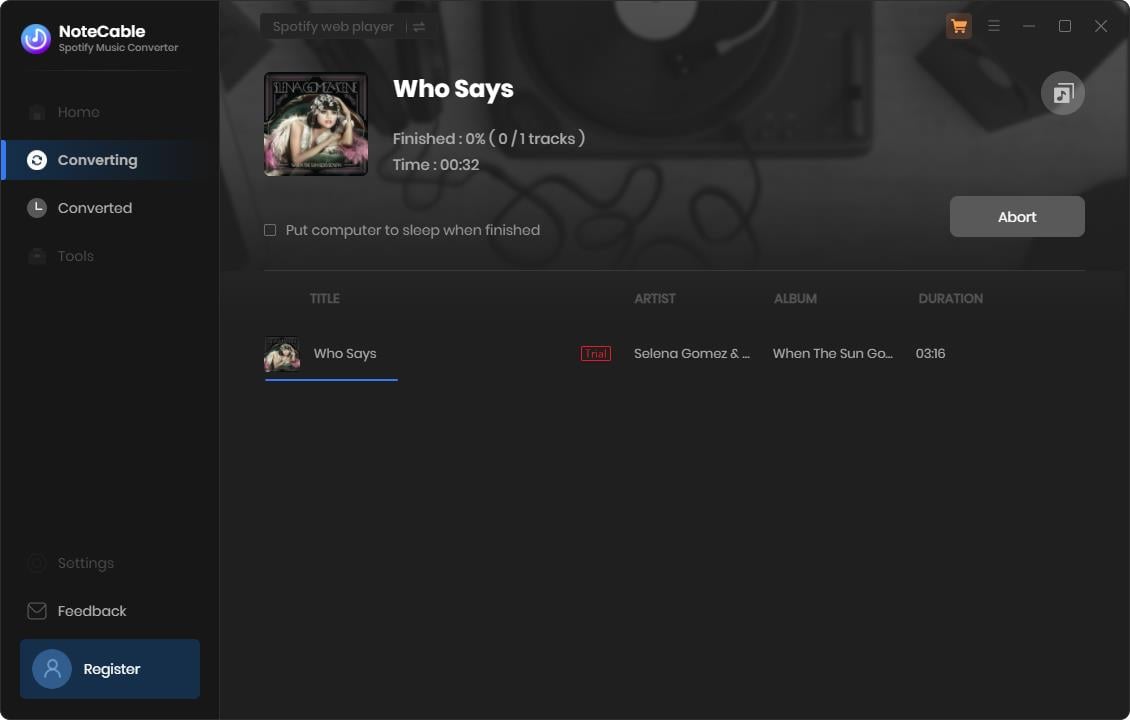 Step 5. Check Downloaded Spotify Music
Once the downloading completed, click on the

icon, you will find the history of the downloaded songs listed here. Click the "folder" icon behind the Duration, you can locate the downloaded Spotify music songs on local folder on your computer.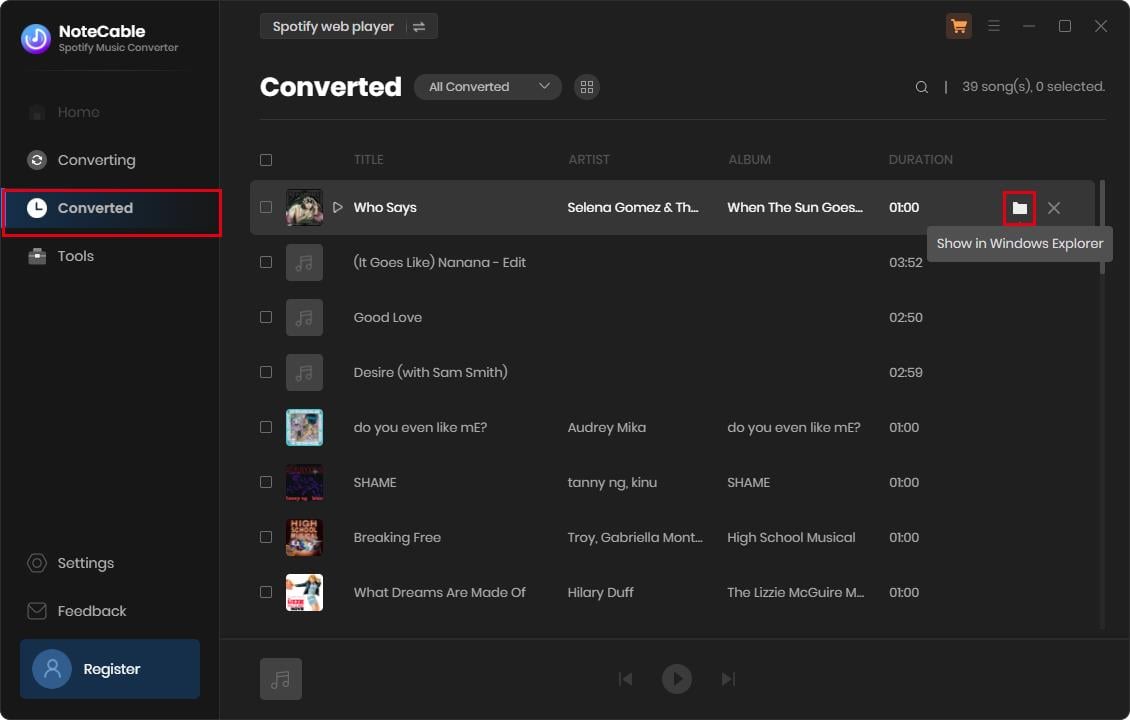 Step 6. Move Downloaded Spotify Playlists to Apple Music
Now that you have got the Spotify music in common audio formats, open iTunes (or Music on Mac) on your computer, click on File - Add File to Library/Add Folder to Library. Then you are allowed to select songs from computer and import to iTunes Library.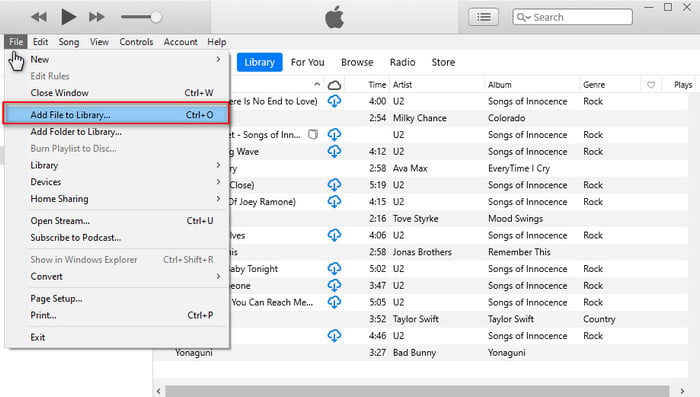 After that, you could sync them to your iPhone, iPod, Apple Watch or other devices you have and enjoy Spotfy music with ease.
---
Note: The free trial version of the NoteCable Spotify Music Converter enables you to convert the first one minute of each song and convert 3 music files simultaneously. You can unlock the time limitation by purchasing the full version.
Conclusion
With the help of Soundiiz, SongShift, FreeYourMusic and NoteCable, you can make Spotify to Apple Music transition as painless as possible. By comparison, NoteCable Spotify Music Converter provides more additional features. With it, you can download Spotify music to MP3, AAC, WAV, FLAC, ALAC and AIFF,s so as to transfer Spotify music to Apple Music, VLC, Google Drive or other programs and devices without limit.
---