Home > Spotify Music Tips > Keep Spotify Downloads Permanently
How to Keep Spotify Downloads Permanently
As one of the most popular music streaming platforms, Spotify Premium allows its subscribers to download their songs and keep them for offline listening. However, it is just for Premium subscribers. If you are a free user, you have no chance to download Spotify music for offline enjoying. Offline playing really becomes a point that makes Spotify worthy with a $9.99 payment. No matter you are a Premium subscriber or not, you all wonder how to store the downloaded and keep them forever. In this article, we will show you an easy ways to keep Spotify downloads permanently.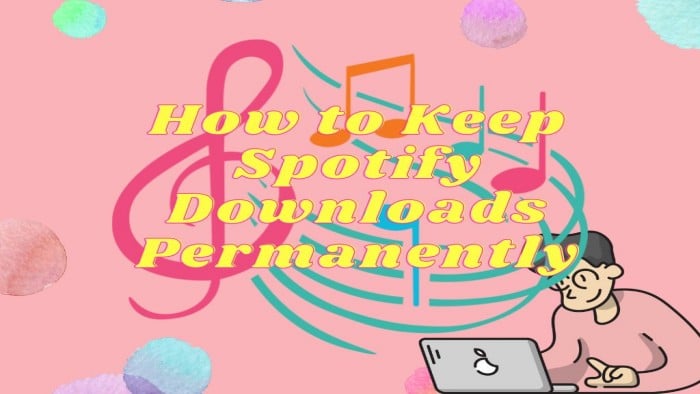 As a shining point of Spotify, Premium subscribers enjoy the right to download their favorite songs. Here are some small tips for you to correctly use Spotify Premium.
Spotify downloading only opens for Spotify Premium subscribers. If you are a Premium user, you can feel free to download your songs step by step. If you are a free user, you can freely refer to How to Get Spotify Premium for Free.
Step 1: Open your Spotify Program.
Step 2: Select the playlist/songs that you want to download.
Step 3: Click the Download icon. You'll see a green arrow indicating the download is successful.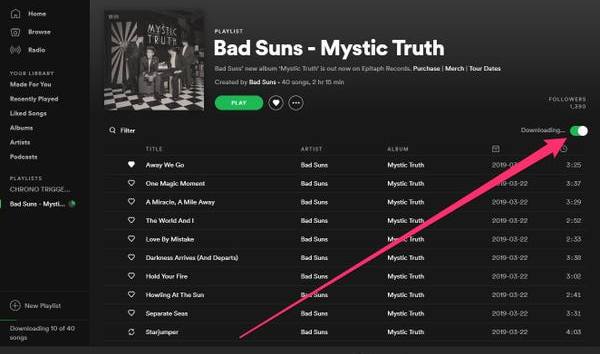 Tips:
1. Make sure there is enough storage on your device.
2. Prefer to download under the condition of Wi-Fi.
After you finish downloading your playlists, where can you find your downloads? We can find a default location where the files are saved by clicking Account > Settings > Offline Storage Location. You are allowed to change the location as you like by clicking CHANGE POSITION.
The default storage location should be set to C:\Users\Username\AppData\Local\Spotify\Storage on PC and \Users\Username\Library\Application Support\Spotify\Persistent Cache\Storage on Mac.
On Android, downloaded songs will be stored in Android/data/com.spotify.music/files/spotifycache/Storage/.
On iPhone, Click in the top-right corner and select Settings. Scroll down to Offline songs storage to see where your cache is stored.
For Premium users, it is easy to listen to Spotify music offline. The only thing you should do is to make sure that there is Spotify application on your PC, Mac, Android and iPhone. Then, you download your songs from the program and finally, you can listen to them offline.
For Free users, it may a little complex. You can refer to this article: How to Listen to Spotify Offline with a Free Account.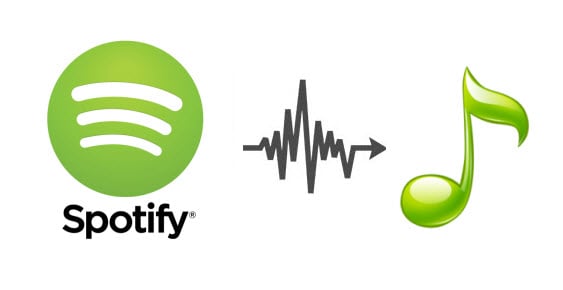 How to Listen to Spotify Offline with a Free Account
Don't purchase a Spotify Premium but still want to listen to music offline? Come and we will show you an easy way.
As we all know, Spotify is a kind of paid music service. Spotify Premium allows subscribers to enjoy ad-free music listening, play offline and on-demand playback. What's more, if we want to download and save the songs, it is a must for us to purchase a Premium. You may have this kind of question. Will my downloaded songs still be saved after my current Premium expires? Here is the answer. You can still use your account after you cancel your subscription until the expiry date. However, after your account expires, you can't enjoy Premium features anymore. You can still log in but you will reverse to Spotify free user to only play ad-support music. The most important thing is that your downloaded songs will be invalid, which means that you can't listen to them offline. As mentioned above, the Spotify downloads are cache files. You don't own the songs. You are required to continue paying for the monthly subscription to keep the offline streaming feature.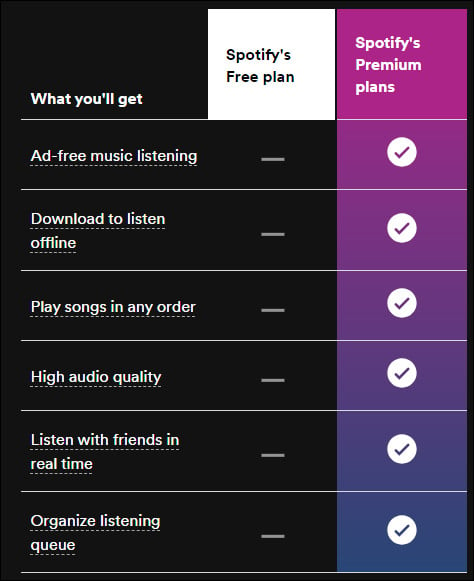 Users don't own the songs and what users download is some data and caches, so it is difficult to keep Spotify downloads permanently. In this part, we are going to show you how to keep Spotify downloads permanently by using NoteCable Spotify Music Converter. NoteCable Spotify Music Converter is a brilliant music conversion tool specially designed for downloading Spotify Free and Premium Music. In addition, it allows you to download Spotify music in several types of formats, such as MP3, AAC, WAV, FLAC, AIFF and ALAC format. It provides users with higher output audio quality than the original quality with a Premium account.
Tool Required:
Step 1Install and Run the NoteCable Spotie Music Converter and Choose Conversion Mode
Launch the NoteCable Spotie Music Converter on your computer. And then you can choose App Mode or Webplayer Mode as your conversion mode.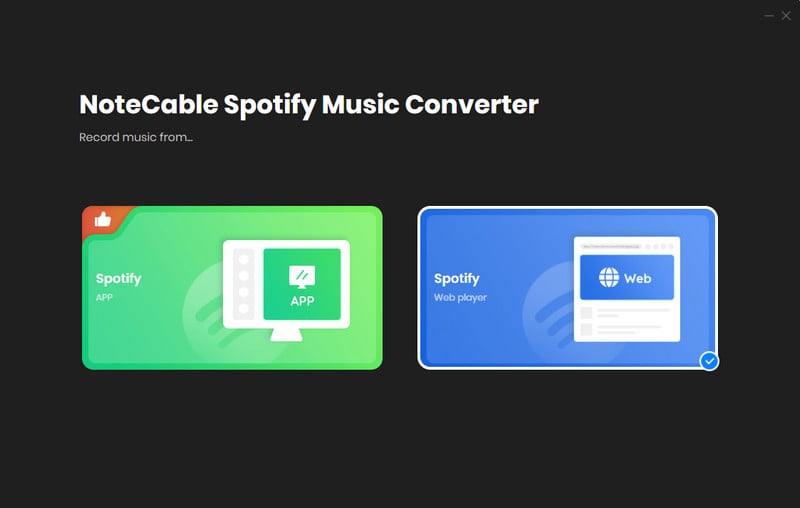 Step 2Sign into Your Spotify Music Account
To access the Spotify Music library in Webplayer Mode, you can log in with either a Spotify Free account or a Spotify Premium account.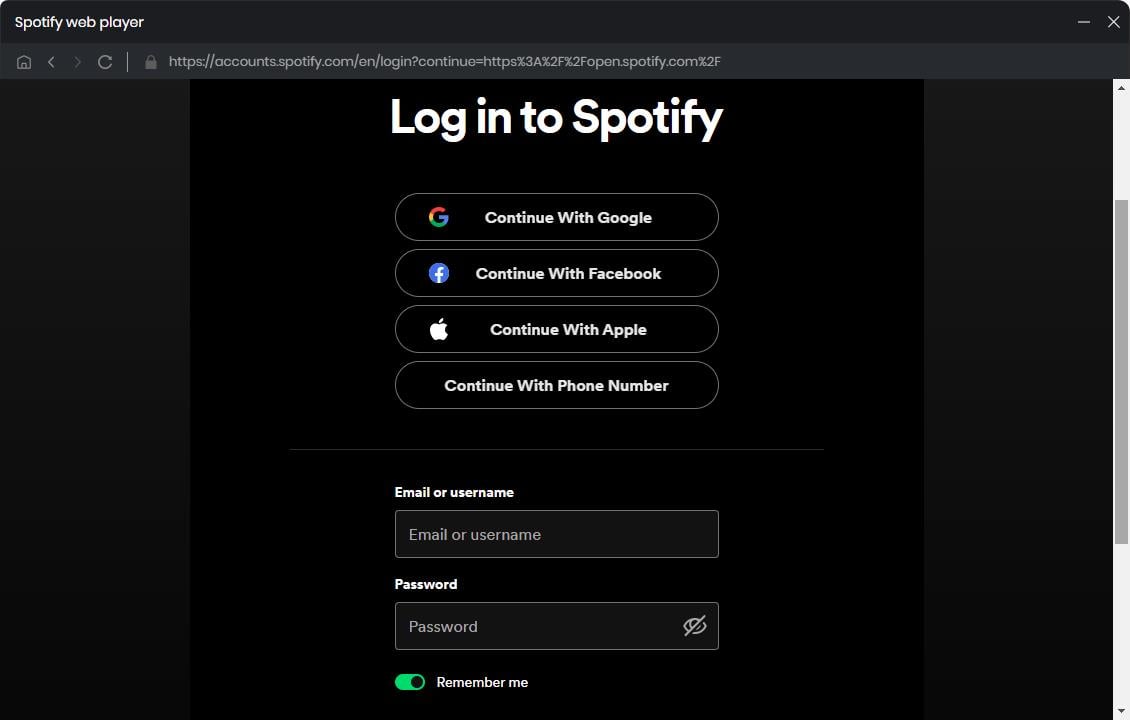 Step 3Set Output Format or Output Path
Click the Settings section on the left bar. Here you can choose the output format (MP3/AAC/WAV/FLAC/AIFF/ALAC), customize the output audio quality, the output path and how you'd like to name and sort out the converted files.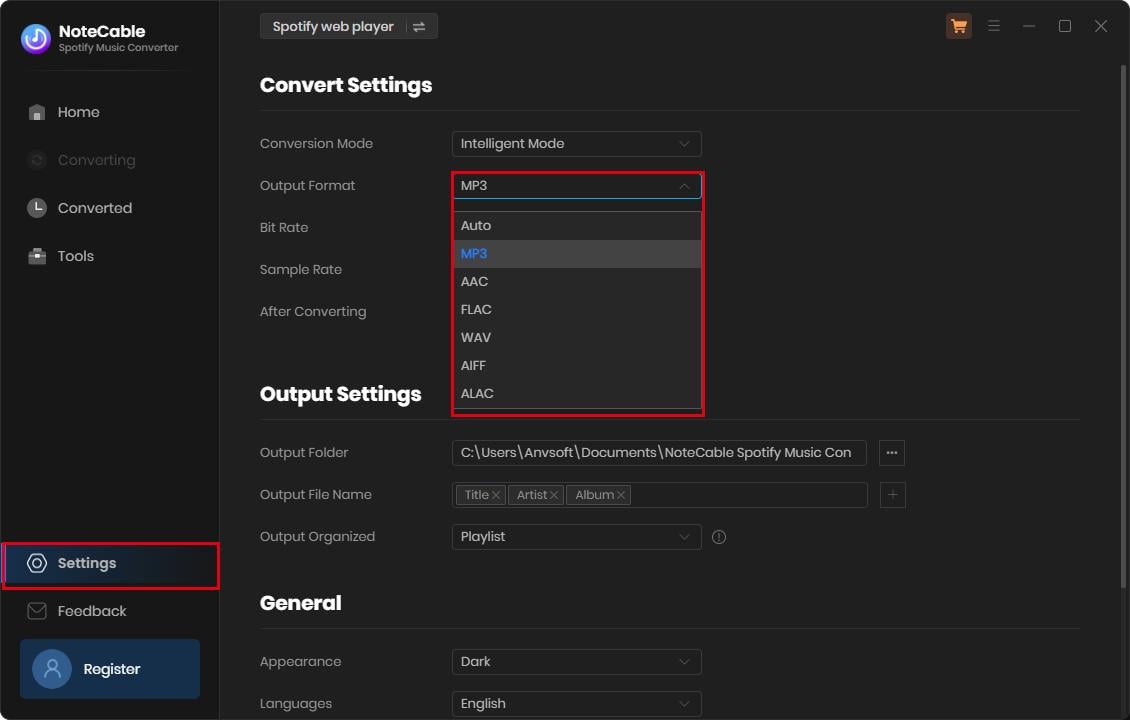 If you choose Auto as the output format, NoteCable will convert music at a faster speed. For better organizing your music library, you can save the output audio files into the folders sorted out by Artist, Album, Artist/Album, or Album/Artist. In addition, NoteCable allows you to customize the name of the output files and save the output audio files in the same order as the original playlist.
Step 4Add Music and Playlists to NoteCable
Open a playlist, click the floating Click to add button, and it'll display all the songs in that playlist. Select the songs that you'd like to keep on your devices and then click OK.
Tips: If you need to convert songs from multiple playlists in a single go, simply click the Add More button and add more songs from various playlists to the conversion list.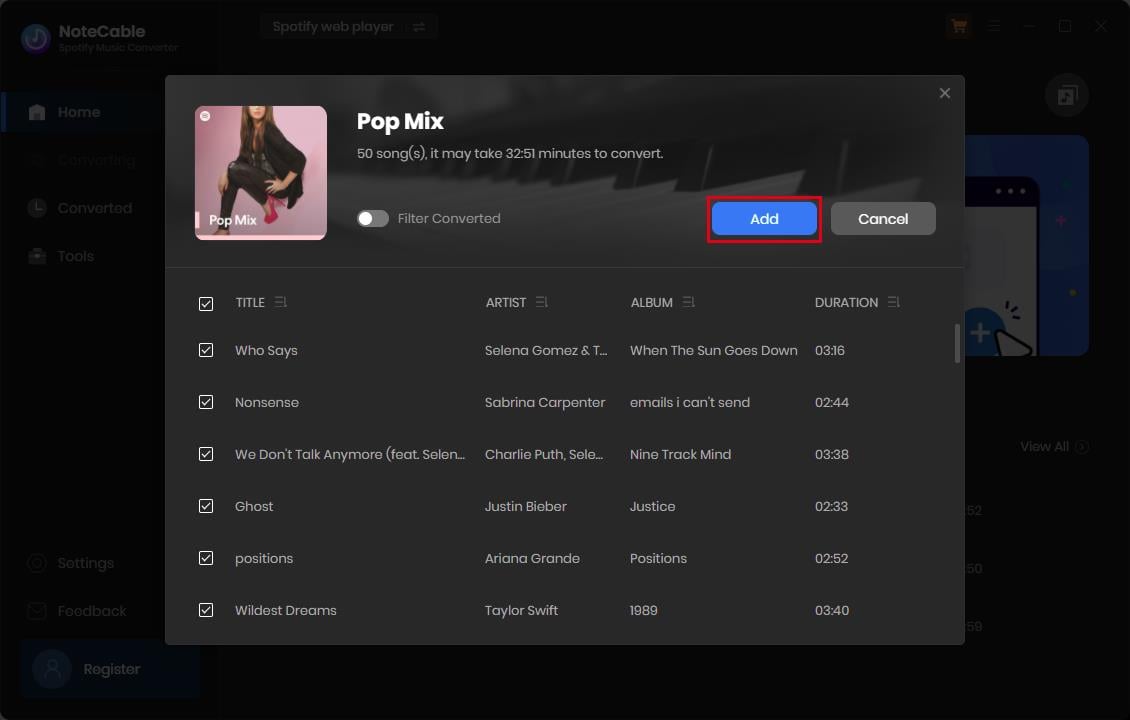 Step 5Convert Spotify Music to MP3/AAC/WAV/FLAC/AIFF/ALAC
Click Convert, and NoteCable Spotify Music Converter will immediately start to download the music from Spotify to the customized output folder.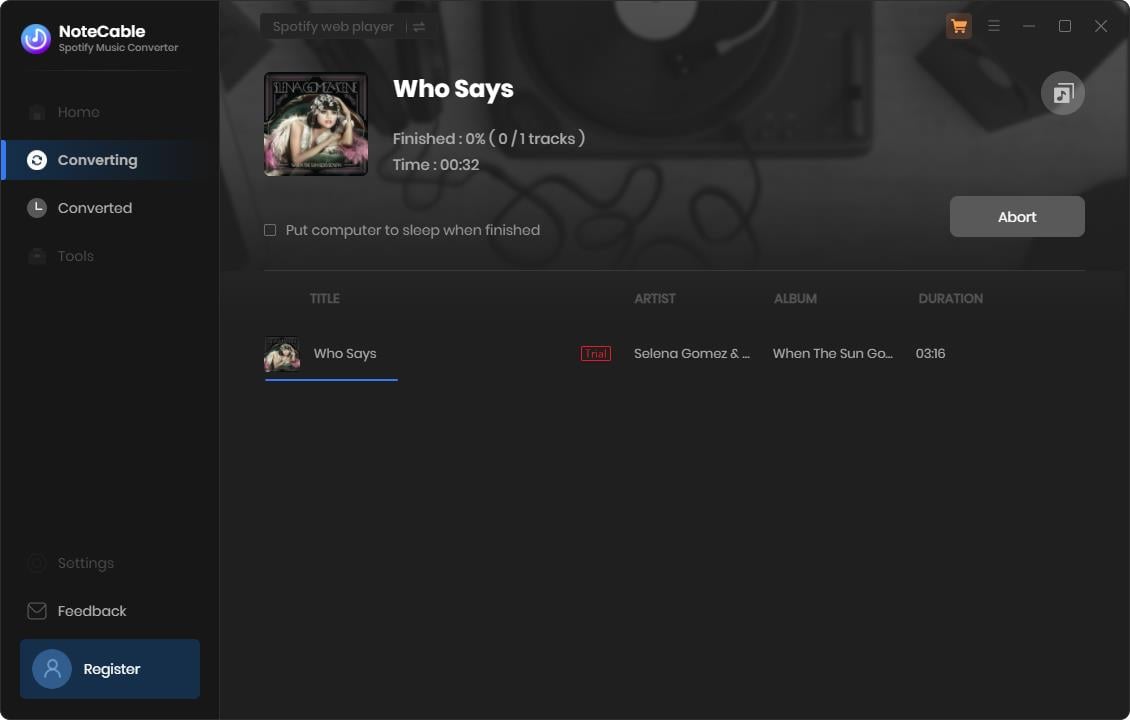 Step 6Check Spotify MP3/AAC/WAV/FLAC/AIFF/ALAC Downloads
Once the conversion is done, click the Converted section, and you can check all the Spotify songs that have been downloaded successfully. Go to the output folder and you'll find all the Spotify downloads in MP3/AAC/WAV/FLAC/AIFF/ALAC format.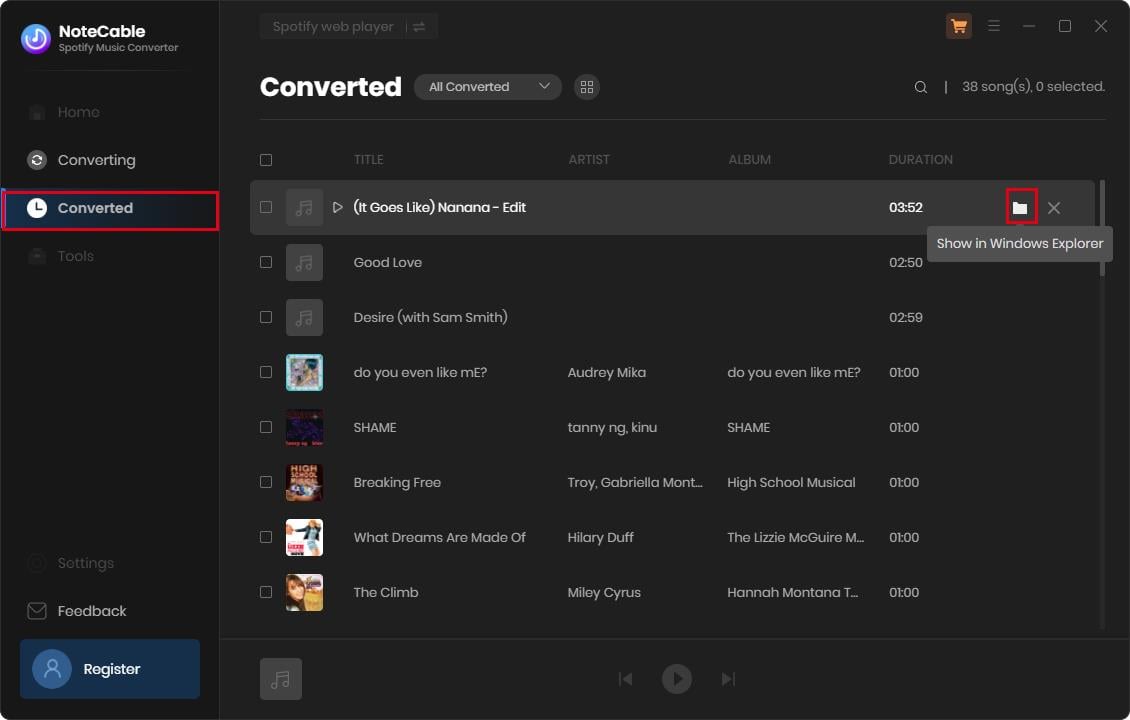 Now that the Spotify songs have been downloaded as MP3/AAC/WAV/FLAC/AIFF/ALAC files, you can easily export the Spotify playlists from your computer to other devices to keep them permanently.
Conclusion
With a Spotify Premium account, subscribers can enjoy Spotify ad-free music offline. However, you just purchase the right to enjoy the songs for a limited time and you have no chance to save them forever. What you download on your devices are some data and caches and it is useless without Spotify Premium or Spotify Program. You can hardly achieve to keep Spotify downloads permanent with only a Premium account.
NoteCable Spotify Music Converter gives you more choices to download your Spotify playlists in different formats to save on your devices forever, applying to free users and Premium users.
The free version of NoteCable Spotify Music Converter enables you to convert the first minute of each audio track and you can convert three songs in a single go. You can unlock the limitation by purchasing the full version.