Home > Spotify Music Tips > Spotify vs YouTube Music
Spotify vs YouTube Music: Which is Better?
Streaming music has been a fanatical choice for many music lovers. It enables us to get millions of songs via a series of streaming music with personal recommendations and pre-made playlists. We must all know two popular music: Spotify and YouTube Music. Spotify has been regarded as one of the most famous streaming services and YouTube Music has appeared in people's view until 2014. Though Spotify and YouTube Music are streaming music, they provide disparate services and functions. In the following, let's see the differences and similarities between them. We will compare Spotify and YouTube Music in detail, to help you understand their Pros and Cons, and make a more intuitive evaluation.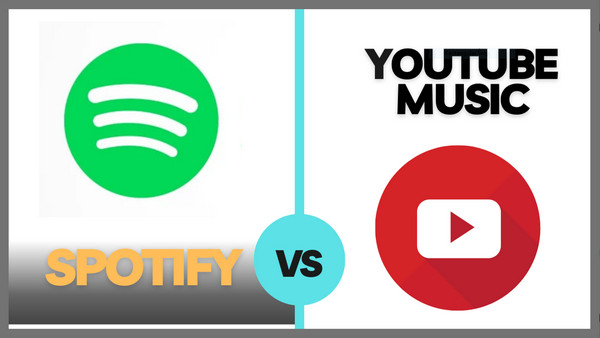 Spotify may be the hottest worldwide streaming music with a massive library of songs, albums, and original podcasts via its app. This app was issued in Stockholm, Sweden, and has been sped around the world as a household music app. Based on your listening habits, you can find your music, create your playlists and catch the podcasts you may be interested in. Until now, it's recorded that there are billions of active users per year.
As one of the competitive contenders of Spotify, YouTube Music was first launched in 2014 as the derivate of the YouTube video platform, gaining a large of attention from YouTube Video original users. YouTube Music is somewhat similar to Spotify where you can get access to a classic of music, curated and share playlists, artists, and podcasts. This app is available for the system of android, iPhone, iPad, and even the web player. YouTube Music claims that all personal infos and data collected by the app won't share with third parties, and be encrypted in transit.
-Spotify
Spotify has a good love for HD portraits and is good at creating quality covers. When entering the home page of the app, you will immediately draw to an exquisite cover. Music can heal the soul, and color can inspire the soul to feel beauty, and Spotify does both. Page layout and color design are Spotify's widely known features. You can see Spotify constantly reusing colors on its official website and other scenes, to create musical moods and set the atmosphere. When comes to the page layout of Spotify, the first word in your mind must be "simple". The user interface was divided into 3 parts: Home, Search, and Your Library, Home, Search, and Your Library, using as few words as possible to present functional options to customers.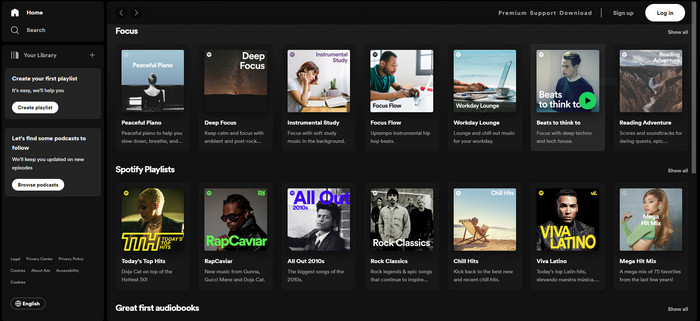 -YouTube Music
YouTube Music's user interface is well-designed and visually appealing too. Its user interface is separated into four areas: Home, Explore, Library, and Search, one more option than Spotify. The original label "Hotlist" was replaced by "Explore". In this change, YouTube Music paid more attention to users' listening experience to make it easier for users to discover new music that works for them. The old "Hotlist" tab only lists popular tracks based on the user's location, while the "Explore" function is more relevant to the user's listening preferences and habits.Influenced by YouTube Music Videos, YouTube Music is naturally prominent in visual design, which is one of the reasons why it has been one of the nearest competitors of Spotify. Spotify and YouTube Music have many similarities in UI design, the number of organizations they offer, and the discovery tools. But from the perspective of using experience, Spotify seems to provide more suggestions and categorizations creatively to cater to your demands.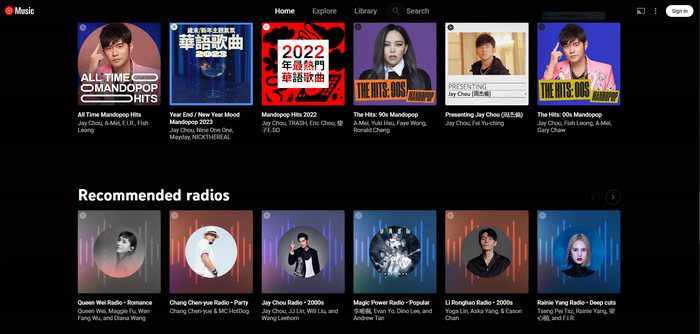 We usually tend to compare Spotify and YouTube Music for many reasons, but one of the core ones is they are streaming music that both offer an option and plan tier for lossless or high-resolution formats. Technically speaking, Spotify is superior to YouTube Music. For their free versions, Spotify's maximum streaming quality is 260 kbps, while YouTube Music's is 128 kbps.
Regard to the premium version, with Spotify, you can get 256 kbps in the browser with the web player or you can get 24kbps~320kbps(peak) when using apps. With YouTube Music, the audio quality is the same whether playing on apps or the web, ranging from 48kbps~256kbps.
| | | |
| --- | --- | --- |
| Audio Quality Setting | Spotify | YouTube Music |
| Automatic | Lies on internet speed | Not applicable |
| Low | 24kbps | 48kbps |
| Normal | 96kbps | 128kbps |
| High | 160kbps | 256kbps |
| peak | 320kbps | 256kbps |
Both Spotify and YouTube Music have considerably massive song collections consisting of multifarious styles and genres, and a crowd of artists. However, is there any difference in their music library?
There is no doubt that Spotify's music-offer services have taken a cutting-edge position in the field of streaming music services. Thanks to the partnership between Spotify and Billboard, the song storage is up to 4 billion, to the extent that app user can accurately find out their favorite songs.
YouTube Music, as of April 26, 2023, had accumulated as many as 100 million officials' musics in their library. Although it has done nothing about audiobooks, this kind of service will be added to the platform's home, but for American users only for the time being.
And then let's talk about their features regard to music service. One of Spotify's services praised highly is podcasts. If you sometimes don't want to listen to music, podcasts will be a good choice for you. When podcasts are on, you can listen to various kinds of News, Stories, life tips, and so on. And another of Spotify's well-known services is the audiobook which can satisfy your listening demand when you are doing leisurely things like cleaning, enjoying high tea, or cooking dinner.
YouTube Music has the service: video music. This fits for those who are fond of watching videos when listening to music. However, video music is a dispute service that often plays the video without copyright as the result of complaints.
Both Spotify and YouTube Music provide a free tier of their service that gives you access to their libraries, but you will have to put up with ads popping up when you are listening, and you can't download any offline mode of your favorite songs, what's more, the audio quality both limit to 128 kbps on the free version.
Additional restrictions of Spotify free: you are not empowered to listen to the playlists and albums you like, but instead it plays on shuffle, and you can skip 6 songs per hour only.
Additional restrictions of YouTube Music free: with YouTube Music free, you can skip tracks whenever you like after 5 seconds, but your music can keep playing only when your device is on.
If you plan to move from the free tier, you can choose Spotify or YouTube Music premium subscriptions at $9.99 per month and student plans are both $4.99 per month.
However, YouTube Music provides you with a money-saving plan in that you can get premium subscriptions at $99 per year, which brings the cost effectively down to $8.25 monthly. Spotify does not support the same plan, but some workaround would let you get the same deal. As to the sound quality, Spotify's premium maximum streaming quality is 320kbps, while YouTube Music's premium is 256kbps.
About the family plans, Spotify can charge $15.99 per month which can be used by six accounts at most and YouTube Music can charge $14.99. This is one of the differences between these two plans. Spotify offers a service called DUO membership for two people to share that's priced at $12.99 per month which suits couples, and this is the other difference between Spotify and YouTube Music.
| | | | | |
| --- | --- | --- | --- | --- |
| Streaming Service | Individual plan | Duo | Family Plan | Student Plan |
| Spotify | $9.99/month | $12.99/month | $15.99/month | $4.99/month |
| YouTube Music | $9.99/month | - | $14.99/month | $4.99/month |
For those who are looking for an equivalent for music, podcasts, and audio entertainment, Spotify seems like a better selection than YouTube Music. At least for now, Spotify offers more.
For those who use an Android phone, have heavy use habits of Google apps or services, or have no plan on paying, YouTube Music must be the best option.
If you want to convert the music from Spotify to MP3 and play the music on other devices, Notecable may be your good assissant.Notecable is an easy-to-operate and high-security program that will meet your variuos listening needs.

NoteCable Spotify Music Converter
Download Spotify songs, albums, playlists and podcasts.
Convert Spotify tracks to MP3 /AAC / WAV / FLAC / AIFF / ALAC.
Support both Spotify Free & Premium accounts.
Keep lossless output audio quality.
Preserve all ID3 tags information after conversion.
Offer free updates and technical support.
If you need to convert YouTube Music to MP3, YouTube Music Converter will do you a great favor. In this way, you can transfer the YouTube Music downloads on an MP3 player, a USB, DJ software, etc.