Home > Spotify Music Tips > 7 Methods to Play Spotify Music in Your Car
7 Methods to Play Spotify Music in Your Car
Listening to music is a wonderful thing during your car journey. Studies have shown that listening to music can ease stress, boredom, and anxiety during rush hours. Additionally, soothing music can also improve drivers' focus and concentration while driving. And if you are traveling in the long run and need some entertainment element, nothing could be better than playing your favorite music. Although there are many music channels on the car radio, you may prefer your own playlists instead. As one of the largest and most popular streaming music services worldwide, Spotify is a nice choice for enjoying music in the car.
So how do I connect Spotify to my car and take music on the road? In this article, we will show you some popular ways to play your favorite Spotify music in the car. You can choose one preferred method according to your needs. Furthermore, if you use free Spotify, this article will teach you how to download Spotify tracks for offline playback in the car. Let's move on.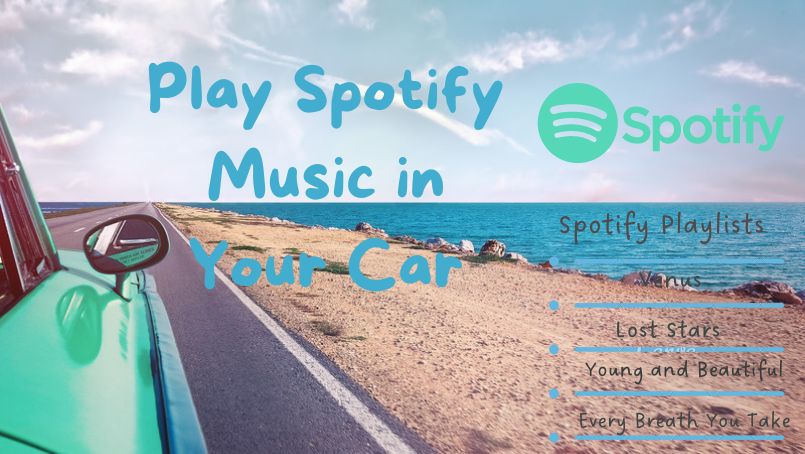 Part 1: Five Common Methods to Play Spotify in the Car
As technology develops, people have more options for playing music in the car, other than loading up a CD changer or using the radio.
Method 1: Play Spotify Music in the Car with Built-in Spotify App
The simplest method is to use the pre-installed Spotify app on the vehicle's dashboard. One of the first manufacturers to provide this was Tesla. But since then, others have done the same. These include Volvo, Jaguar Land Rover, BMW, Mini, and so on.
All you have to do here is log in with your existing Spotify account and select the songs from Spotify you want to play. There's no need to pair your smartphone to the car, or even plug it in because you can control Spotify using the car's controls (or voice commands). There are no distractions from reaching for your phone. In this case, Spotify music is streamed to the car (instead of downloaded and saved locally) and relies on the car's own SIM card and internet connection.
Method 2: Play Spotify Music in the Car via Bluetooth
If your car stereo has Bluetooth functionality, you can wirelessly pair your smartphone, tablet, or computer that has Spotify on it with the car stereo through Bluetooth. Now follow the steps here to see how to work it.
1. Go to "Settings" in your car stereo or to find the Bluetooth menu, then choose the option to pair your device.
2. Sync by turning on Bluetooth on both your mobile device and your stereo.
3. Open Spotify on your smartphone, tablet, or computer and play your song.
Method 3: Connect Spotify to Your Car with a Cable
You can connect Spotify to your car thanks to the humble auxiliary cable. Most cars built in the last decade have an axillary port (the same size as a headphone jack), into which you can plug a smartphone or other music player.
1. Make sure you have the correct type of cable that supports connecting your mobile device to your car. (You can check with your car's manufacturer if you don't know which type you need.)
2. Find the AUX socket in your car and plug in the cable (try looking for it on the center console).
3. Turn on your car and stereo, select the AUX input, then open Spotify and tap play.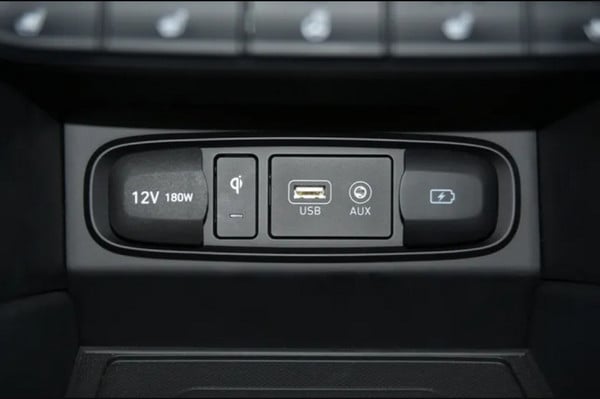 Method 4: Stream Spotify in the Car via Android Auto or Apple CarPlay
Apple CarPlay and Android Auto are car assistant systems that help you access certain features of your phone. Over 400 models of the car now offer both Apple CarPlay and Android Auto - either as standard or as an optional extra, and several aftermarket head units also work with both systems. Besides, Spotify has compatibility to work with both Apple CarPlay and Android Auto. So if you have the latest aftermarket car radios that support these systems, you can listen to Spotify music saved on your phone with ease. Depending on your requirements, you can now refer to the following tips.
Android Auto
With a simplified interface and powerful new voice actions, Android Auto can help you minimize distractions and stay focused on the road when driving your car. Once connected your Android phone to a compatible vehicle, you can use Android Auto right on your car display. You can use Android Auto if your phone is running Android 5.0 (Lollipop) or higher. But you must first install Android Auto on your phone because it does not come pre-installed.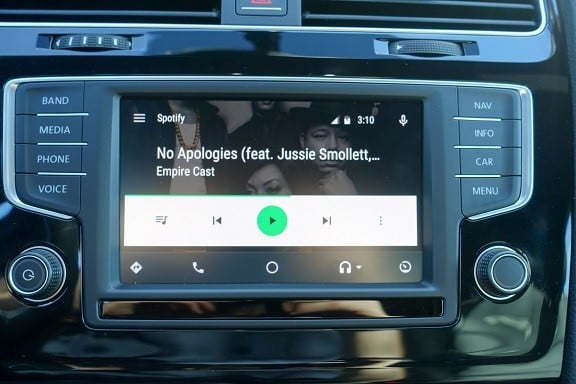 1. Log into the Spotify app on your Android phone.
2. Connect your phone via USB to an Android Auto-compatible stereo.
3. If Spotify is already playing, it will keep playing. Otherwise, start Spotify on your stereo display.
Apple CarPlay
Apple CarPlay is designed to use your iPhone in the car. CarPlay enables the head unit or car radio to be a display for an iPhone. It also acts as a controller for your iPhone. You can make calls, send and receive messages, get directions, and enjoy Spotify music in car with CarPlay. It is available on all iPhone 5 and later with at least iOS 7.1.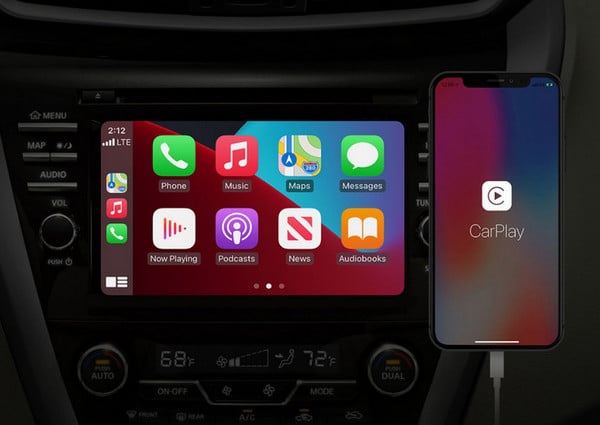 1. Log into the Spotify app on your iPhone.
2. Connect your iPhone via USB to a CarPlay-compatible stereo.
3. Play Spotify music on your stereo display or through voice command with Siri.
Method 5: Enjoy Spotify Music in the Car on Parrot Asteroid
The Parrot Asteroid is an in-vehicle infotainment system. It provides users with web-based maps, navigation, mobile apps, digital-media playback, and music streaming through a familiar interface. Besides, it supports Spotify natively and allows you to use Spotify in the car. The built-in voice recognition makes it easier for you to play Spotify while driving. You only need to download and install the Spotify application to your Parrot Asteroid Smart through the Asteroid market, and then log in to your Spotify Premium account. Finally, you can listen to the downloaded Spotify songs offline in your car.
The five methods we mentioned above can help us play Spotify music from our smartphone or tablet in the car to a certain extent. However, there are some limitations. Sometimes our mobile phones are with lower battery or poor internet, which brings some difficulties in Playing Spotify music. And only Premium users can listen to Spotify music in the car offline. How can Free users use Spotify music in the car for offline playback? What if you don't have phones nearby or your device cannot be compatible with the car stereo? Don't worry, there are two alternative methods for you. They are to transfer Spotify to a USB drive or burn Spotify to CD and then play music in your car.
Lots of cars now are equipped with a USB port inside. It's feasible to enjoy music from USB drive in the car. What we need to do is download Spotify music first and transfer them to USB drive for playback in the car. But as we all know, Spotify songs are encrypted in protected formats and will become unplayable on unauthorized devices, which means you're not allowed to directly save Spotify songs and transfer them to USB flash drive. Here, we recommend a smart and excellent tool called NoteCable Spotify Music Converter. It is specially designed to help premium and free users easily download and convert Spotify music to MP3, AAC, WAV, FLAC, AIFF and ALAC. At the same time, the original audio quality and all ID3 tags will be preserved.
The Tool Required
Tutorial on How to Download and Listen to Spotify Music in Car via USB Drive
Step 1 Install and run NoteCable Spotie Music Converter on your Windows or Mac. After opening the program, you can choose App Mode or Webplayer Mode as your conversion mode.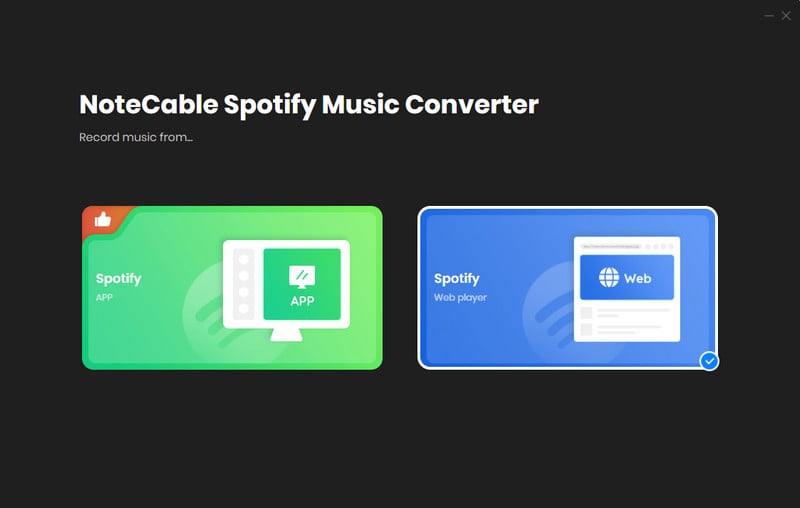 Step 2 Sign into Your Spotify Music Account, you can sign in either free or Premium account.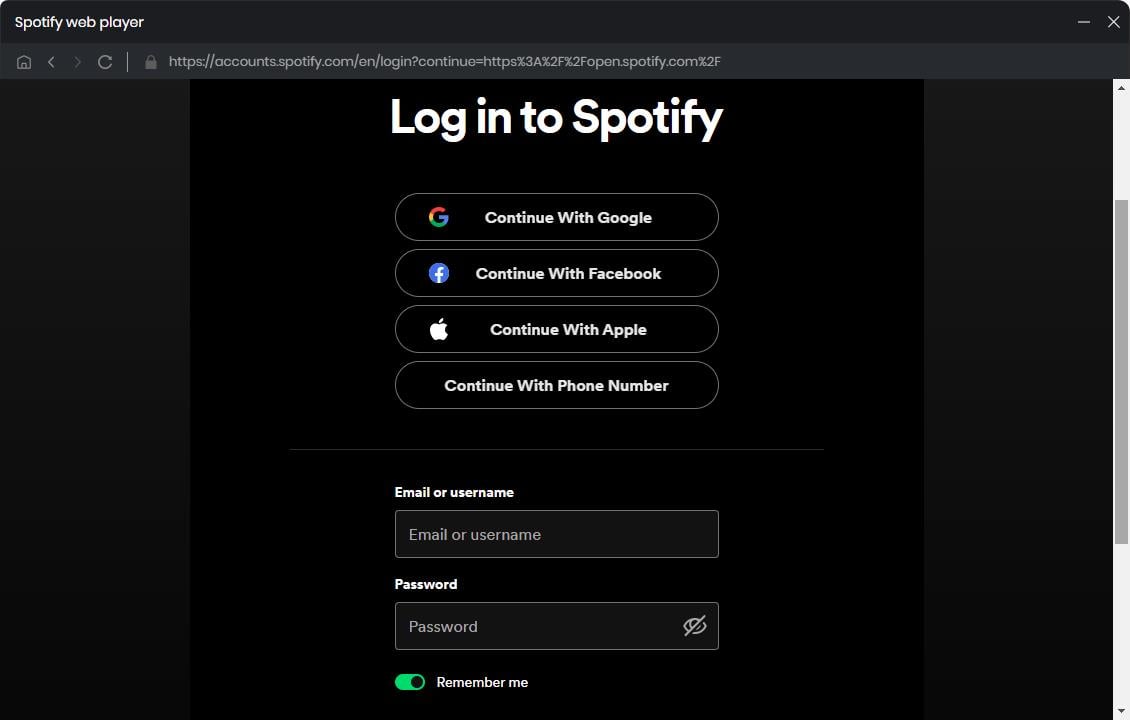 Step 3Choose MP3 as the output format. Click the Settings section on the left bar. There are six audio formats, including MP3, AAC, WAV, FLAC, AIFF and ALAC, for you to choose from. MP3 is popular and can be compatible with USB drive, so you can set MP3 format and adjust the bitrate, sample rate, output folder, and output file name.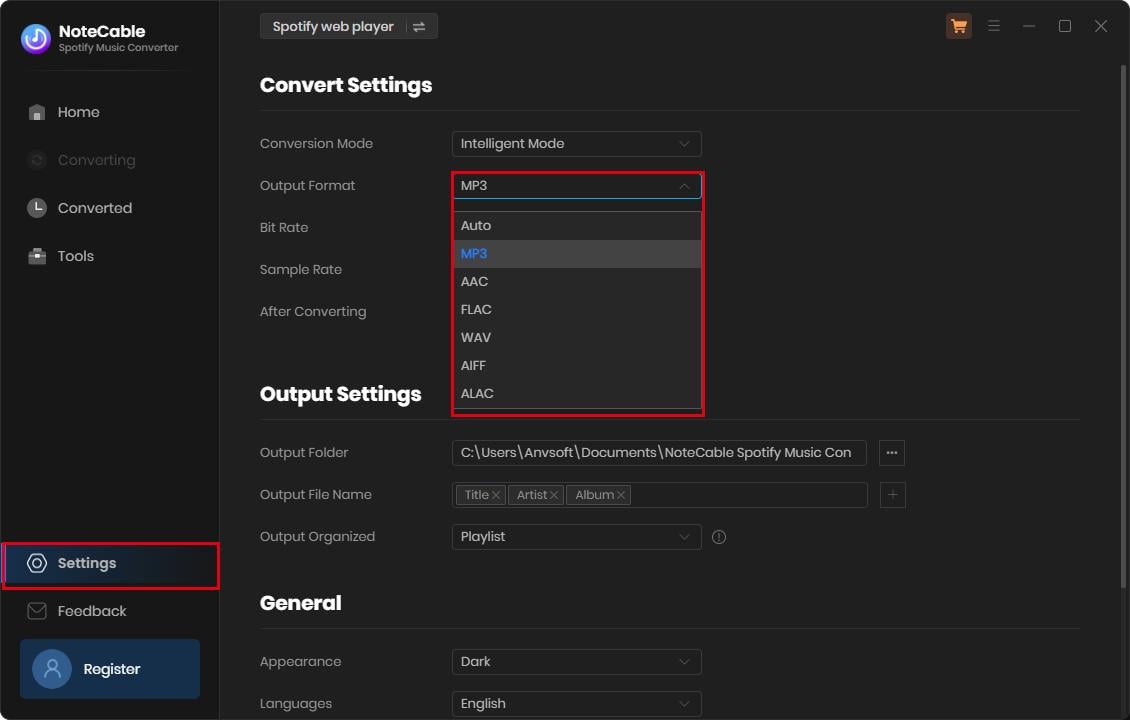 If you'd like to organize your music library better, you can save the output audio files into the folders sorted out by Artist, Album, Artist/Album, or Album/Artist.
Step 4Convert music to MP3 for USB. Navigate to your library and select the playlists which you want to listen to. Click the Click to add

button to tick the songs you'd like to download. Next press Convert to start downloading.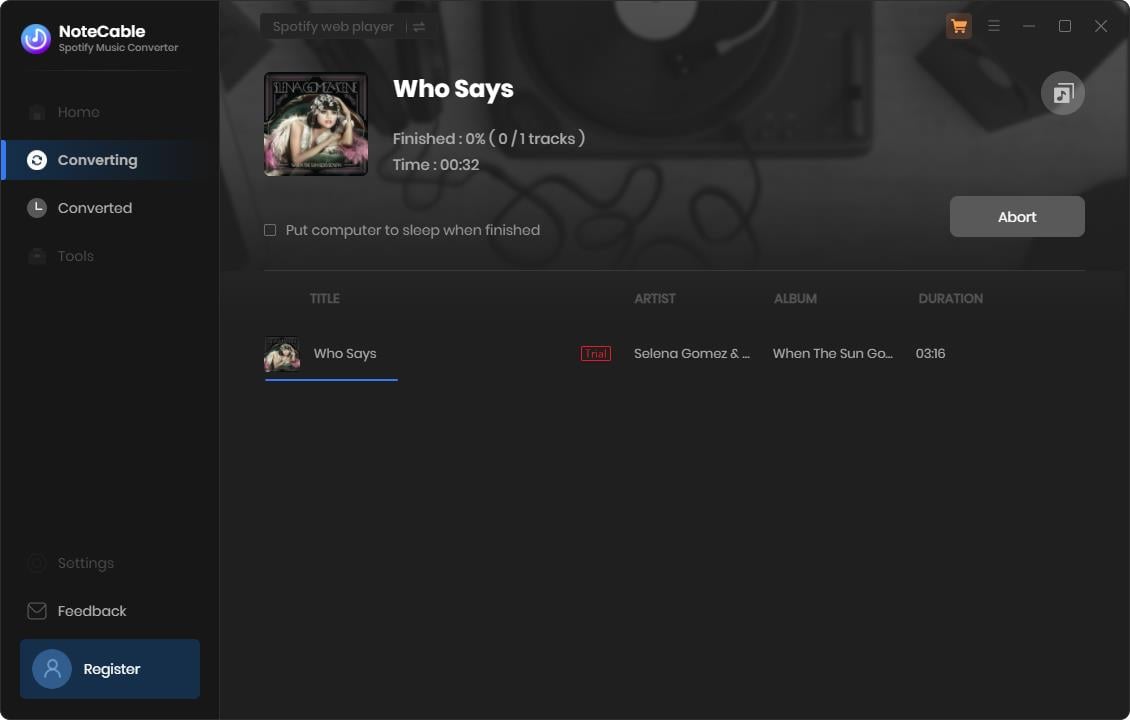 When the conversion is finished, you can find all the converted Spotify songs in the Converted part. Tap the folder icon behind the Duration, you can reach out to the local folder of your computer.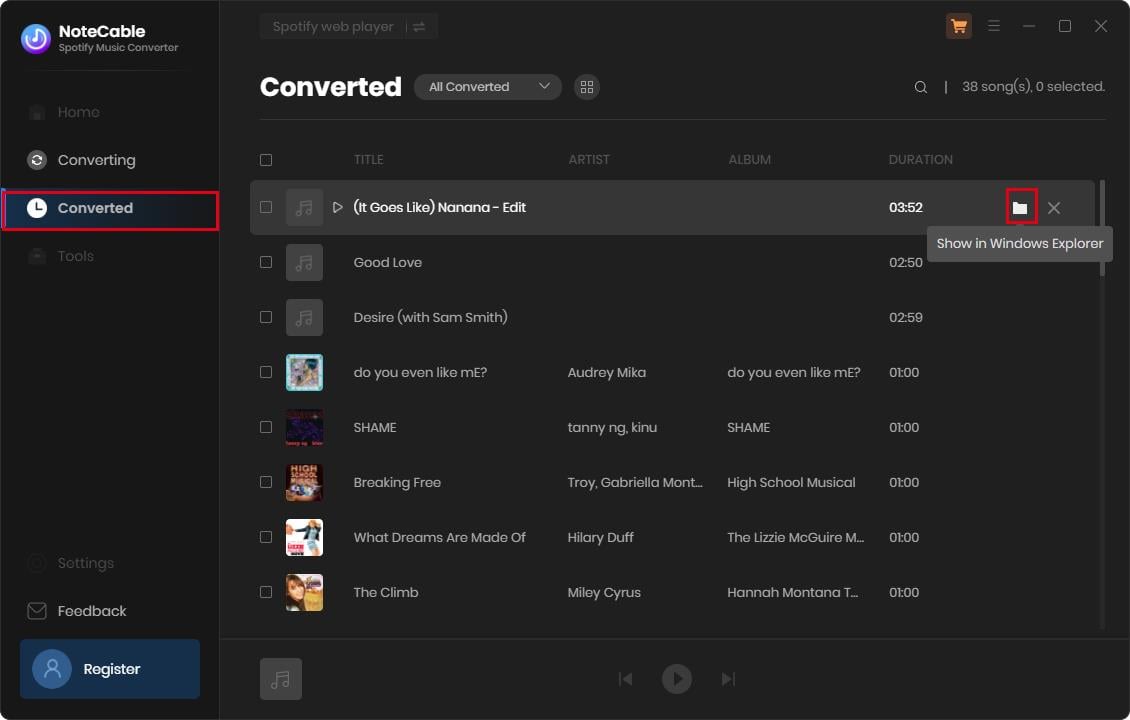 Step 5Transfer Converted Spotify Music to USB Drive After getting the MP3 Spotify songs, copy and paste the converted files to the USB drive folder on computer.
Step 6Plug the USB drive into your car's USB ports and start to play Spotify music in the car via USB drive.
Burning Spotify Music to CD, and then playing it in your car is another choice. If your old car has a CD player, you can listen to Spotify with it. But like the previous method, you'll have to convert Spotify to common audio formats with NoteCable Spotify Music Converter as well. After NoteCable converts Spotify music to unprotected audio formats like MP3, you can burn them into a CD on iTunes.

Step 1Convert and download Spotify songs and playlists to open MP3 format via NoteCable.
Step 2Import the converted Spotify music to the iTunes library, then insert the blank CD into the disc drive of the computer.
Step 3Select the imported Spotify playlist. Tap File > Burn Playlist to Disc, and choose Audio CD from the list. Finally, click the Burn to start burning a CD from Spotify.
For more details, you can refer to How to Burn Spotify Music to CD.
Now, you can insert the CD disc into the car player for playing your Spotify music.
In this article, we have listed 7 different ways to listen to Spotify music in your car. To summarize, if you want to stream music from a mobile device to your car system, you can listen to Spotify songs via Bluetooth, CarPlay, Android, or Aux. If you don't have Internet access or use a Spotify free account, you can download Spotify songs with NoteCable to MP3 format and then transfer them to a USB flash drive, or burn them to a CD to listen to in the car. It is highly recommended to play Spotify music in the car via USB drive. Using a USB connection is more stable and reliable. Besides, NoteCable Spotify Music Converter will save your favorite Spotify playlists as local files with high quality, In this case, you can freely enjoy Spotify music offline on your trip even without Spotify premium.
---