Home > Spotify Music Tips > Transfer Spotify Music to Apple Music
How to Transfer Spotify Music to Apple Music
In the world of streaming music, Spotify goes to great lengths to spare user fees by providing a free tier to all music listeners. It sounds especially lovely. Nevertheless, it seems impossible to get Spotify Music downloaded for offline listening as a Spotify Free user. Sooner or later, users are called to upgrade to the Premium which will contribute to Spotify's highest setting of up to 320kbps bitrate.
Despite Spotify's deep affection for the music lover, Spotify Music is pale by comparison with Apple Music which boasts audiophile-grade sound by offering a lossless audio quality of up to 24-bit/192 kHz as well as spatial audio with Dolby Atmos. And Apple Music subscribers can download the music into iTunes thus one-click sync the Apple Music to all their Apple devices. The good news is that you can simply transfer your Spotify Music playlists to iTunes and merge them with Apple Music to enjoy the music of an audiophile-grade quality. Nah, transfer your Spotify playlists to Apple Music? That isn't straightforward.
How to Transfer Spotify Music to Apple Music
Even being a Spotify Premium, you won't be allowed to download Spotify Music to Apple Music in perfect one go. NoteCable Spotify Music Converter is what exactly helps you out to export Music from Spotify and then download them to your storage. Thus later you can easily add Spotify Music to iTunes and merge Spotify Music with your Apple Music. But it's also about much more than that. NoteCable will convert Spotify Music to diverse audio formats like MP3, AAC, FLAC, AIFF, WAV and ALAC. By outputting audio to ALAC or AAC, Spotify Music will take no burden of other Apple Music when you put them into your iTunes library. With NoteCable, original Spotify Music ID3 tags will also be exported when you finished the conversion operation.
Step 1Install and Run the NoteCable Spotie Music Converter and Choose Conversion Mode
Launch the NoteCable Spotie Music Converter on your computer. And then you can choose App Mode or Webplayer Mode as your conversion mode.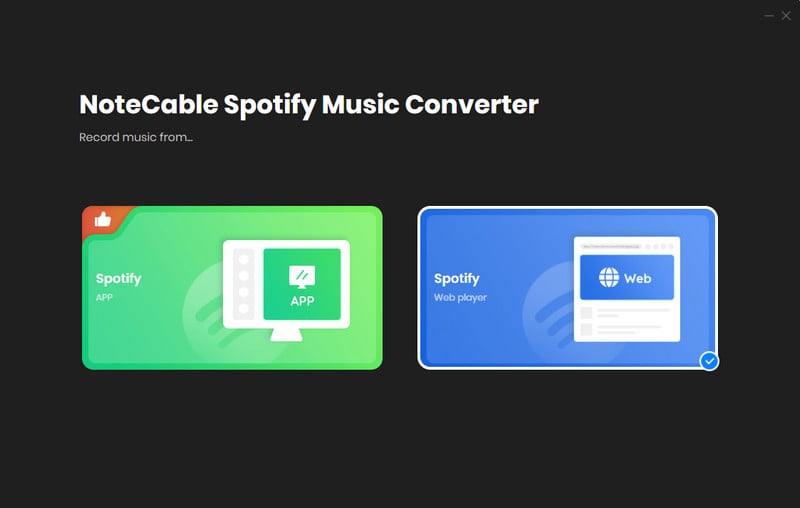 Step 2If you choose Webplayer Mode. There will be a web version of Spotify Music inserted in the NoteCable program. To access the Spotify Music library, you can log in with either your Spotify Free account or your Spotify Premium account.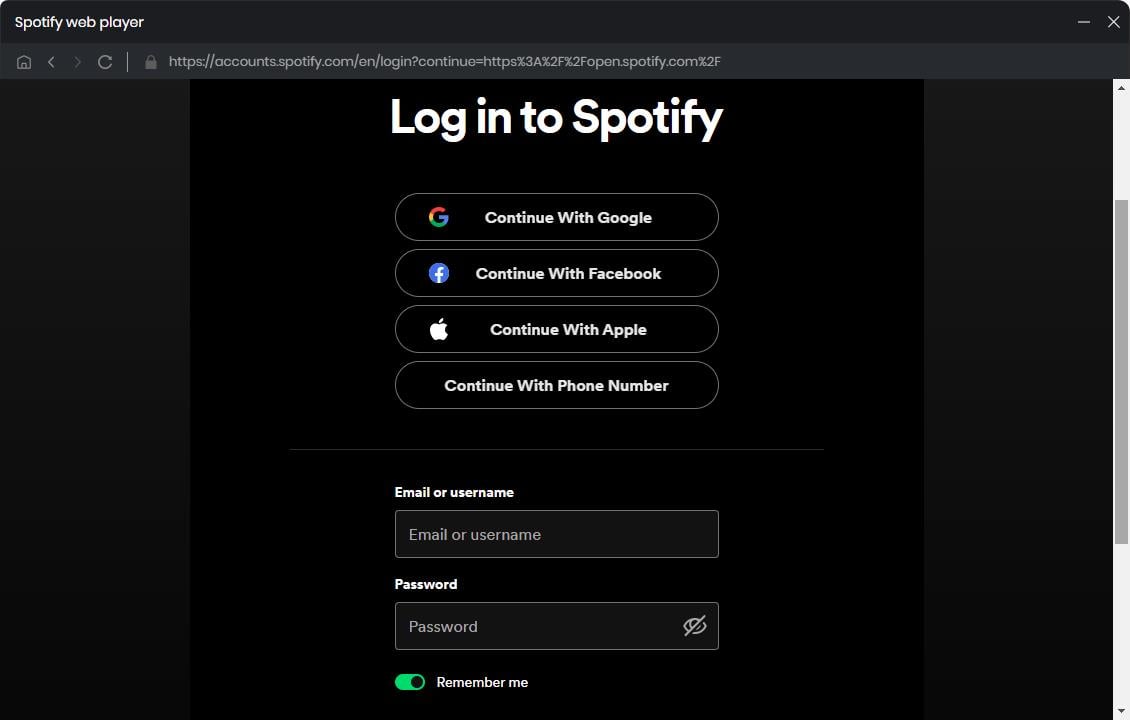 Step 3After the login, you need to go to the Settings part. Here you can set up the output format to ALAC or AAC which is fully compatible with iTunes. And you then set up the output folder that is to save the output songs. If are used to putting all downloaded songs in one folder, you can set up the option to None on the output organized column.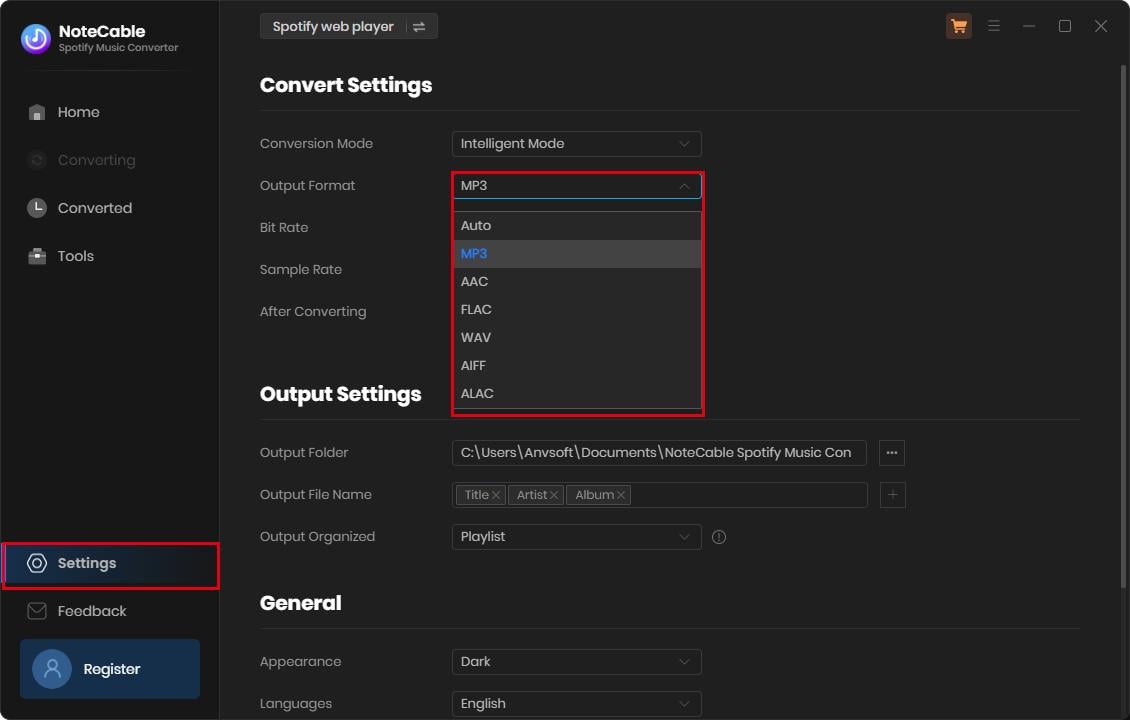 Step 4Now, on the Spotify Music library, you can view any playlist resonating for you. Or you can open the playlist that you have previously created to download to the place outside of the Spotify platform. Then click the Click to add button when NoteCable will read all the songs in the playlists and put them on the conversion panel.
You then can tick off the box beside the box to select the songs to convert.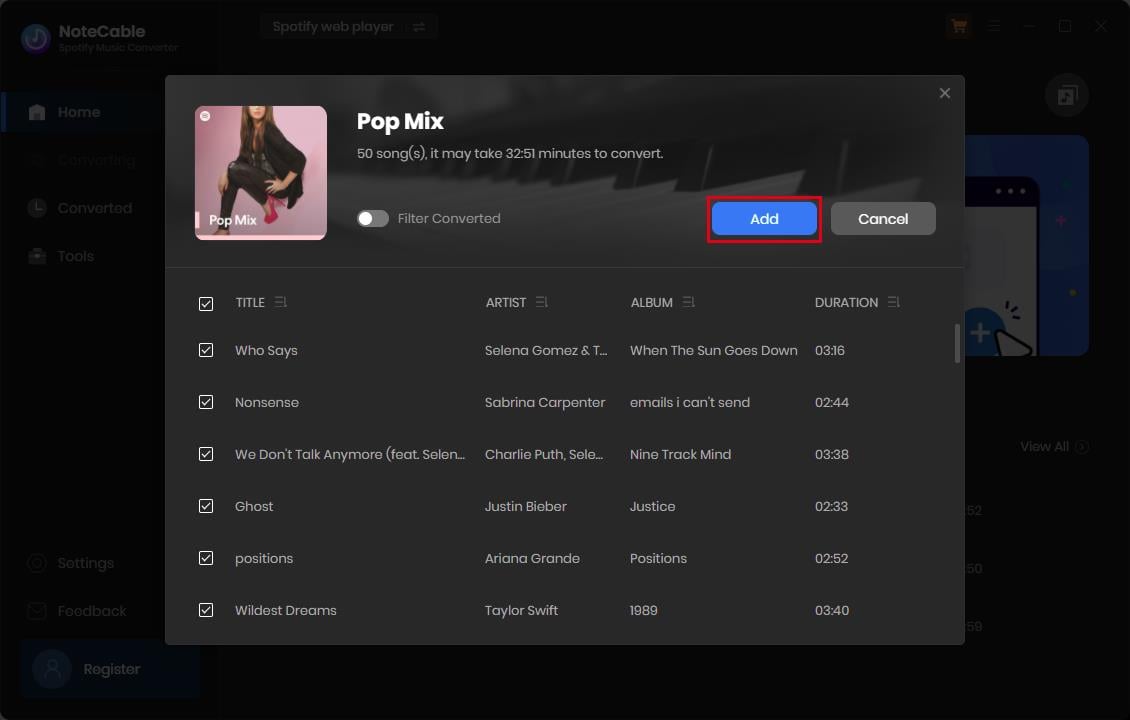 If you need to convert songs from multiple playlists in a single go, simply click the Add More button and add more songs from various playlists to the conversion list.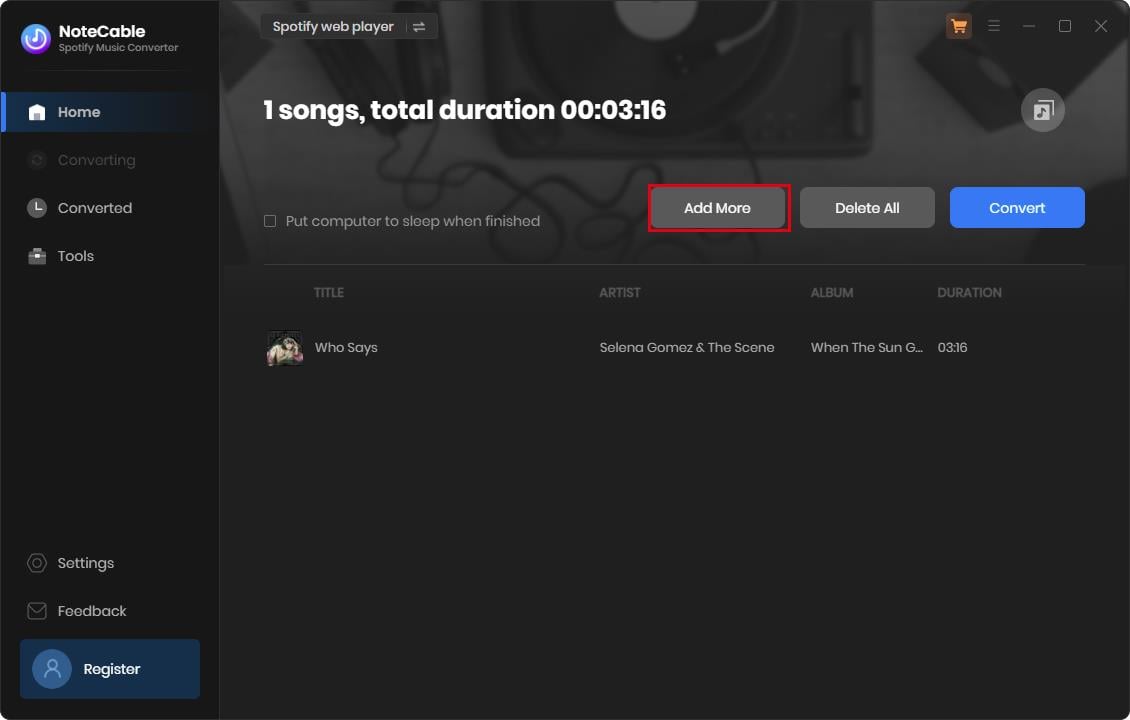 At last, confirm that all the songs are correctly selected, and press the Convert button to perform the conversion.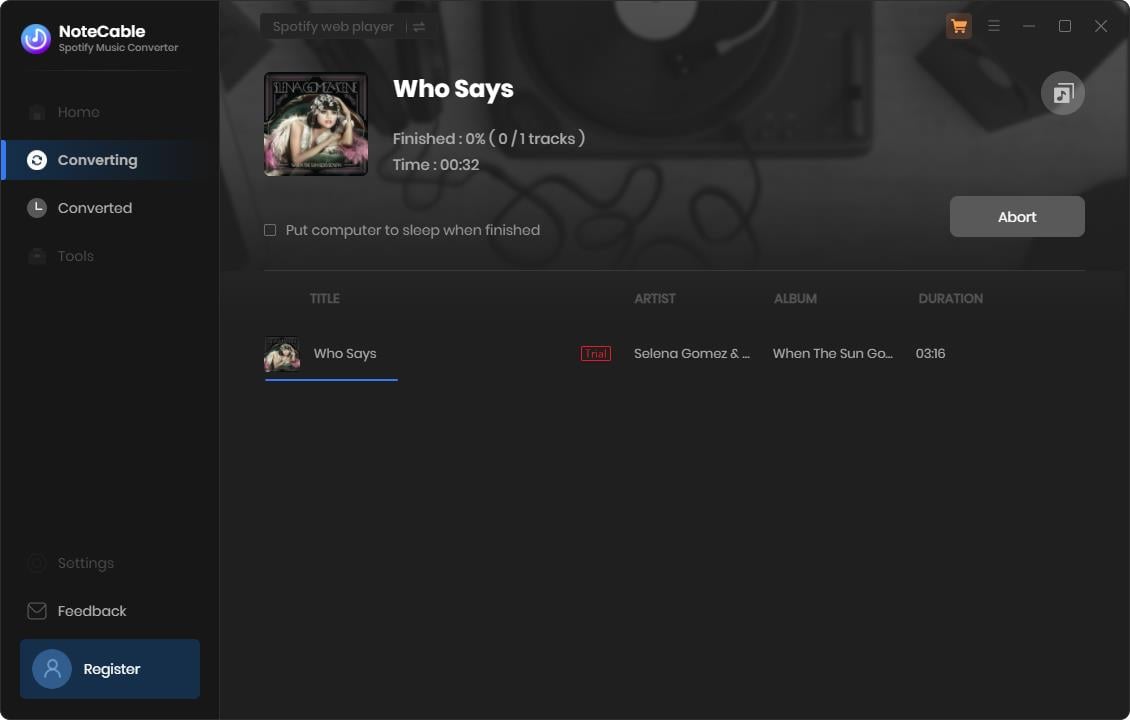 Step 5When all your Spotify songs are completely downloaded, you can find them locally stored on your computer.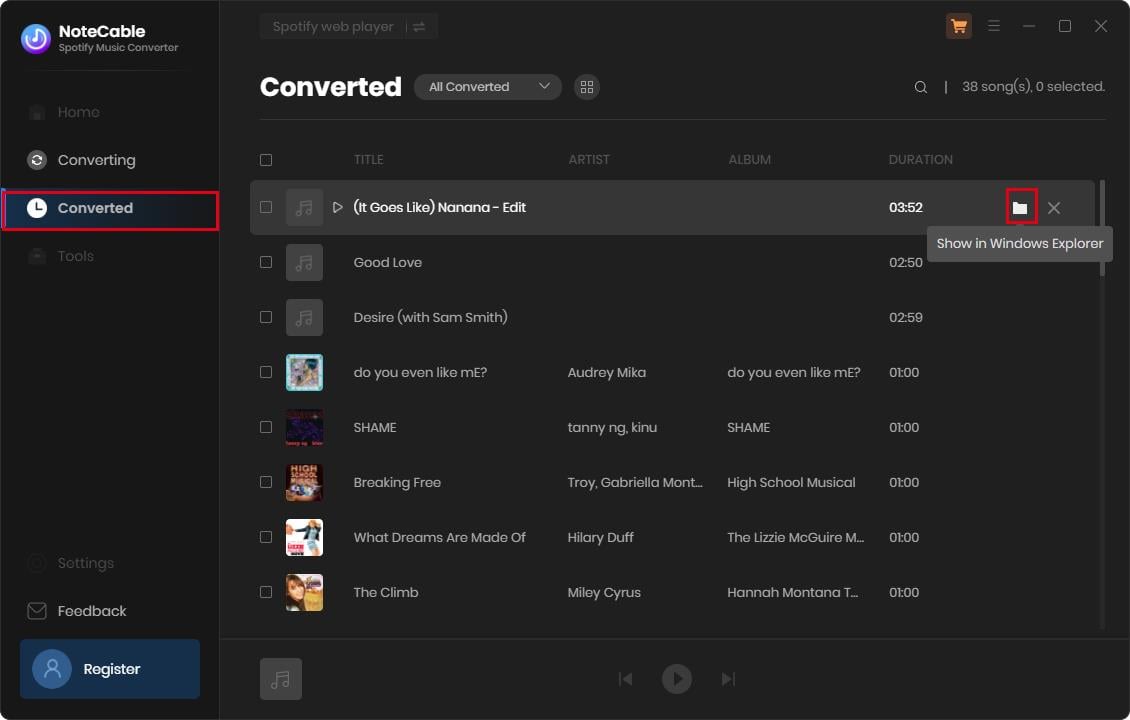 Step 6And you can now open iTunes on your computer. To add Spotify Music to your iTunes, you can go with the instruction by File > Add File to Library or Add Folder to Library. And locate the folder that contains all output Spotify Music and click on Open to add them to the iTunes Library.
Summary
Well, you will find it so easy to transfer Spotify Music to Apple Music. In your future needs, you can sync Spotify Music to iTunesand sync the music library in iTunes to all your devices that are partnered with Apple Music. And this will seamlessly promote your Spotify Music playability using the power of iTunes and Apple Music. Now, you can get such a tool, NoteCable Spotify Music Converter, to download the playlists and podcasts from Spotify and let them play together with Apple Music in your journey. NoteCable brand is now offering a free trial to all new users, you can download one and explore more surprising features that NoteCable is going to bring you.