Home > Spotify Music Tips > Download Christmas Music from Spotify
How to Download Christmas Music from Spotify
Part 1. Introduction
Christmas is around the corner and everyone is getting into the holiday spirit! What is a better way to get into the Christmas spirit than by listening to some of your favorite Christmas songs? There are certain songs that, once December rolls around, become inescapable. You hear them in stores, on the radio, and at holiday parties. And while some people find them grating, others can't help but sing along. These classic Christmas songs have been around for decades, and they show no signs of slowing down. If you're looking for a festive playlist to get you through the holidays, Spotify has a great selection of Christmas songs and carols.
But the question comes that how you download your favorite Christmas playlists for offline playback and for personal use, which is typical Christmassy stuff to prepare. In this article, we will share with you how to free download the hit Christmas songs and carols from Spotify, so you can import Christmas songs and carols to USB flash drive, transfer Spotify popular Christmas playlists to your portable MP3 player or to any device you prefer to stream your Christmas music on!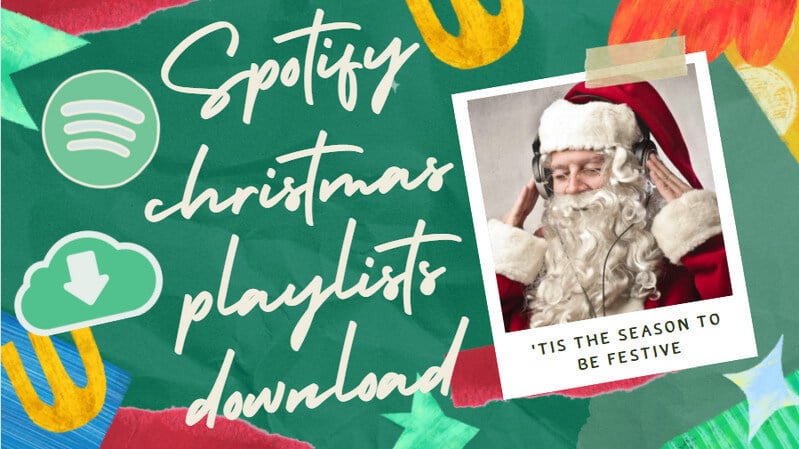 Part 2. Top 10 Christmas Songs and Carols
Spotify has a wealth of Christmas songs and carols to choose from, covering classic carols and modern pop songs that help to get us into the holiday spirit. So we've compiled a list of the top 10 classic Christmas songs and carols for you to enjoy this holiday season!
1. 🎵 Jingle Bells, Frank Sinatra. Originally written by James Pierpont in 1857, this classic Christmas carol is about a group of friends who go out for a sleigh ride on a winter's day. The simple but catchy melody and upbeat lyrics make it a perfect song for festive occasions.
2. 🎵We Wish You a Merry Christmas, the Disney holiday chorus. This classic holiday tune originated in England and was first printed in 1609. The song expresses the hope that the listener will have a prosperous and happy New Year. The joyful tune and festive lyrics make it a perfect choice for any holiday gathering.
3.🎵 12 Day of Christmas A popular Christmas carol that was first published in England in 1780. The song tells the story of a young maiden who receives twelve gifts from her true love on each of the twelve days leading up to Christmas. The carol is notable for its catchy tune and repetitive lyrics, which make it ideal for sing-alongs.
4.🎵 Silent Night, Nat King Cole. A classic carol that was first sung in 1818, "Silent Night" is one of the most widely-recorded Christmas songs of all time. The song recounts the Nativity story, with its simple yet poignant lyrics describing the birth of Jesus Christ. The calm and tranquil melody makes it a perfect choice for moments of reflection during the holidays.
5.🎵 Deck the Halls. A traditional Welsh melody that dates back to the 16th century, "Deck The Halls" is now a staple of Christmas music worldwide.
6. 🎵Joy to the World. Based on Psalm 98 from the Bible, the song first published in England in 1719 celebrates Jesus Christ's triumph over sin and death. The triumphant melody and optimistic lyrics make it an uplifting choice for any holiday occasion.
7. 🎵Away in a Manger. This song tells the Nativity story from the perspective of Mary, Joseph, and baby Jesus. The touching lyrics and gentle melody make it a moving choice for any holiday concert or service.
8.🎵 Hark! The Herald Angels Sing. First published in England in 1739, the song celebrates the birth of Jesus Christ with its powerful lyrics and stirring melody. It has become one of the most popular choices for holiday musical performances in recent years.
9. 🎵Let it Snow! Let it Snow! Let it Snow! This is a popular Christmas song written by lyricist Sammy Cahn and composer Jule Styne in 1945. The song became an instant classic thanks to its catchy tune and winter-themed lyrics. It's often performed at holiday parties and gatherings as a way to get everyone into the festive spirit."
10.🎵 Mary's Boy Child, Jose Mari Chan. A 1956 Christmas song that is written by Jester Hairston. It is widely performed as a Christmas carol.
Part 3. How to Download Christmas Hit Playlists from Spotify
Not only Christmas, but Spotify covers hit yet classic playlists for your seasonal holidays like Hanukkah, Boxing Day, New Year, Kwanzaa, the Winter Solstice, and Festivus. The common misconception about Spotify is that people think they can instantly play these classic songs on the streaming platform. Unfortunately, the service provider has the right to modify, block or remove the music, or even permanently delete it. How do you bypass the deletion of your preferred Christmas songs or other music you beloved? Being able to achieve Spotify Christmas playlists export to locally offline play or personal use is no doubt a desirable solution.
NoteCable Spotify Music Converter is more than a music converter. It downloads original songs and playlists from Spotify and saves the Spotify downloads in a separate place on the computer, where you are likely to permanently own the music. And this tool is so perfect for you to download your preferred Christmas playlists for personal use at parties, on the store without any other limitations! Even for Spotify Free users, downloading music for offline playback is achievable with NoteCable.
NoteCable can download songs, albums, and playlists from Spotify and convert the audio to MP3, AAC, WAV, FLAC, AIFF, and ALAC formats at 10X conversion speed with lossless quality kept. Besides, it supports keeping ID3 tags such as title, artist, and album after conversion so that you can manage your music library more efficiently.
The Tool You Need:
NoteCable Spotify Music Converter is compatible with Windows and macOS. Depending on your operating system, you can download the free trial version from the link above, and install it on your computer. Then follow the instructions below to learn how to export music from Spotify and save it as an MP3 audio format for listening on any device or player.
Tutorial on How to Obtain MP3 Songs from Spotify with NoteCable
Step 1Install and Run the NoteCable Spotie Music Converter and Choose Conversion Mode
Launch the NoteCable Spotie Music Converter on your computer. And then you can choose App Mode or Webplayer Mode as your conversion mode.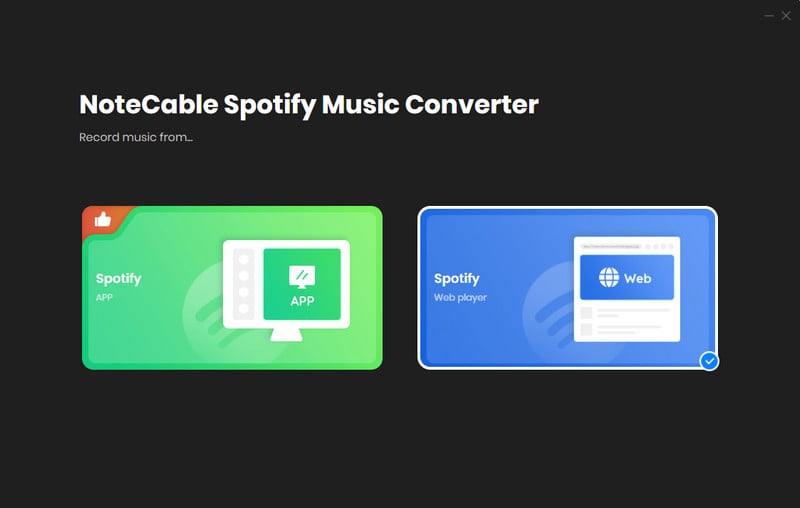 Step 2 Sign into Your Spotify Music Account
Start this program, and then choose Webplayer Mode. It will guide you to log in to your Spotify account on the web player.
NoteCable Spotify Music Converter is available for both free or Premium users. That is to say, you can still download Spotify music offline with Spotify free accounts.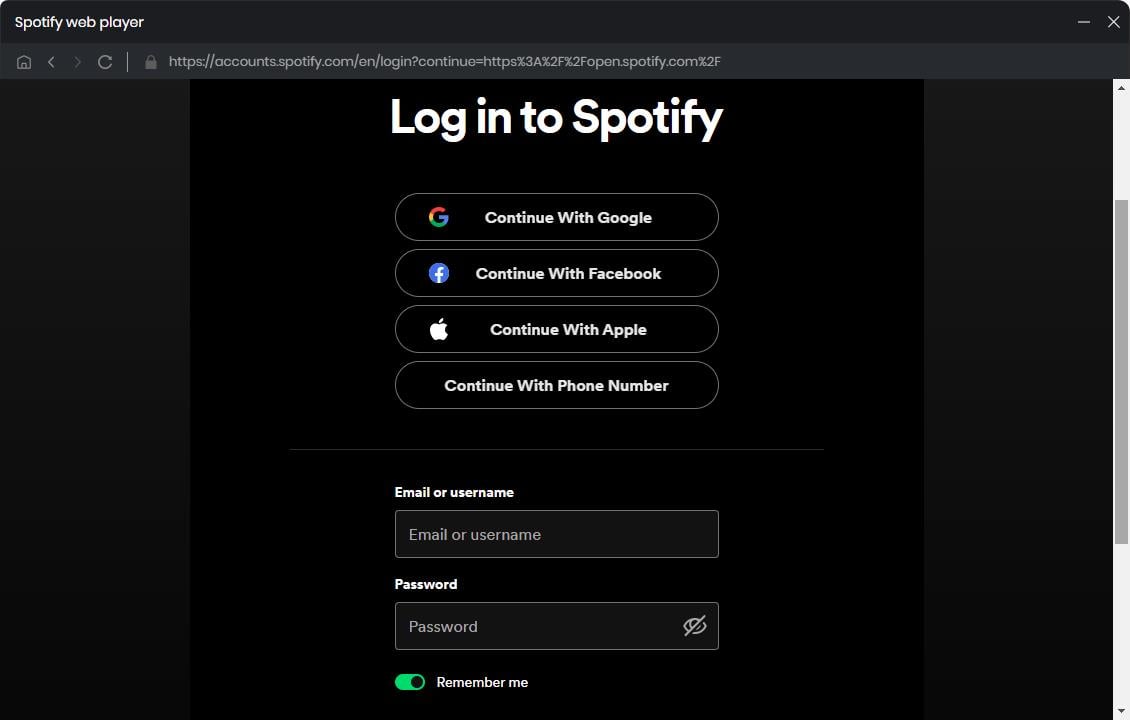 Step 3Customize Spotify Playlist Output Format
Please click the Settings section on the left bar of the NoteCable main interface. Here NoteCable allows you to choose MP3/AAC/WAV/FLAC/ AIFF/ALAC format, audio quality, and sample rate. In addition, you can also select another output folder on your computer to store the downloaded Spotify music, so that you can access them freely.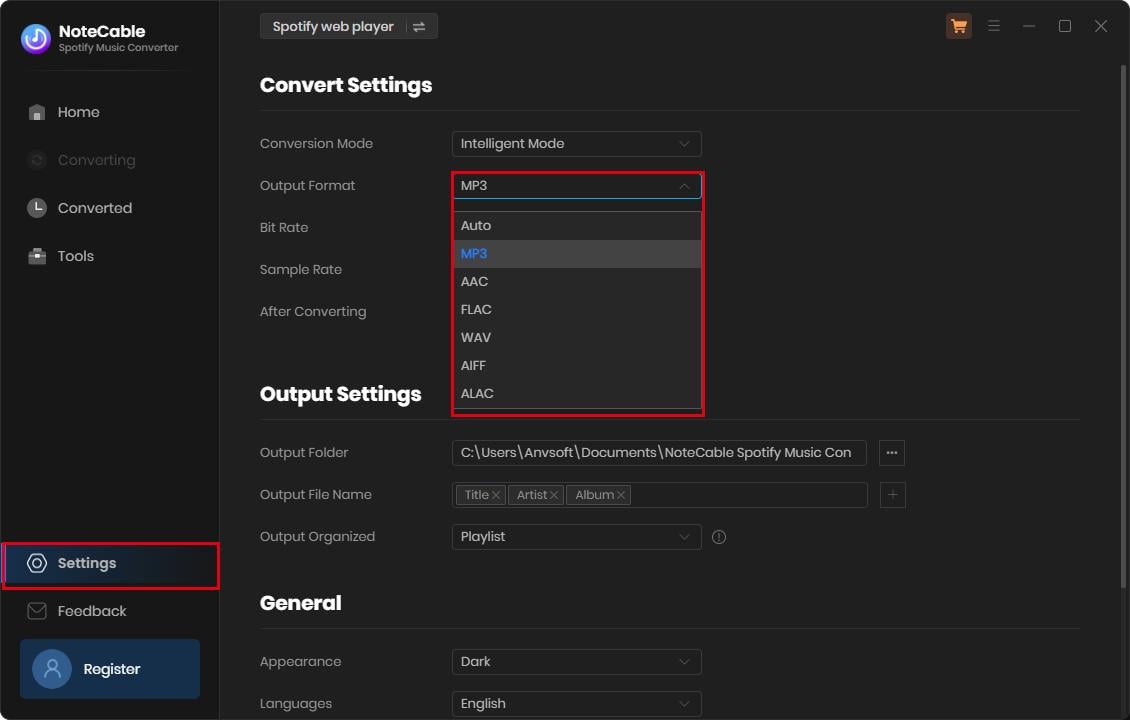 If you'd like to organize your music library better, you can save the output audio files into folders sorted out by Artist, Album, Artist/Album, or Album/Artist.
If you are used to putting all downloaded songs in one folder, you can set up the option to None on the output organized column.
Step 4 Add Your Christmas Music and Playlists to Convert
Now you can enter any Christmas album or playlist, and click Click to add

button. Then NoteCable will load all the songs in this playlist. Selectively choose the songs you'd like to download. Next click Convert Now to start downloading.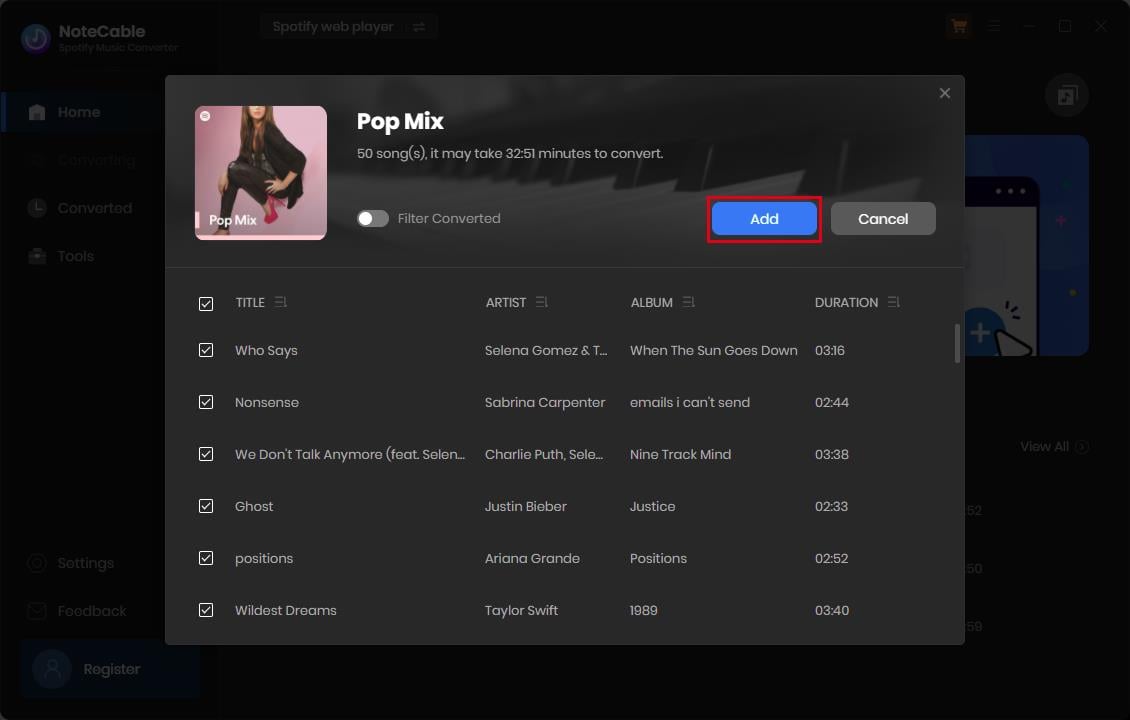 How to download Christmas songs from different playlists? If you need to convert songs from multiple playlists in a single go, simply click the Add More button and add more songs from various playlists to the conversion list.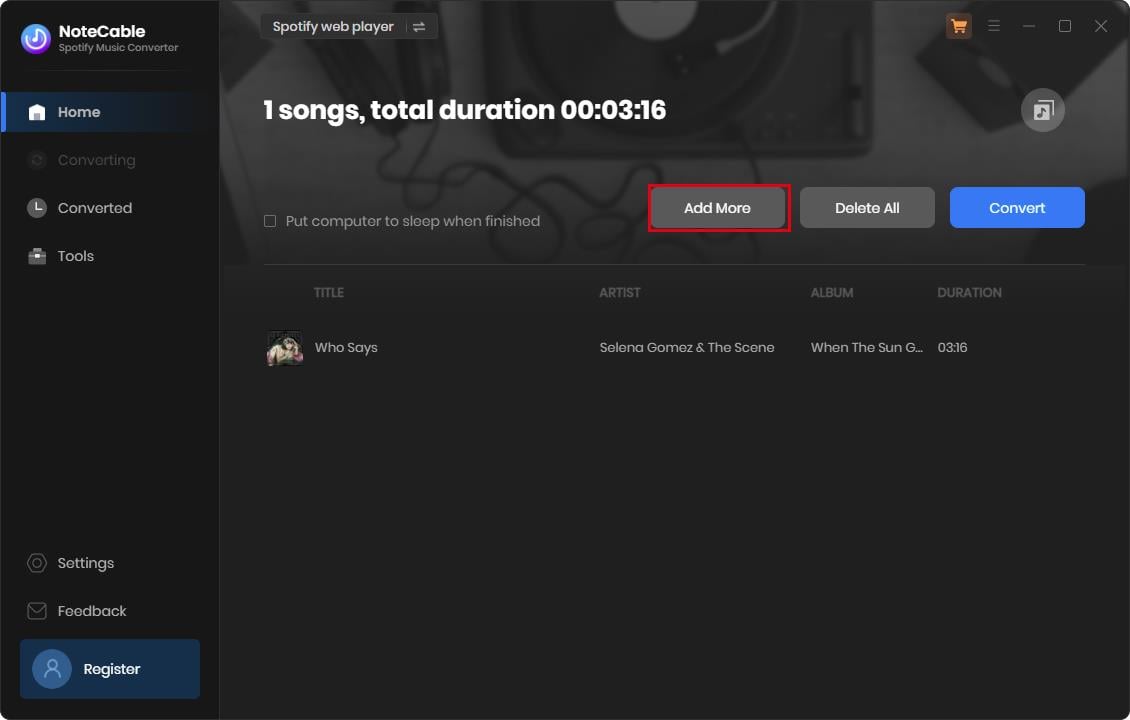 Step 5View Downloaded Christmas Playlist Songs on the Computer Local Path
NoteCable will download your songs at a 10x faster speed. After the conversion is completed, click the Converted section, and you will find downloaded Christmas songs listed here. Tap the folder icon behind the Duration, you can locate them on the local folder of your computer.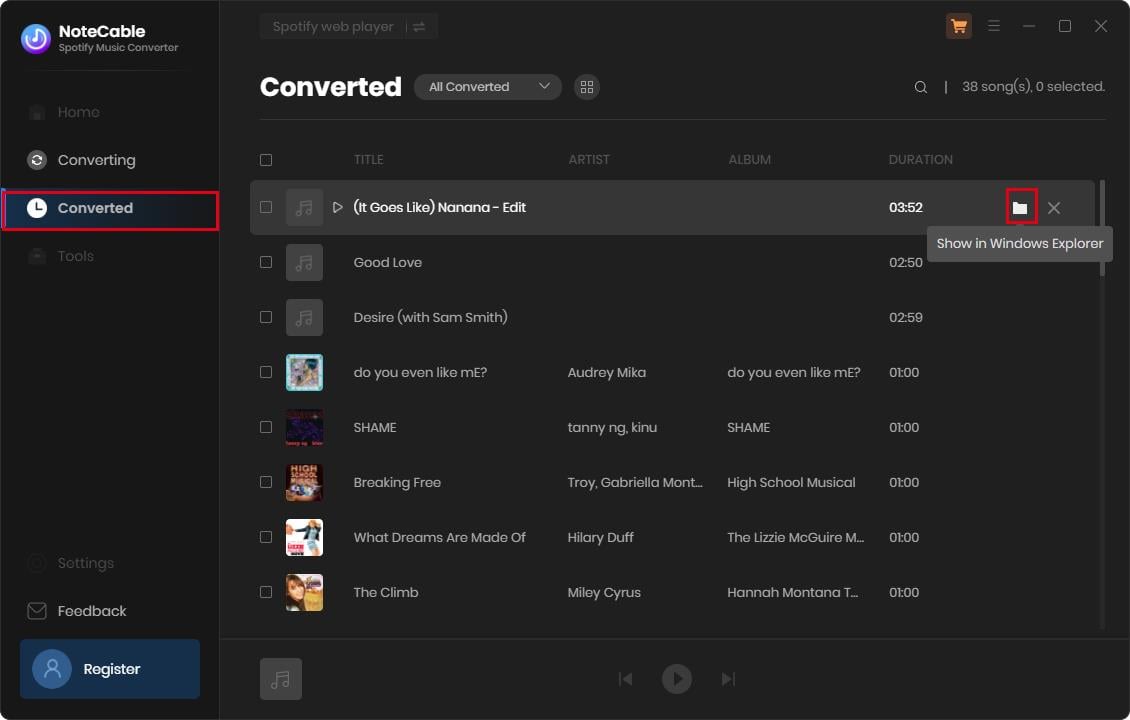 As long as you get your Christmas playlists downloaded via NoteCable, you can simply transfer your Christmas to your player device or apply them as your phone ringtones during the festive holidays!
Part 4. Extra Tips: Transfer Spotify Christmas Playlists to USB
As the Christmas songs are successfully downloaded from Spotify, they will be stored as common and wide-compatible audio files. You can easily reach them on your computer without the internet or Spotify subscription requirement. You can also transfer the downloaded music to your USB flash drive and stream the Christmas music on speakers with USB Flash Drive input. To transfer the Spotify Christmas playlists on the computer to your USB finger stick, you can go with these steps:
Step 1 Insert your USB flash drive into your computer's USB port and open the file explorer.
Step 2 Navigate to the NoteCable output path on your computer where you store the downloaded Spotify Christmas playlist files.
Step 3 Once you've found the files, simply copy and paste them onto your USB drive. Alternatively, you can also drag and drop the files onto the drive.
If your music is in MP3 format, you can also just double-click on the file to open it up in Windows Media Player and then click the "Copy to CD or Device" button.
Step 4 Once the transfer is complete, you can safely remove your USB flash drive and take the Christmas music wherever you go during the holidays!
Part 5. Conclusion
Whether you're looking for a classic rendition of "Silent Night" or something more upbeat like Train's "Christmas in Hollis," we hope that our top recommendation has given you some ideas for your holiday music needs. And if you don't have time to listen to all of these songs yourself, no worries! You can easily download the whole Christmas Hit Playlist from Spotify using NoteCable Spotify Music Converter to offline listen! Happy holidays and happy listening!
---